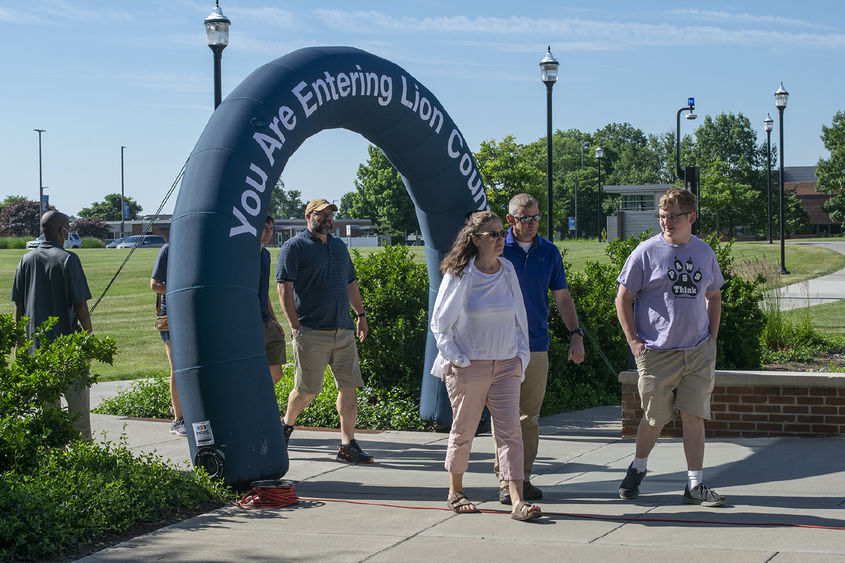 MIDDLETOWN, Pa. — Families gathered in the Mukund S. Kulkarni Theatre at Penn State Harrisburg in early June for New Student Orientation (NSO) — the first in-person orientation gathering since 2019. The event was virtual in 2020 and 2021 due to COVID-19 precautions.
To kick off the event and help new students and their families get into the Penn State spirit, Daniel Mercado, director of academic support and advising services at the college, called out "We are," and was met with a rousing "Penn State!"
"It's great having the energy and excitement of new students and families on campus again. Having a theater full of people chanting 'We Are!' is magical," said Mercado, who is chair of the college's New Student Orientation committee.
New Student Orientation provides incoming students the chance to visit campus, learn about the services available to support them, and explore academic subject areas. The daylong event includes an information fair with representatives from departments and offices such as Student Affairs, academic presentations, tours of student housing, and more.
A dozen sessions are being held through the summer, each followed by virtual one-on-one meetings for new students with their academic advisers. During the individual sessions, students can talk about their academic options and schedule fall classes.
"We've tried to apply the lessons learned from the pandemic in developing a hybrid NSO program," Mercado said. "One-on-one advising is difficult with a program of our size. Virtual advising gives us more time and space to work directly with students and their families to plan for a great start to their time at Penn State Harrisburg."
Mercado said the virtual advising meetings have received overwhelmingly positive feedback, particularly from parents who are pleased to be able to go through the process with their student. Overall, the response to orientation has been good, he said.
"We've had a lot of positive feedback and appreciation from students and families about being able to meet people from across campus while seeing our beautiful campus. Students are especially happy about being able to connect with peers face-to-face," said Mercado.
Amanuel Ghide, of Harrisburg, Pennsylvania, and his parents, paused outside Stacks Market after lunch during a recent orientation session.
"I'm excited … a little bit nervous," he said about entering college, where he intends to study computer engineering. "The campus here is really nice."
People at orientation were helpful, he said, and he was getting the information he needed.
"We are proud. It's a new experience for us," said Ghide's mother, Pazion Hagos, noting he is their only son. "I am more excited than him."
New student Jennifer Waheeb, also of Harrisburg, and her mom took photos by the globe fountain outside the Student Enrichment Center. Waheeb was glad orientation could take place in person this year.
"I understand more, and I get to see where I'm going to go, get familiar with people," she said.
Waheeb had just graduated from high school the week before. She said she was looking forward to the science and health orientation session, since she plans to major in biology and enter the medical field one day.
"It's a life-changing thing," she said of college. "I think it's going to be a good opportunity."