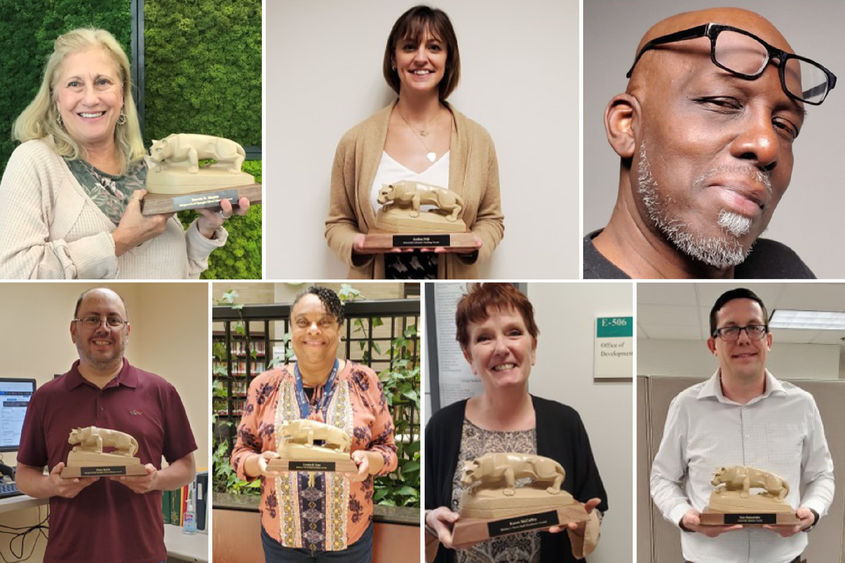 UNIVERSITY PARK, Pa. — Penn State University Libraries recognized seven outstanding faculty and staff on Tuesday, May 24, from among its more than 500 employees. Faculty and staff based at the Penn State Berks, Harrisburg, Mont Alto and University Park campuses were recognized.
Faye Chadwell, dean of University Libraries and Scholarly Communications, presided over a virtual awards ceremony to continue a tradition of recognizing employees that spans at least 48 years.
Shane Burris, resource sharing systems coordinator, Interlibrary Loan Services, and Brenda Meyers, part-time support staff for Berks Thun Library at Penn State Berks, received the 2022 Margaret Knoll Spangler Oliver Award. This award, named for a 20-year University Libraries employee, is presented for outstanding service and successful performance of an employee of the University Libraries.
Burris began his employment with the Libraries in 1992 with collection maintenance and annexes, and was hired into Interlibrary Loan (ILL) in 1995. In his current position, he provides training and support to Libraries staff, monitors and troubleshoots requests moving through the ILL systems, creates customizations to address issues and improve efficiencies, and provides valuable insight as part of the ILL management team.
"This year, Shane worked diligently to manage a system migration that proved to be an extensive project requiring a lot of his attention," his nominator wrote. "He met regularly with various teams to resolve technical issues, created custom documentation to help staff at all locations use the new system and provided direct training as needed — all while supporting the ILL team during the ongoing COVID-19 crisis and providing help with regular processes. His colleagues appreciate Shane's willingness to collaborate, his good humor, his responsiveness and his knowledge of ILL and the Libraries."
Meyers began working part-time at Penn State Berks in 2014 after devoting most of her career to positions in IT and clinical data management. A proud Penn State alumna, she shows her love and support for her alma mater by helping to fulfill its educational mission, her nominator said.
"Since the start of the COVID-19 pandemic, Brenda has helped prevent its spread on campus by contributing to safety enhancements at the library, such as signage, masking and social distancing," her nominator said. "She also helped to pilot the Libraries' gate counting system, supplying information needed to implement the system University-wide. Brenda is passionate about creating the best environment for students at Penn State Berks, and her positive attitude helps make Thun Library a very welcoming place."
Carmen Gass, education program specialist, User Services, and Karen McCulley, alumni relations and stewardship officer, Development and Alumni Relations, received the Shirley J. Davis Staff Excellence Award. Named for a former Libraries employee who assisted its directors and deans for more than four decades, the award honors outstanding service of employees who create a nurturing, encouraging and inspiring workplace and demonstrate excellence and professionalism in their field.
Gass' career in higher education spans almost twenty-five years at both small and large institutions, including non-library positions at Penn State before she began her current position in 2016. She enjoys building relationships and finding opportunities to learn and experience new things.
"Carmen is a community builder who connects people to one another, to opportunities for growth, and to ways of making ideas into reality," said one nominator. Some of the programs Gass has created or been involved in include the Libraries Open House, Ask-a-Librarian virtual reference service, Welcome Desk and Commonwealth Campus tours. "Carmen invests her time and resources into nurturing relationships, encouraging relationships and inspiring others," said another nominator.
McCulley's expertise and knowledge of processes and procedures enabled the Development and Alumni Relations office to streamline their work and become more effective in order to reach a major campaign goal during a time when the coronavirus pandemic took a toll on fundraising progress, said one of her nominators.
"Karen is a generous and knowledgeable resource who is committed to creating positive outcomes, and this held true as we had to accomplish a huge goal while transitioning from full remote work to in-person and hybrid schedules," the nominator said.
Tom Reinsfelder, head librarian at the Penn State Mont Alto Campus Library, received the University Libraries Award, given to a member of the University Libraries holding an academic or staff appointment who has contributed significantly by his or her performance to the operations of the University Libraries. 
Nearly 10 years ago, Reinsfelder was tasked with overseeing the Libraries' Ask-a-Librarian (ASK!) reference service. As one nominator said, his "commitment to stewarding ASK! has continued, consistently developing our virtual reference presence into a robust service that is truly the public face of the Libraries for so many of our users."
Reinsfelder has also been active in advocating for open and affordable educational resources (OAER), with one nominator stating that he is "an essential part of supporting the Libraries publishing program and the work of open access across the Commonwealth" and another adding that he has "been a champion for open access and OER, playing roles in developing the University Libraries open access policy and the growth of OER at Penn State." Several faculty members mentioned his work with them to develop or access OER for their classes.
Richard Stringer, information resources and services support specialist at the William and Joan Schreyer Business Library, received the University Libraries Diversity Award. This award recognizes extraordinary commitment and/or contributions to enhancing the Libraries' environment of mutual respect for differing backgrounds and points of view, and recognizes those who have championed the causes of diversity and climate.
Stringer, a University Libraries staff member for 37 years, has worked in various departments. He reviews proposals for Penn State's Equal Opportunity Planning Committee and was a member of the working group for the Libraries' Diversity Listening Tour, an initiative designed to gather information about Libraries employees' experiences in the context of workplace diversity. 
"Rick was nominated for this award because he is a valued colleague whose commitment to diversity spans all aspects of his life," his nominator said. "Championing diversity is woven into Rick's daily practice beyond any of the larger initiatives in which he participates."
Andrea Pritt, science, technology, engineering and mathematics (STEM) librarian at the Madlyn L. Hanes Library at Penn State Harrisburg, received the University Libraries Teaching Award, which honors a faculty or staff member with a teaching component as part of their primary assignment who has excelled in teaching and/or created an exemplary and innovative instruction program with an emphasis on the past year.
Pritt recently received the Pennsylvania Library Association's New Librarian Honors Award for her contributions to the profession as an early-career librarian. She was also instrumental in assisting with the Accreditation Board for Engineering and Technology (ABET) accreditation for Penn State Harrisburg's School of Science, Engineering, and Technology by developing a presentation to quantitatively assess the criteria of human networking, information literacy and lifelong learning.
"Andrea is committed to developing as an instructor, always with a focus on how to best meet the evolving needs of STEM students and faculty at Penn State Harrisburg," said a nominator. "In her teaching philosophy, she reminds her students that they are budding scientists and that navigating the research landscape is a skill that takes practice."
Selecting recipients of the 2022 Libraries awards from among nominees were members of the University Libraries Awards Committee: Emily Mross, business librarian, Madlyn L. Hanes Library, Penn State Harrisburg, chair; Jackie Dillon-Fast, supervisor, Dr. Keiko Miwa Ross Global News Center, William and Joan Schreyer Business Library, chair-elect; Chris Holobar, manager, access services systems, Course Reserves Services; Jamie Jamison, electronic resources specialist, Acquisitions Services; Melissa Millar, public services coordinator, Berks Thun Library, Penn State Berks; Kat Phillips, nursing and allied health librarian, Life Sciences Library; Aaron Procious, information resources and services support specialist, Fletcher L. Byrom Earth and Mineral Sciences Library; and Linda Struble, former supervisor/manager, information resources and services, Engineering Library.
For more information about the University Libraries Awards, contact Wendi Keeler at [email protected].