'Don't let odds define your destiny, stay resilient, speak up and be confident about your abilities to succeed,' she says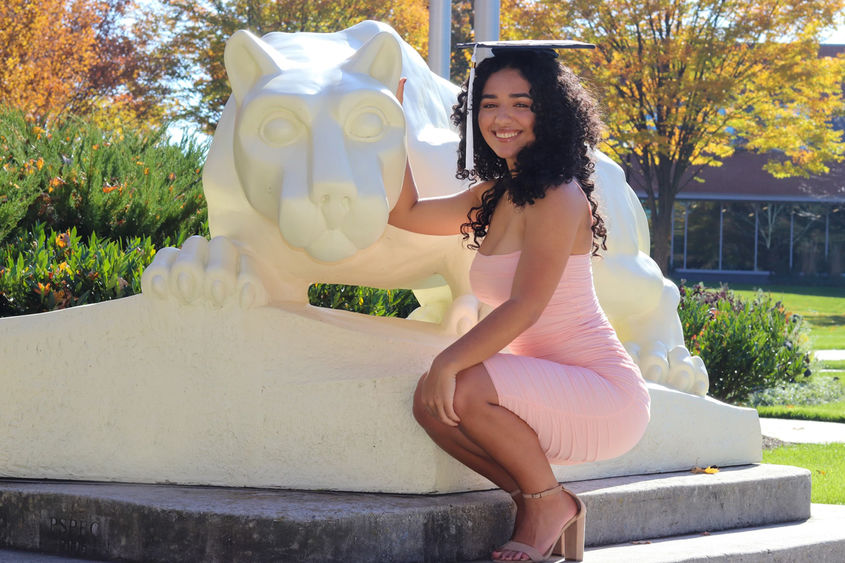 HARRISBURG, Pa. — Adrianna Diaz, who will receive her bachelor of science degrees in management and marketing as part of Penn State Harrisburg's Class of 2020, reflected on her time as a Penn State Harrisburg student:
"Looking back to just five years ago, I was making one of the hardest decisions of my life. Born and raised in Puerto Rico, I did not grow up thinking I was moving to the states to graduate from college," said Diaz. "During my junior year of high school, an opportunity was presented to me and my family supported me in following my dreams. Before I knew it, I was moving to Orlando, Florida for my senior year of high school, leaving my family and life behind in Puerto Rico. Even though it was a challenging and hard time, moving to Florida was one the best decisions I have made.
When I was accepted at Penn State Harrisburg, I knew that I had made the right decision and all the sacrifices were worth it. I also realized that I had an opportunity a lot of people did not have, a new beginning. I am blessed to have a family that supports me and helps me with everything I do. Even though I left at the age of 16, I have never felt alone through any stage in my life. 
My freshman year, I wanted to get involved and put myself out there as much as I could. As a marketing and management major, I wanted to explore extracurricular activities that could help me understand business as whole, and I joined the Business Management Club. As a business major, I noticed how much I was using my public speaking and communication skills. I wanted to look for opportunities where I could polish these skills. I applied to be a tour guide for the Office of Admissions and joined the Multicultural Academic Excellence Program (MAEP). Being a tour guide has been an amazing experience. Sharing my story with families from all around the world and talking about the resources and opportunities Penn State Harrisburg has to offer has been an unmatched adventure.
In my sophomore year, I was exposed to the Student Government Association (SGA). SGA is an organization that essentially is the voice of the students. I joined SGA and became a senator for the School of Business. I later became the student affairs chair, served as the SGA representative in the Diversity and Educational Equity Committee (DEEC), and I left SGA being part of the executive board serving as the communications director. SGA exposed me to different opportunities where I noticed I was born to be a leader. In 2017, I started to coordinate numerous events. One of the highlights of my time in SGA was being part of the committee that organized the first 5k charity run, spreading awareness of ending world hunger. We partnered with numerous organizations and it truly gave me a platform to put my marketing and communication skills to work.
In 2018, I had the opportunity and honor to join a multicultural sorority, Chi Upsilon Sigma National Latin Sorority Inc. As president of the sorority, I wanted to make sure we had a presence on campus. My sisters and I coordinated social, educational, cultural and political awareness events and trips. We worked on events to empower the minority community. This sorority helped shaped me into the woman I am today, by giving me the confidence I needed to achieve everything I set my mind to.
Penn State Harrisburg has introduced me to different volunteer opportunities where I've been able to give back to the community. I had the privilege to be a mentor for the YWCA, worked with Habitat for Humanity, WE cARE Food Pantry, Ronald McDonald House and the St. Francis Soup Kitchen. Being a part of MAEP served as a connection to the Student Engagement Office, which I then connected with, and became a student leader for the Alternative Spring Break in Puerto Rico. 
During my junior year, I was able to focus more on the future and what I wanted to do with my degrees. I joined the Lambert Undergraduate Advising Center, where I worked as a Lion Guide.
I have loved my time as a Lion Guide. I have been able to help students transition to the University, serve as a referral source and role model. Being able to share my story, help students have a better experience at Penn State Harrisburg has been something I will never forget. In 2019, I joined the Kunkel Career Center as their marketing Intern. This experience has really solidified the fact that I am in the right major. This position has giving me a platform to work on event planning and social media marketing. Throughout my college career, I have been able to network and attend career fairs where I have been able to garner two internships.
I never thought I would be spending my last semester in my apartment, taking all my classes and working virtually. Even though this semester looked differently from others, I decided to apply for the Chancellors Leadership Academic Student Program. I was accepted and loved every second of it. I feel as though it was the perfect ending to my college career. I must mention the highlight of my semester was being invited to meet the Penn State Harrisburg Board of Advisers and present to them about my college experience.
In my college career, I have encountered many challenges that have truly helped me become a better woman today. Through my experiences in Penn State Harrisburg, I have persevered through many wins and losses, which have humbled me and have allowed me to stay resilient. I have made connections with faculty and staff that I know will last a lifetime. These four-and-a-half years have molded and prepared me for what is to come, and I will forever be grateful. I have been able to learn so much myself, personal values, and career goals. I will be moving to San Francisco, California upon graduation, to join Amazon Logistics."
Diaz received the Zoffinger Family For the Future Trustee Scholarship.