'Mask Up or Pack Up' designed to promote COVID-19 mitigation efforts, protect those most vulnerable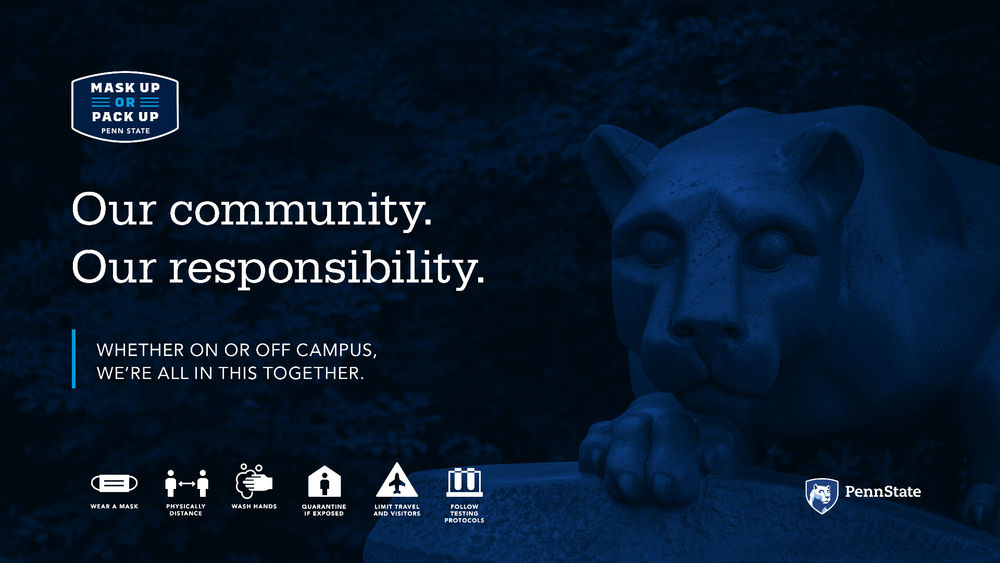 UNIVERSITY PARK, Pa. – Penn State has launched an integrated effort to remind faculty, staff and students at all campuses and in adjacent communities of the importance of doing their part to limit the spread of COVID-19.  "Mask Up or Pack Up" is a research-based campaign that is also launched in State College to create a seamless message for students and other members of the community.
As students return for the fall semester, the campaign messaging will be shared inside and outside campus buildings, on social media, and will be visible in and around local establishments near the University's campuses. The intent is to reinforce the Wolf Administration and University safety guidelines, shift attitudes and behaviors of the hard-to-persuade, and make essential preventative behaviors widely practiced. While surveys show the majority of students, faculty and staff plan to adhere to guidelines around wearing masks and social distancing, some individuals have indicated in surveys they do not intend to do so – and will need to for the protection of everyone around them, especially the most vulnerable.
"Everyone is making adjustments to what normal looks like as we return to campus, and it's imperative to remind ourselves that these steps will help protect our communities and maintain on campus learning," said Eric J. Barron, president. "Our top priority continues to be the health and safety of everyone in and around our campuses."
The creative execution, "Mask Up or Pack Up," is grounded in insights from surveys and focus groups comprised of students, faculty, and staff and is a direct expectation for everyone to take personal actions to help create a safer environment as students return to campuses across the commonwealth. Research revealed that the top two concerns from key stakeholders include being forced to return to a fully remote environment, as well as the critical need to protect those who are the most vulnerable in our communities. The messages are simple and straightforward.
As peer influence will be critical to the success of the campaign, Penn State has partnered with prominent alumni including mathematician and retired NFL player John Urschel and actor Patrick Fabian; faculty including Paul Shrivastava, chief sustainability officer and Richard Alley, Evan Pugh Professor of Geosciences; and student leaders. The input and support of these and other important ambassadors is an important component of reaching a larger audience with the message that we must mask up or face the reality of packing up for the semester.
The University retained M Booth Health, a firm specializing in public health and social marketing campaigns, to design and help implement "Mask Up or Pack Up," with current and past clients that include the Centers for Disease Control and Prevention (CDC), the National Foundation for Infectious Diseases, the United Nations health agencies, the National Meningitis Association and the Bill & Melinda Gates Foundation, among others. The project team overseeing and advising on the development of the effort included Lawrence Lokman, vice president of strategic communications; Damon Sims, vice president of student affairs; and Beth McGraw, director of the Center for Infectious Disease Dynamics, professor and Huck Scholar in entomology.
"It's really important to both provide the best science-based information and deliver it in a way that is likely to influence behavior," said McGraw. "I'm pleased that our process has included a rigorous review with our community to help find the public health messaging that will most likely be embraced."
In message testing with nearly 150 students, parents and employees, more than 8 in 10 thought "Mask Up or Pack Up" would be an effective message in encouraging individuals to engage in the right behavior, and just as many (85%) said it would motivate them personally.
Damon Sims noted that the campaign aligns with behavioral requirements and guidelines contained in the COVID-19 Compact for students, and also aligns with the governor's guidelines and the recently-passed Coronavirus Mitigation Ordinance by the Borough of State College.
"Our testing suggests that the hard to persuade members of our community will more likely respond to a clear, straightforward message that includes consequences for failure to comply, whether on campus or off," said Sims.  "The campaign directly states both expectations and consequences, but it also conveys the critical importance of community support aimed at protecting those most vulnerable and the rest of us, too."
Sims added that the overall efforts will be supported by students trained as public health ambassadors who will provide positive reminders to individuals on our campuses who are not following guidance.  Nevertheless, he said the University is prepared to hold students and employees accountable for not following requirements.
Additionally, this effort has the involvement of members of the State College community, including the State College Borough, Centre County Government, Chamber of Business & Industry of Centre County, and the Downtown State College Improvement District.  Materials will appear throughout campus and downtown, off-campus housing and local restaurants and establishments. The campaign clearly acknowledges the unparalleled community spirit of working together, including with those in campus communities across the commonwealth.
"Wearing face masks and physical distancing are everyday protective actions that the community and the local businesses depend on, or they may be forced to close," said Tom Fountaine, manager, State College Borough. "We want our local restaurants and retail shops to remain open, but more importantly, we want our community members and visitors to be safe. The Borough of State College urges everyone to take responsibility in keeping your community safe."
"As part of the greater Penn State/Centre County community, it is critical that we collaborate in our best efforts to address the needs of citizens, students, and visitors to our community," said Vern Squier, president and CEO, Chamber of Business & Industry of Centre County. "We must rally together to deal with this situation."
Keeping communities safe will take a collective effort. Help us spread the word to colleagues, family, friends and neighbors by taking a picture wearing a mask, posting to social media, and hashtagging #MaskUpOrPackUp.