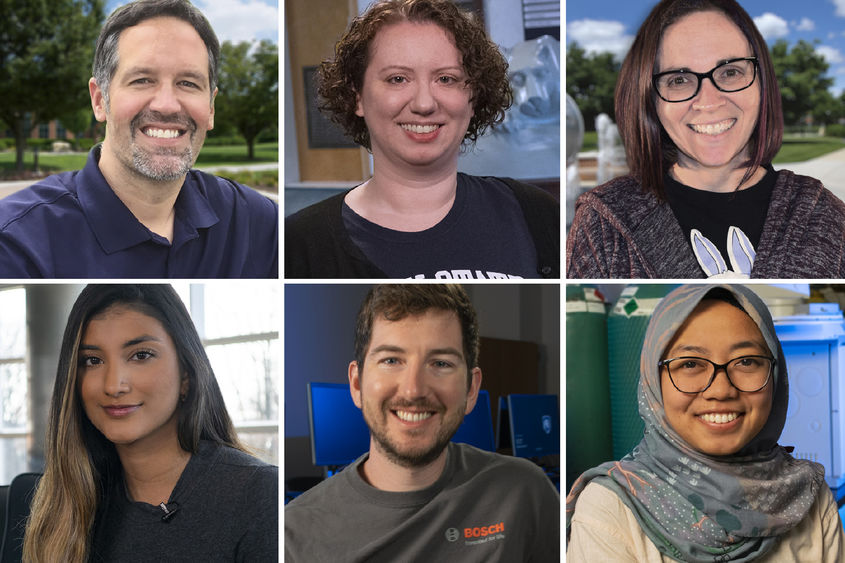 MIDDLETOWN, Pa. — Penn  State Harrisburg has selected six graduates to represent each academic school and graduate studies as student marshals for spring 2020.
Student marshals were selected based on their GPAs from among students eligible to graduate. Other criteria considered included engagement with the academic school and the college, involvement in research, involvement in leadership activities, and faculty recommendations.
In response to the coronavirus pandemic, orders from the state government, and recommendations from global public health organizations, Penn State will hold its spring 2020 commencement ceremony via livestream on May 9. The virtual ceremony will recognize all Penn State undergraduate students and all graduate students in the Penn State Graduate School.
Penn State Harrisburg's spring 2020 student marshals include:
School of Behavioral Sciences and Education: Andrew Jacobs (Dillsburg, Pennsylvania), bachelor of science in secondary education - social studies
Jacobs enrolled at Penn State Harrisburg as a returning adult student after deciding to make a mid-life career change from the non-profit sector to education. Committed to community service throughout his life, Jacobs has contributed his time to various organizations, including service as a small group leader and worship director for the Meeting House Church in Dillsburg; a member and director of the Jacobs Brothers Evangelistic Association; a junior varsity baseball head coach at Northern High School; a youth basketball, soccer, and volleyball coach; and a loving foster parent through Catholic Charities. After completing his degree, he hopes to work as a secondary school social studies teacher.
School of Business Administration: Jessica Richardson (Harrisburg, Pennsylvania), bachelor of science in information sciences and technology - integration and application 
Throughout her college career, Richardson has exhibited her natural leadership ability, IT skills, and love of learning in and out of the classroom. In a worldwide competitive bicycle business simulation, she led her team to a record-breaking victory in which they ranked first in the history of Penn State Harrisburg and in the top 100 in the world. Representing Penn State at an intramural project management competition, her team achieved second place. After progressing from her role as an IT intern to the IT business intelligence specialist at DAS Inc., she played pivotal roles in the organization's development of a new data warehouse and implementation of a new business intelligence software solution. As a student leader of the Penn State Harrisburg Salesforce Student User Group, she used her business and technical experience to communicate the value of the platform to fellow students.  She has also contributed to her community through volunteering. At the North Museum of Nature and Science, she served as a docent for school groups, live animal room assistant, and special event assistant. After graduation, Richardson will continue to focus on implementing data and analytic tools to enable data-driven decision making for business leaders. She also plans to return to Penn State Harrisburg to pursue a master's degree in information systems.
School of Humanities: Kristina Stokes (Palmyra, Pennsylvania), bachelor of humanities in English, minors in writing and technical writing
Stokes is a Capital College Honors Society member and an English Honors Society member. She has made the Dean's List every semester, and has received a number of scholarships including the Dekle Family Award for Humanities, the CWC Advanced Standing Award, the Harter Trustee Award, the Osher Re-entry Scholarship, the Penn State Academic Grant, the Capital College Honors Scholarship, and the Plein Trustee Scholarship. She served as the managing editor of the campus magazine, INKED. A published writer, Stokes has had short stories, poems, and creative nonfiction published. Several of those pieces have won awards, including third place in the Katy Lehman Fiction Awards, an annual Penn State-wide writing contest. She placed second in the Short Edition's The Other Side contest and won Best Essay in From the Fallout Shelter. Her poetry has been a finalist in Paragon Press's chapbook contest and received an honorable mention from the American Academy of Poets. She also has a children's novel set for publication at the end of 2020. Stokes held three internships while a student, including two remote internships for a literary agency and a book-scouting company, along with a Development Office writing internship. She volunteers her time with kindergartners at her church every Sunday. Following graduation, Stokes plans to attend graduate school.
School of Public Affairs: Devita Mohandeo (Mount Vernon, New York), bachelor of arts in political science
Mohandeo is a first-generation college student. After spending two years at the University of Albany, she transferred to Penn State Harrisburg in fall 2018. While attending Penn State Harrisburg, she has been active on and off-campus. She has volunteered at the Middletown Home, a continuing care retirement community, where she developed an interest in working with the elder population. She has interned with Common Cause Pennsylvania, participated in Penn State Harrisburg's Research Week where she presented a poster on ageism, and participated in the campus Undergraduate Research Conference. In 2019, Mohandeo was selected for membership in Pi Sigma Alpha, the National Political Science Honor Society. This semester, her research paper on prison-based gerrymandering was selected for publication in New Errands: The Undergraduate Research Journal of American Studies. She has also been awarded The Robert J. Bresler and Carol R. Nechemias Outstanding Political Science Senior Award. After graduation, Mohandeo plans to continue her education.
School of Science, Engineering, and Technology: Jonathan Diller (Lancaster, Pennsylvania), bachelor of science in computer science, minors in mechatronics technologies and mathematics
Prior to attending Penn State Harrisburg, Diller served in the United States Marine Corps for five years. He is the first computer science student to complete a mechatronics technologies minor. He received Evan Pugh Scholar Awards as a junior and a senior. He also received the President's Freshman Award and has been on the Dean's List since 2016. He currently works at the Penn State Harrisburg Russell E. Horn Sr. Learning Center, where he tutors students in mathematics, computer science, physics, and engineering. He is an intern at Bosch, an engineering and technology company, as an embedded software developer. He also worked as a research assistant in the electrical engineering department.
During his volunteer research experience, he worked on solar energy conservation projects, the results of which were submitted to an Institute of Electrical and Electronics Engineers (IEEE) sponsored conference. He also participated in the Penn State Drawdown Research Experience for Undergraduates (REU) and received a scholarship to work in the PPL Power laboratories. He presented a poster on his work related to electrical loads at the Penn State summer 2019 REU poster symposium, and he was also the first author of a paper about the research on load-leveling trainer. Both papers have been accepted for oral presentation and will be available on the IEEE website. He traveled to Texas A&M in February 2020 to present the results of his work.
After graduation, he intends to pursue a graduate degree and would like to pursue a career in robotics research and possibly teaching.
Graduate School: Rizki Prasetyaningtyas (Kebumen, Jawa Tengah, Indonesia), master of engineering in environmental engineering
Prasetyaningtyas came to Penn State Harrisburg on a USAID PRESTASI scholarship to study environmental engineering. Her two-year sabbatical from the Indonesian Ministry of Public Works allowed her to obtain her master of engineering in environmental engineering, combining academic coursework with research in wastewater treatment. She stated in her scholarship application that she was seeking advanced expertise in the field of sanitation, noting that only just over half of Indonesia's population has access to sanitation facilities and she wants to change that to help improve public health. She began her research career in her first-semester courses, partnering with another student on a project investigating the potential of fruit peels to treat chromium in textile wastewater. This project won third place in engineering at the 2019 Penn State Graduate Exhibition, and she and her partner also presented this project at the World Environmental and Water Resources Congress in May 2019. Her master's thesis project focuses on the anaerobic co-digestion of aircraft de-icing fluid and municipal sewage sludge, which is funded by Penn State Harrisburg's Office of Physical Plant. Prasetyaningtyas is investigating the potential to produce biogas, which could replace natural gas at the wastewater treatment facility. In addition to her studies and research, Prasetyaningtyas has been very involved in the program, including giving tours of the college's pilot-scale drinking water treatment plant and being one of the students interviewed during the program's virtual open house.