Complete Penn State provides critical aid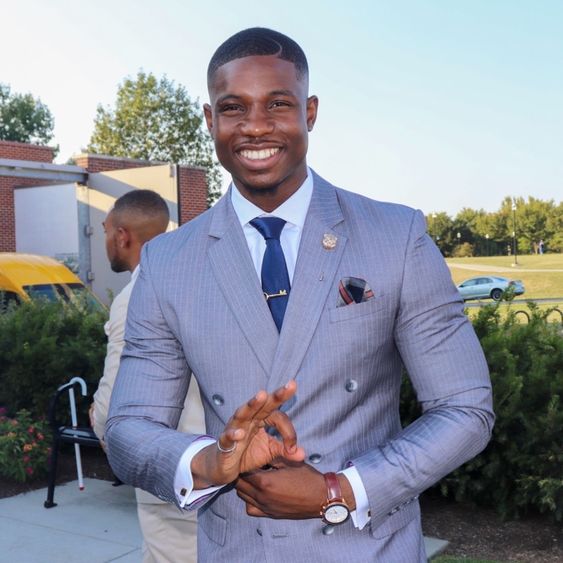 UNIVERSITY PARK, Pa. — Clinton Asalu, a senior at Penn State Harrisburg from Willingboro, New Jersey, has learned many life lessons over the past year. His key takeaway?
"Don't give up, don't waver, don't falter," he said. "Things will not always go your way, but you have to keep going. You never know what's just around the corner."
When a car accident derailed Asalu's life in August 2019, his plans to complete his degree in mechanical engineering were placed in jeopardy. Thanks to the Complete Penn State program, though, he is on track to graduate in May.
Asalu was hit by a tractor trailer while driving to campus on the first day of the fall semester. His car was totaled, and Asalu sustained a concussion and laceration to the forehead which landed him in the hospital. In the weeks to follow, the accident had devastating ripple effects on his life.
He had been involved in a range of extracurricular activities on campus, as a member of the men's basketball team, Kappa Alpha Psi fraternity and Black Student Union, among other organizations. With his concussion causing symptoms such as brain fog and headaches, though, he could not even make it to class for weeks following the accident.
What's more, his carefully devised budget was in tatters. As one of five children, Asalu was on his own financially, and he depended on his Bunton-Waller Scholarship and income from summer jobs to pay his way through school. After the accident, his medical bills mounted, and Asalu was unable to pay rent for his off-campus apartment. As his landlord's phone calls became more frequent and more pressing, Asalu braced himself for eviction.
Seeing no other options, he spoke with his parents about the possibility of moving back home to New Jersey and taking time off from school. This would have caused him to lose his scholarship, which allowed students to take up to two semesters off during the course of their degree (Asalu had already taken a year off to gain experience in the workforce). It seemed like a cruel cascade of losses when graduation was so close at hand, he explained.
It was at this critical moment that Complete Penn State entered the picture. On a tip from a Penn State Harrisburg staff member, Asalu had applied to the program, which was designed for situations exactly like his. When he needed it most, Complete Penn State provided him with emergency financial aid in the form of the Michael Fiaschetti Open Doors Scholarship that allowed him to retain his housing and remain in school.
"The support I received from Complete Penn State relieved a huge burden on my mind," said Asalu. "Sometimes you have so many things on your plate, you don't know how to handle it all on your own. I'm extremely grateful that we have this program at Penn State."
Offered through the Student Success Center, Complete Penn State provides resources for students who are in their final two semesters of study and who experience a situation which negatively impacts their ability to complete their degree — a parent's job loss, an illness in the family, an accident like Asalu's. The program provides critical, timely support to these students so they can remain on track to graduation.
Today, the future looks promising for Asalu. Aside from a large scar above his right eye, he has fully recovered from the accident. After he graduates in May, he will begin his career as a software engineer with JPMorgan Chase in the company's Wilmington, Delaware, office. Although the position is a departure from his major, he explained that his studies have provided him with the analytical and problem-solving skills he will need to delve into this new field.
"I've been afforded so many opportunities at Penn State that I have no excuse but to do great things," he said. "As somebody who is driven and who didn't let challenges deter him, I know I have a bright future ahead of me."
About Achieve Penn State
Complete Penn State is part of Achieve Penn State, an initiative which supports hard-working students and their families by helping them plan for their future by eliminating obstacles so they can graduate with lower debt and in less time. Achieve Penn State programs support students and families through institutional scholarships, summer school and on-campus employment, financial literacy and campus transitions to help students experience all that Penn State has to offer.  
To learn more about Achieve Penn State, contact [email protected].