Aligned with the University's educational and research mission, Penn State's new Center for Racial Justice will advance the work of the Select Penn State Presidential Commission on Racism, Bias, and Community Safety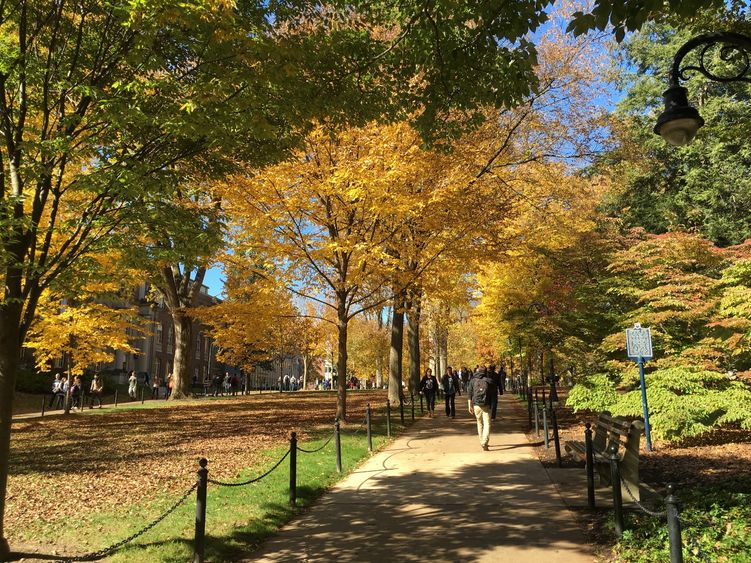 UNIVERSITY PARK, Pa. — As part of ongoing efforts to address the challenges of racism, racial bias and community safety that persist in our nation, Penn State has announced the formation of a new Center for Racial Justice. The center, as part of the initiatives outlined by Penn State President Eric J. Barron in a letter earlier this year to the Penn State community, will advance the work of the Select Penn State Presidential Commission on Racism, Bias, and Community Safety and will be dedicated to research and scholarship around racism and racial bias. The formation of the center aligns with the University's Strategic Plan, which outlines "Advancing Inclusion, Equity, and Diversity" as one of its foundations.
To draw from the excellence of Penn State's interdisciplinary institutes in promoting collaboration across multiple boundaries, the Center for Racial Justice will be housed within the Social Science Research Institute (SSRI), which aims to foster research addressing critical human and social problems. Senior Vice President for Research Lora Weiss will oversee the search process for the center director and will work with SSRI to bring together researchers, scholars and practitioners with expertise related to racism and racial bias.
"While this is just the beginning, the formation of Penn State's Center for Racial Justice is the result of our University community taking action together toward continued growth, and I am grateful for the commitment of the leaders guiding this effort," Barron said. "By aligning with our education and research mission and ensconcing the center into Penn State's successful institutional research model, we are bringing scholarly work and dialogue to the forefront. We will be poised to draw upon our research excellence, attract additional talented scholars, and develop new insights in these critical areas."
Through a national search, the center will seek a director with an outstanding record of accomplishment and leadership. With the support of an advisory committee, the new director will help to create a strategic vision and focus, develop a multiyear strategy and plan for the center, and will be charged with implementing its mission.
"Every day, we address the challenges of our world through research and scholarship, and we work to disseminate knowledge through teaching, service and public discourse in support of Penn State's mission," Weiss said. "Integrated into our research engine, the new Center for Racial Justice will allow us to leverage our strengths as a University to promote and shepherd vital research around racial justice, as we facilitate multidisciplinary collaboration among leading experts at Penn State and other institutions."
University leaders and members of the Presidential Commission have worked to develop initial objectives for the center. The center will:
Support cross-disciplinary, cross-methodological research activities across Penn State's 24 campuses, including professional schools; outreach and extension; and in the arts, sciences, humanities, law, medicine and social sciences.
Provide resources for new faculty hires in partnership with colleges and campuses using the institute model.
Create a fellowship program that enables faculty to focus on critical research topics within the scope of center activities through seed grants that can lead to external funding or through term appointments that foster broader collaborations.
Support different viewpoints, approaches and models in the goal of addressing racial justice.
Create an opportunity for undergraduate and graduate students and postdoctoral fellows through scholarships and project support.
Coordinate additional relevant research-based activities in collaboration and partnership with other institutes and centers in the Office of the Senior Vice President for Research.
Enable the development of racial justice pedagogies through educational tools for faculty and staff, workshops and public forums, as well as through other mechanisms.
Drive service and outreach opportunities that promote public discourse and the broad transfer of knowledge.
Support the University in its efforts to advance diversity, equity and inclusion.
The Presidential Commission's ongoing engagement to create the center has been led by co-chairs Danielle M. Conway, dean and Donald J. Farage Professor of Law at Penn State Dickinson Law; Clarence Lang, Susan Welch Dean of the College of the Liberal Arts and professor of African American studies; and Beth Seymour, past chair of the University Faculty Senate and associate teaching professor of anthropology, communications, history, and women's gender and sexuality studies at Penn State Altoona.
The Presidential Commission co-chairs — Conway, Lang and Seymour — noted that the development of the new Center for Racial Justice is possible because of the dedication and vision of faculty, staff, students and an engaged alumna who participated in the commission's work — and who heard the call for action across the nation and embraced the need to broaden the scope of the University's mission to promote critical research and education. Further, the co-chairs shared that they hope the center will help to create new connections across Penn State and beyond.
A key objective of the center is to work to translate knowledge into educational opportunities, foster public engagement, and inform policy decisions at Penn State and across both the commonwealth and the nation. Toward this effort, the center will engage with units across the University, including Penn State's Office of Educational Equity.