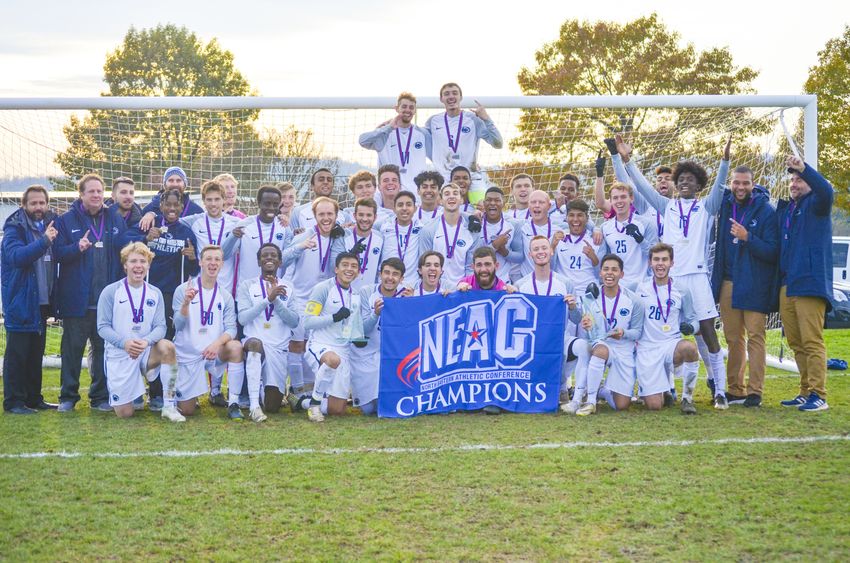 MIDDLETOWN, Pa. — Penn State Harrisburg men's soccer won its first North Eastern Athletic Conference (NEAC) Championship by defeating Keuka College 3-2 in double overtime.
The victory was the team's 15th of the year — a new program single-season record. The team also clinched the NEAC regular season title.
Penn State Harrisburg players Joey Aman (Annapolis, Maryland) and Mason Jones (Millersville, Maryland) were named co-most valuable players of the 2019 NEAC Championship Tournament.
For the first time in program history, the team will compete in the NCAA Division III Men's Soccer Championship Tournament. They will compete against Franklin & Marshall College in Lancaster, Pennsylvania at 1 p.m. on Saturday, Nov. 16.
Head coach Daniel J. Krzyzanowicz was voted the NEAC Men's Soccer Coach of the Year, junior Shammah Gahomera (Westbrook, Maine) was named the NEAC Men's Soccer Defensive Player of the Year and seven players earned NEAC All-Conference recognition. Goalkeeper Nick Guglielmetti (Rochester, Michigan) currently leads the nation in shutouts with 12 this year.