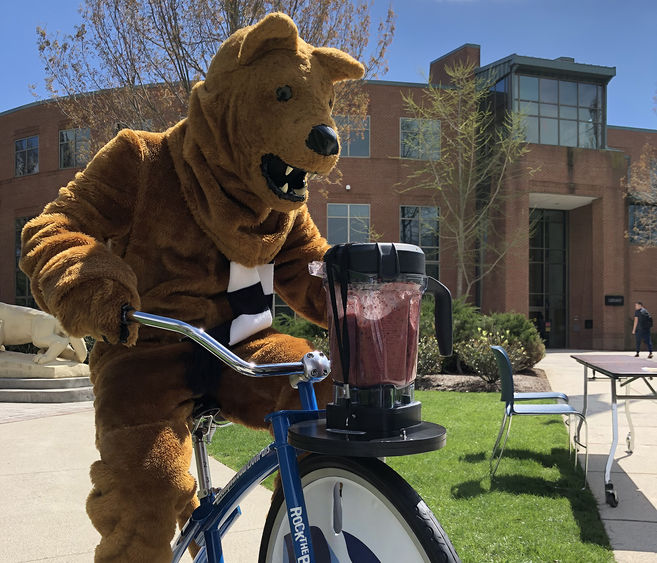 Penn State Harrisburg, in partnership with Penn State LionPulse, is making exceptional progress with improving health and wellness initiatives on campus — efforts that have impacted more than 2,500 students, faculty and staff to date.
Since January, Andrea Mull, associate director of Student Health Services and the campus' health champion, has worked with the Harrisburg wellness committee to implement new wellness programming. After surveying the Harrisburg campus community, results showed that fitness and nutrition are among the top areas of interest, and, as a result, Mull decided to allocate a portion of LionPulse funds, provided via a Penn State Strategic Plan seed grant, toward expanding the services offered at the campus' Center for Fitness and Wellness (CFW).
The CFW utilizes the Exercise is Medicine (EIM) model and has been awarded Gold Status by EIM, which also is applied at University Park, to offer fitness assessments and physical activity consultations to students and employees. The consultations include an initial assessment followed by recommendations for a specific exercise regimen to enhance an individual's overall health. Now, with the help of LionPulse, the CFW and Student Health Services are able to offer nutrition sessions to individuals upon request. To date, approximately 150 students and staff members have participated in the new program.
In addition to the strides made at the CFW, the wellness committee has hosted four popular events featuring the Penn State LionPulse smoothie bike, impacting more than 2,275 participants. The smoothie bike, a stationary bicycle with a blender attached, allows participants to pedal for a delicious treat. Even the Nittany Lion took the bike for a spin during Harrisburg's annual Wellness Party in April and again during Welcome Week in August and an impromptu appearance during Wellness Week in September.
Nearly 900 attendees enjoyed the Wellness Party, where they were able to partake in pet therapy, massages and fitness challenges, along with the smoothie bike.
The Harrisburg campus also celebrated National Hydration Day on June 23 and National Sunglasses Day on June 27. During these activities, 90 bottles of water were distributed for free to accompany information about the benefits of hydration and the importance of eye protection. In addition, over the past year, the campus has implemented Apple Crunch Day, held this year on Oct. 24, and created other days to promote nutrition through fruit, including Clementine Days, and in the future, Banana Days. They also held a special Chocolate Day in February, where varieties of milk and dark chocolate were distributed.
The campus' success with implementing healthy initiatives has energized the Harrisburg wellness committee, which has plans to expand its health and wellness programming. Future ideas include establishing Pilates classes, a "Walk Across Europe" competition between students and employees, creating a walking club, designating a stress-free zone, and implementing even more fresh fruit days.
To stay on the pulse with wellness events and resources across the University, visit sites.psu.edu/lionpulse. LionPulse is a Penn State PRO Wellness initiative to enhance wellness within the Penn State community, funded through a seed grant to support the University's strategic plan. Since fall 2018, LionPulse has worked with a network of health champions and wellness committees across 11 Penn State campuses.