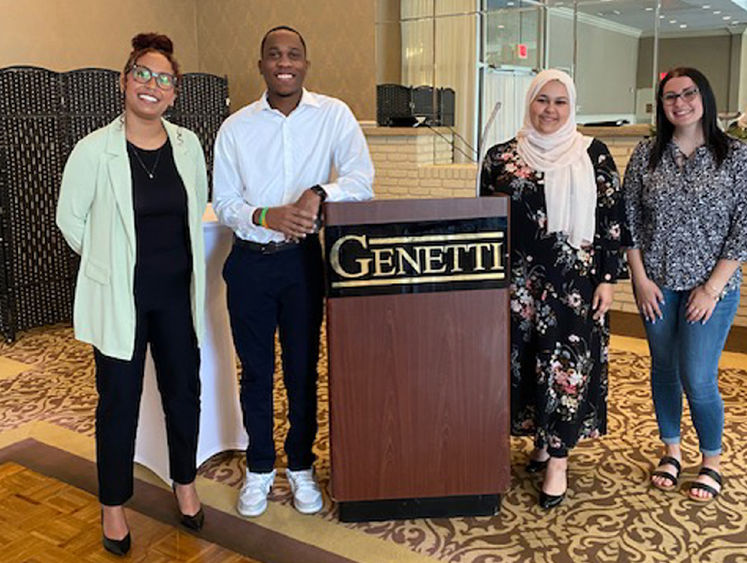 MIDDLETOWN, Pa. — Penn State Harrisburg and World Campus students had the opportunity to present their research recently at the annual conference of the Northeastern Association of Criminal Justice Sciences.
Shauntey James, assistant teaching professor of criminal justice, invited students in two of her criminal justice courses to extend research papers they did for her class by applying to present at the conference, which required submitting an abstract of their work for approval.
"It's a platform for them to take their papers to the next level and disseminate information obtained from their own research," James said. "It's a sense of ownership."
Those presenting at the conference were Harrisburg students Bailey Dunn, Ayesha Ben Slimane, Shemar Chalmers, Alexis Lawson, Grayce Berk, Sydney Burch, Lilianna Kelly, Autumn Zodet and World Campus student Sigita Ramelyte. The students' research tackled topics such as the role of gender in juvenile justice, zero tolerance policies in schools, intimate partner violence, and more. At the same conference, James also presented on the topic of female gun owners.
Criminal justice student Ayesha Ben Slimane was in James' class on the courts. She focused her research paper on racial inequalities in the U.S. bail system.
Submitting her work for the conference sounded like a good opportunity, she said. She expanded on her research paper and once it was accepted, met with James frequently leading up to the conference to practice and prepare for her presentation.
"I'm able to put this on my resume," Ben Slimane said. "I'm on the pre-law track. This is definitely something huge I was able to do … to potentially allow me to stand out from other law school applicants."
This summer, Ben Slimane took a course on criminal justice research and writing, where she once again chose to focus on bail system inequalities. She hopes to publish her work and continue her research.
"It's definitely a topic I want to take with me," she said.
James said the students had a lot of college support behind them. In addition to her assistance, the students worked with Emily Reed, who is a reference and instruction librarian at the Madlyn L. Hanes Library on campus, and the library liaison to the School of Public Affairs, on research. They also worked on writing with staff from the college's Russell E. Horn Learning Center: Beth Nec, lead writing tutor; Karen Krumpak, professional writing tutor; and Damien Cowger, assistant director..
"I'm really proud of their team," James said. "They stood up there to represent Penn State Harrisburg, and they had a tribe behind them."
James said students are on track to submit their work to journals by the end of summer. This experience will set them apart, whether they are applying for jobs or graduate school, she said.