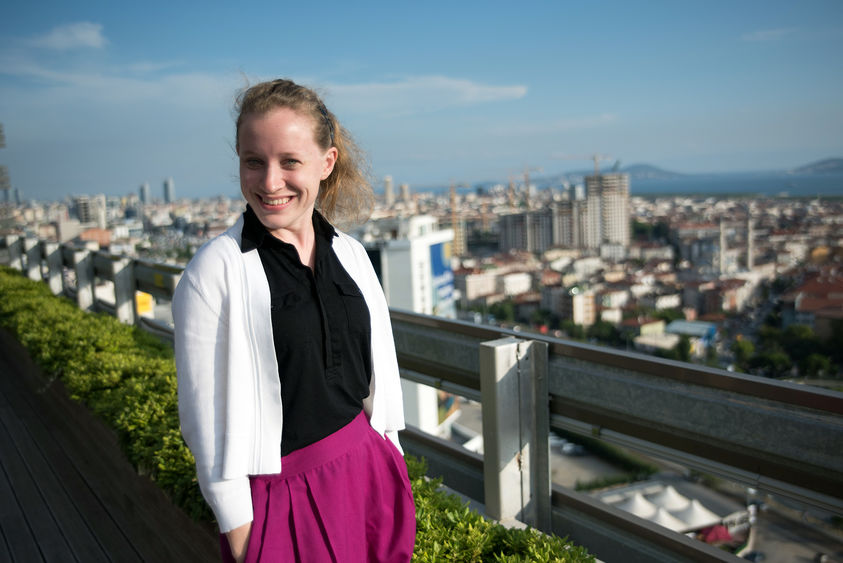 As a high school student, Lydia Williams read the book "The Syrian Rebellion" by Fouad Ajami and was impressed with the ideas of the senior fellow at the Hoover Institution and how quickly the book had been published following the start of the rebellion.
Williams wrote Ajami a letter, and the author and the student struck up a pen pal relationship.
"I just wanted him to know that I cared, as an American girl, about refugee issues," she said.
Ajami died of prostate cancer in 2014, but Williams believes he would be proud of the work she is doing as a current Penn State Harrisburg student.
The Schreyer Honors Scholar traveled to Turkey during the summer to research how the nation's policy regarding the education of Syrian refugee children has evolved.
As part of research for her honors thesis, Williams, a senior majoring in political science, was attempting to determine when Turkish policymakers first realized that the country's education policies needed to be adapted as a result of the influx of refugees and how they became aware of the issue. She is interested in the why and how of Turkey changing its policies toward the education of Syrian refugee children in 2014 in anticipation of those refugees making a longer stay in the country.
After reading dozens of scholarly works on the topic earlier this summer, Williams spent three weeks in Istanbul, Ankara and Gaziantep. She met with Turkey's ministry of education, which showed statistics during a PowerPoint presentation that were helpful to Williams' research and, as she said, not available anywhere else.
"Turkey is still more or less finding its way through this process. It's a very uncommon situation, where there's 3.5 million or 4 million refugees coming into the country," she said. "Part of my research was focusing on the transition of whether this is going to be a short-term issue, whether this was going to be a thing that would only last a few months, to it now being more of a long-term thing with longer consequences."
Williams' adviser is Alexander Siedschlag, the interim director and professor of homeland security at the Penn State Harrisburg School of Public Affairs. She is on track to graduate with honors in political science in May and is in the process of applying to graduate schools in the United Kingdom.
She is curious to see how the policies Turkey has established will influence the policies of other nations regarding refugees.
"I believe they are trying to work their way through this as best they can," Williams said. "They are very open to having other countries follow suit."
About the Schreyer Honors College
The Schreyer Honors College promotes academic excellence with integrity, the building of a global perspective, and creation of opportunities for leadership and civic engagement. Schreyer Honors Scholars total more than 2,000 students at University Park and 20 Commonwealth Campuses. They represent the top 2 percent of students at Penn State who excel academically and lead on campus.