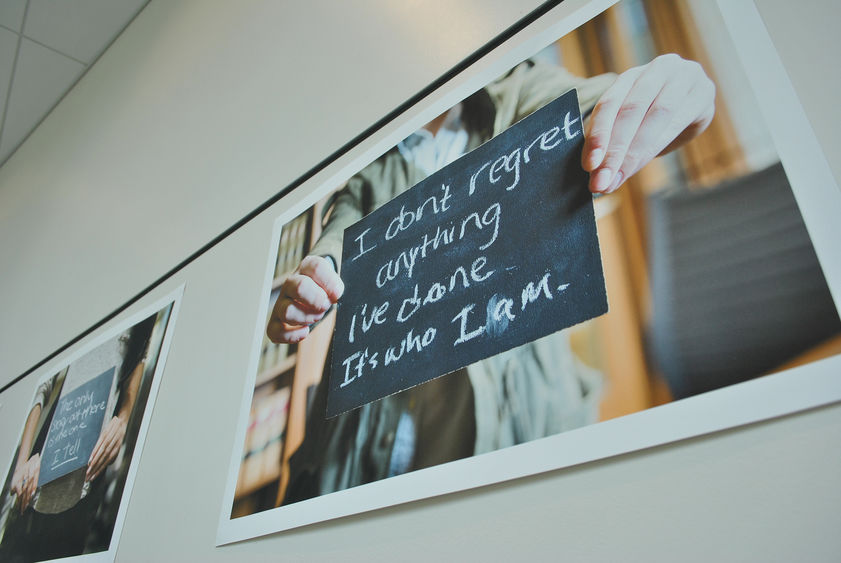 Emily Baxter, founder and executive director of the organization We Are All Criminals (WAAC), a non-profit organization dedicated to challenging society's perceptions of what it means to be "criminal," will speak at Penn State Harrisburg on November 7 from 6 to 8 p.m. in the library Morrison Gallery.
An exhibition of photos from Baxter's book, "We Are All Criminals" is currently on display through November 8 outside the Kulkarni Theatre in the Student Enrichment Center.
Through shared stories of those who committed or were accused of committing crimes, those who got away with them, and those who have been directly affected by the criminal justice system, WAAC seeks to erase the barriers that separate us.  
Prior to her role as the executive director of the non-profit organization WAAC, Baxter was a Robina Institute of Criminal Law and Criminal Justice Fellow for two years and served as the Director of Advocacy and Public Policy at the Council on Crime and Justice (CCJ). Before joining CCJ, Baxter worked for the Regional Native Public Defense Corporation and represented indigent Anishinabe men, women, and children of the Leech Lake and White Earth Bands of Ojibwe who were charged with crimes in Minnesota state court. On behalf of WAAC, Baxter now travels across the country, meeting and collaborating with stakeholders and changemakers in criminal justice reform. She began developing We Are All Criminals through an Archibald Bush Foundation Fellowship in 2012.
The event is FREE and open to the public. For tickets, visit www.eventbrite.com/e/emily-baxter-we-are-all-criminals-tickets-49369638919.