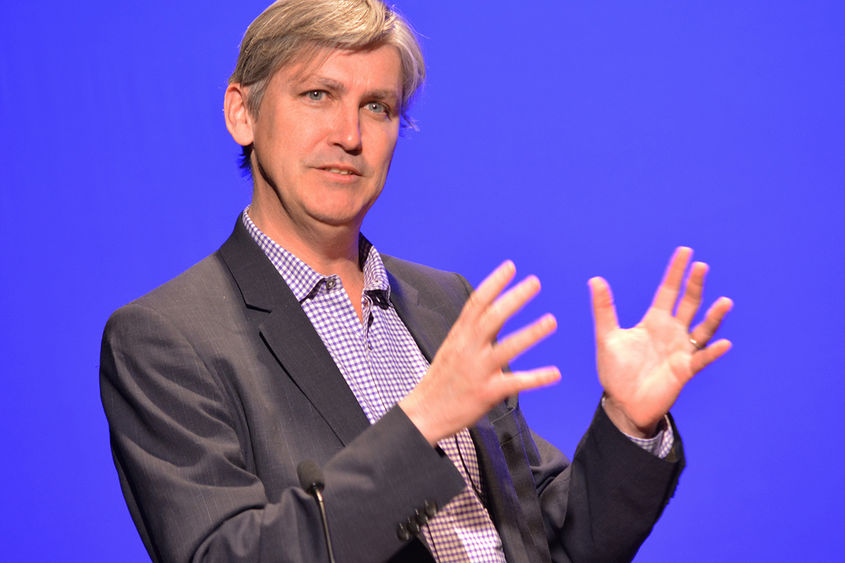 MIDDLETOWN, Pa. — Popular science author and media theorist Steven Johnson recently presented "Innovation: Where Good Ideas Come From" at Penn State Harrisburg as a part of the PNC Thought Leaders Lecture Series, a special event that features high-profile speakers from around the world focused on topics that have a significant impact on the local region.
Johnson's work inspired the Emmy-nominated PBS series, "How We Got to Now with Steven Johnson," that aired in 2014 and The New York Times best-selling book, "How We Got to Now."
His discussion at Penn State Harrisburg focused on patterns of innovation in history and how innovative ideas come to fruition, as well as the diverse, collaborative networks that help solve problems and allow ideas to thrive.
"This lecture series really embodies a lot of the themes I explore in my work — the importance of bringing different communities together, collaborations between the private sector and academia," Johnson said.  "When you have networks and hubs that allow all these different points of view and perspectives to converge, it's always a good thing."
Johnson walked the audience through some of the patterns of innovation to explore how innovative ideas are brought into the world.
"My work has covered a lot of different fields and historical time periods. Across all of those different interests and fields, what really unites them all is an interest in ideas, transformative ideas, and the people behind them, the teams and organizations, and the places, the cities and neighborhoods behind those ideas."
Following the presentation, Johnson moderated a workshop on innovation, challenges and solutions with Kevin Harter, professor of practice of entrepreneurship and the director of the Center for Medical Innovations at the Penn State College of Medicine. Panelists included Joe Murphy, chief executive officer of Masonic Villages; Will Papa, senior vice president and chief research and development officer of The Hershey Company; Stephanie Reisinger, vice president of life sciences research analytics of Allscripts; and Matthew McAlonis, senior development engineering manager for TE Connectivity's Global Aerospace, Defense and Marine Division.
The goal of the PNC Thought Leaders Lecture Series is to spur economic development in Pennsylvania by creating a place where innovative thinking can be converted into economic impact, intellectual property, entrepreneurship, and corporate best practices.