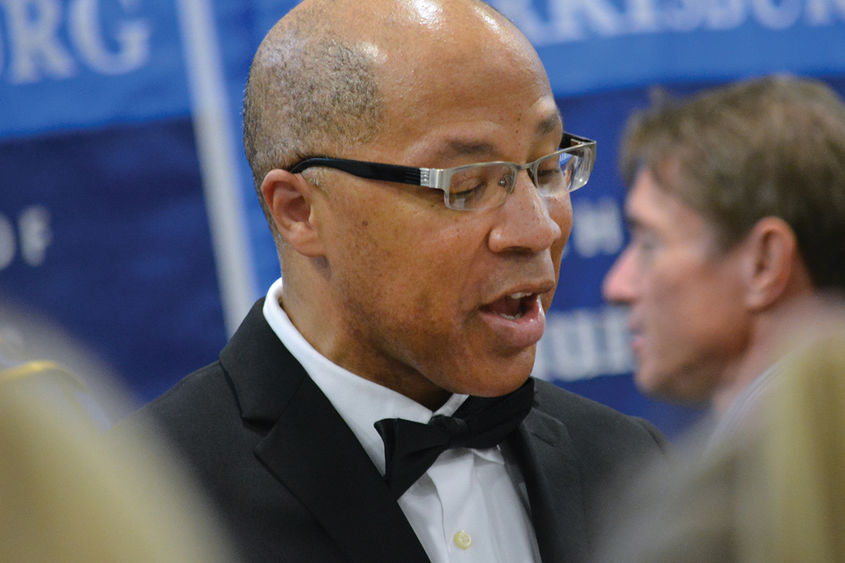 HARRISBURG, Pa. — If you have been at any of Penn State Harrisburg's formal ceremonies in the last two decades, such as commencement and convocation, you have heard a familiar rich tenor singing the National Anthem and the University's Alma Mater.
Christyan Seay, a 1987 graduate of Penn State Harrisburg's business administration/management program, has been performing at the college's ceremonies since his own commencement ceremony. Although he has missed several years, he's been performing regularly for about 15.
Seay said that all of the moments he has performed at the ceremonies have been memorable. "It is a great pleasure for me to give back to Penn State Harrisburg through my gift of music," Seay said. "Singing is an emotional and religious activity for me. It is an opportunity for me to share my gift from God with others for many purposes — joy, sorrow, celebration, commemoration and communion with others in praise and worship."
Seay, who grew up in a family of 10 siblings in Steelton, Pennsylvania, and who now resides in Harrisburg, is a manager at the Pennsylvania Higher Education Assistance Agency. He started singing at a young age, but began taking voice lessons in 1978.
"My singing basically took off from that point," he said.
Aside from singing at Penn State Harrisburg, Seay also is involved at the college in other ways. He is a member of the Penn State Harrisburg Alumni Society Board and currently serves as the chairman of the mentor committee.
In the community, he serves as part of the development committee of the Harrisburg Symphony Orchestra. He recently was appointed chair of "A Taste of Jazz," a fundraising event for St. Paul's Episcopal Church in Harrisburg, as well as artistic director of the Capital Area Music Association, a community choral organization in Harrisburg with emphasis on music of African-American composers and culture.