According to Business Insider, 33 percent of CEOs of Fortune 500 companies earned their undergraduate degree in engineering. Nearly 25 percent of those CEOs were engaged in finance (e.g., CFO) or general management (e.g., COO) duties prior to becoming CEO. Career engineering managers have long known that advancement is often based on a combination of education and experience.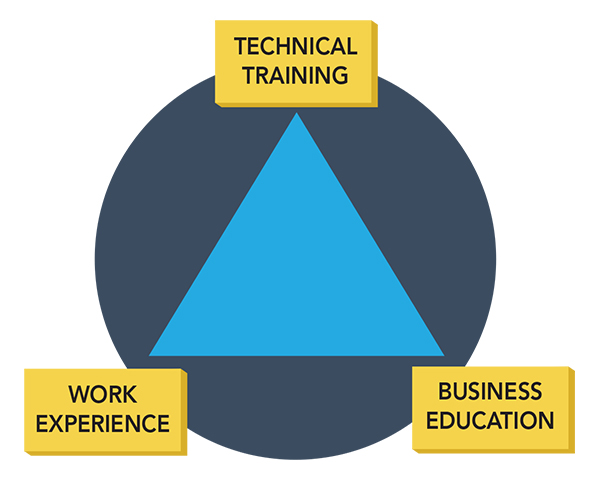 Traditionally, engineers acquired their business education by getting a master's of business administration (MBA). More recently, however, master's degrees in engineering management have been developed to provide engineers a more tailored educational experience by:
Providing the most important business courses from the MBA
Providing additional core courses critical to today's engineering professional, such as project management, quantitative methods, energy and the environment
Providing master's level, depth courses in an engineering field of choice
Providing the opportunity to work on a real-world project that is engineering related
The master's of engineering management at Penn State Harrisburg is designed to do exactly this. It integrates business and engineering in a seamless fashion — and you are learning from the top faculty in the country in both business and engineering. With this degree, you will be prepared to "hit the ground running" when opportunities for engineering or technical management positions become available. It will also set your resume apart from others when seeking jobs where business savvy is as important as technical engineering skill.
The program provides engineers with business and management perspectives to enhance their capabilities in the management of major projects, business initiatives, policies and other activities in both the public and private sectors. Furthermore, it highlights the importance of technology strategy, intellectual properties management, and offers an environment for personal and professional networking that could hold significant future dividend.
The degree is offered at Penn State Harrisburg as a partnership between the School of Science, Engineering, and Technology and the School of Business Administration, which is accredited at the undergraduate and graduate levels by AACSB International — the Association to Advance Collegiate Schools of Business International.
The Master of Engineering Management is a STEM-designated program that allows eligible graduates an Optional Practical Training (OPT) extension for up to 36 months, helping graduates gain additional real-world skills and experiences.
Online Open House
Degree Conferred: M.E.M.