Frequently Asked Questions
Academics
Can I study part time?
No, international students cannot study part time. U.S. immigration law requires that international students on F-1 and J-1 student visas maintain full-time enrollment during the regular academic year. To be considered full time, undergraduate students must be registered for a minimum of 12 credits for each FALL or SPRING semester. Graduate students must be registered for a minimum of 9 credits for the FALL or SPRING semester to be considered full time. During the summer months, however, enrollment is not required or you may enroll part time.
What kind of academic support does the University offer?
Penn State Harrisburg has a comprehensive student  learning center. The Russell E. Horn, Sr. Learning Center has several locations on campus. You will be able to find help with your writing assignments. In particular, you can go to the learning center to get advice and feedback on your essays, reports, and other assignments. There are many tutors available for various subjects, from language assistance to math assistance. In addition, professors have office hours that you can visit for questions.
How can I schedule courses?
During the orientation sessions, you will meet with an academic adviser and schedule your courses with him/her. If you have any questions about your courses, you can ask your adviser.
Who is an academic adviser?
An adviser is a faculty member who can help you with choosing your courses. He or she will also be able to provide you with advice on other academic issues.
Will my degree from Penn State Harrisburg be acknowledged as a Pennsylvania State University degree? What is shown on my diploma?
Yes, your degree is granted by the Pennsylvania State University. Your diploma will show that Pennsylvania State University conferred the degree upon you and will also list the college which administers this degree, such as the Eberly College of Science or The Capital College.
University Park
Harrisburg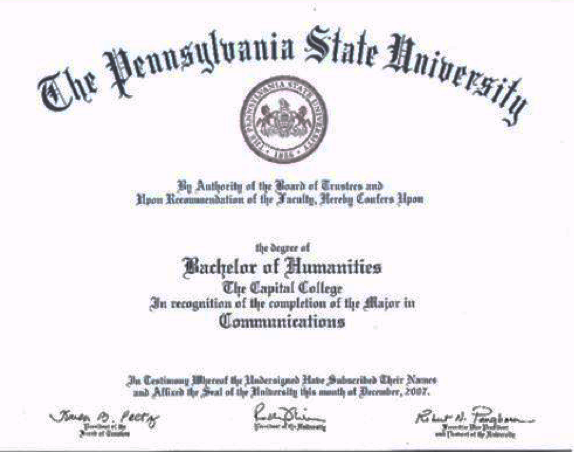 Arrival and Orientation
What is the orientation for new international students? Do I have to come to the orientation?
Both the New Student Orientation AND the International Student Welcome are designed  to give new international students fundamental, but comprehensive, information about campus and academic resources. Yes, new international students are required to attend the Orientation AND Welcome sessions. During orientation, you will obtain Penn State student ID and schedule your semester's classes. As a result, attendance is necessary and beneficial for new international students.
When should I arrive at Penn State Harrisburg?
The United States Department of Homeland security regulations specify that students with a valid F-1 or J-1 visa may enter the United States not earlier than 30 days prior to the beginning of the University semester, as noted on your I-20 OR DS-2019. However, you should arrive in time for the International Student Welcome. Students living on campus and attending the in-person International Student Welcome may move in as early as Monday, August 15 9am-4pm. 
What shall I bring for the airport check-in?
Be sure to travel with all your important documents (I-20, passport with a valid visa), and a small amount of money (a few dollars and some coins) to rent a cart or other services after you arrive. Do not put your important documents in your checked luggage.
Advising & Support Services
Where do I go if I need any information related to international students?
For any information related to international students, you should start with the International Student Advisers on campus (Olmsted E131). For general information, the Global Lion Ambassadors and Global Lion Mentors may be able to help you.
Does Penn State Harrisburg offer special services for international students?
Yes. The International Student Office  provides numerous programs and activities designed specifically for international students, including workshops/seminars on tax filing, Curricular Practical Training (CPT), and Optional Practical Training (OPT).
Other programs include social events such as Coffee/Lunch with an International Flavor and International festivals celebration (Holi, Lunar New Year, Diwali, Eid, etc.). Based on the input from our growing international student population, more events are being added to the roster each year.
Communication
Where can I purchase a cell phone or obtain a phone number?
You can place your order online. The four major carriers are AT&T, T-Mobile, Verizon Wireless and Sprint, or you can go to the Harrisburg Mall to visit stores. Other options are services at Target and Wal-Mart.
Financial
How can I open a new account at a local bank and what is the nearest bank to the campus?
There are several banks in the local area. The nearest bank to the campus is Wells Fargo Bank. In order to open a new account, you need to take your Penn State student ID, I-20, passport, and I-94 to verify your identification and benefit from student account features. Also PNC bank is nearby and it provides ATM services on campus.
Should I bring a large amount of cash from my home country, or should money for tuition and living expenses be transferred?
Please DO NOT travel with large sums of money. We suggest using traveler's checks for your travel money. Tuition and fees can be paid via international wire transfer directly to Penn State. Additionally, once you open a local bank account, funds from home can be electronically transferred into your account.
Am I eligible for financial assistance?
International students coming to the United States on non-immigrant student visas are only eligible for merit-based scholarships or a fellowship. For more information, contact your academic department or the Financial Aid Office at [email protected].
Health Insurance
Do I have to purchase health insurance and what are the options?
International students are required to purchase health insurance. Penn State has only one option for you to purchase. You can find more information about the health insurance requirement and plan here. 
Housing and Food
Where can I go to do my grocery shopping?
There are several options in the local area. The closest grocery store to campus is Karn's (a 15-minute walk). Penn State Harrisburg provides free shopping shuttles to Bombay Bazaar and Walmart as well as to Asia Mall. This is an organized service of the International Students Office. The local Capital Area Transit (CAT) bus is also available if you would like to travel on your own.
Can I cook myself if I am a new student who lives on campus?
First year (freshmen) housing does not have the facilities needed to prepare meals; therefore, they are required to purchase meal plan. Upper division student housing is apartment style and does have a fully equipped kitchen. Please visit the on-campus housing website for more information.
What options are available for off-campus housing?
Penn State Harrisburg has limited on-campus housing. However, there are several off-campus options you can choose from. The off-campus housing options are not owned by the University and you will need to sign a lease with a landlord. You can find a listing of off-campus housing options at this web site. You should familiarize yourself with the options and the terminology of a lease. A lease is a binding legal document.
Are there food options on campus?
Yes. Penn State Harrisburg currently has three on-campus food options: Biscotti's Coffee Shop, The Outpost, and Stacks Market. Biscotti's offers quick "grab and go" food options and Starbuck's coffees and teas. Stacks Market offers a variety of options from brick oven pizzas, to a deli counter, to a salad bar. Additionally, they offer hot grill items and full dinners as well.
Student Activities
Are there student organizations or clubs that I can join?
Yes! Penn State Harrisburg has over 75 clubs and organizations ranging from academic based clubs to sports clubs to social clubs and organizations. Be sure to attend the Involvement Fair at the beginning of each semester.
Does the school have a fitness center/gymnasium?
Yes. The fitness and aquatic centers are located in the Capital Union Building. 
Transportation
What are the major public transportation options close by the campus?
Two major public transportation services are available, the CAT bus and Amtrak trains. The local CAT bus route runs from Middletown into the Harrisburg transfer stop and back. At the transfer stop, you can switch to another bus to take you where you need to go. Amtrak has a train station in Middletown, just across the street from campus. Amtrak can take you to the major cities in the region such as New York City (3 hours away), Philadelphia (2 hours away), and Washington, DC (2 hours away).
How can I get a driver's license?
Information on obtaining a driver's license can be found on the Penn State Global website.
Can I drive with my foreign drivers' license?
Students who do not qualify for a Pennsylvania Driver's license can drive for one year if they have a valid foreign driver's license and an international driving permit.
Work on Campus
Am I permitted to work?
International students in valid F-1 or J-1 visa status have the eligibility, with approval from campus officials, to work on campus as a wage payroll employee. For more details on the jobs available, please visit our career site and choose your campus.
Do I need a social security card to apply for a job?
Yes. You need a social security card to work on campus. If you have a job offer, the  International Students Office can help you obtain a Social Security Number (SSN).