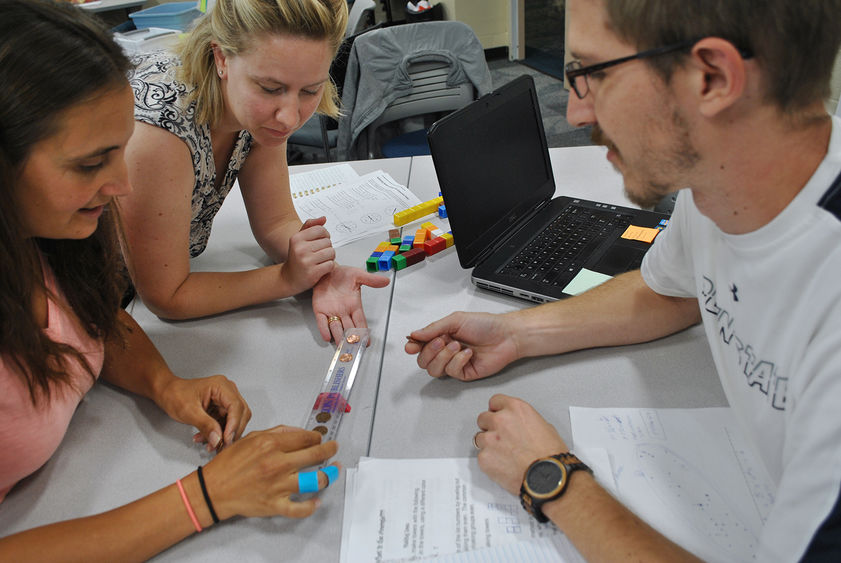 HARRISBURG, Pa. — The Central Pennsylvania Mathematics Content and Coaching Project at Penn State Harrisburg is helping elementary, middle school and high school teachers improve their mathematics teaching skills in today's classrooms. The program was made possible through a $1.36 million Pennsylvania Department of Education grant, and is co-directed by Jane Wilburne, associate professor of mathematics and education in Penn State Harrisburg's School of Behavioral Sciences and Education, and the Lincoln Intermediate Unit.
The program works with a cadre of expert teachers/coaches to prepare them with the mathematics and academic knowledge needed to effectively teach math, support other teachers in implementing valuable classroom practices, and provide on-site collaborative professional development addressing mathematical content, academics and curriculum in their school district.
"The grant provides a unique opportunity for mathematics teachers who teach in grades K-12 to learn collaboratively along with teachers from other school districts to enhance their mathematical content knowledge as well as their pedagogical skills," Wilburne said. "The program also provides coaching sessions to promote the participants' ability to work as mathematics coaches with other mathematics teachers in their schools."
Over the course of this summer and last, approximately 60 teachers and coaches from more than 20 Pennsylvania school districts participated in two weeks of intensive mathematics education courses. Course activities included article discussions, collaborative tasks, projects, reflective journals and problem sets. The tasks were designed to be challenging for all mathematics teachers and adaptable for all grade levels.
The grant covered participants' tuition, fees, textbooks and materials. The mathematics teachers also take six full-day coaching sessions at the Lincoln Intermediate Unit throughout the year.
The goals of the program include increasing teachers' knowledge of mathematics related to national and state core standards, and in research-based classroom instruction practices; as well as preparing teachers to be coaches in their own schools; and improving student achievement.
Three participants, who completed the program, reflected on their experience.
Aarin Wadel, a 7th grade math teacher at James Buchanan Middle School in Tuscarora, Pennsylvania, said the biggest benefit of the program for him was being able to work alongside different grade levels. "It helps to know where my students come from and the vocabulary and curriculum they used at the elementary level, as well as where they are going, to better prepare them for high school and what they are expected to do with these concepts after they leave my classroom."
Tara Castellar and Jennifer Varner, both math coaches in the Chambersburg Area School District in Chambersburg, Pennsylvania, were encouraged to apply for the program by their supervisor.
"I hadn't taken any extra classes past my master's (degree) so I was due for some training," Castellar said.
"I didn't even know there was a coaching endorsement," Varner said. "When I saw this program, I thought it would be a perfect opportunity for me to advance in the coaching area of my job."
Castellar and Varner liked the collaborative nature of the courses, not only the collaboration of different grade levels, but also the ability to share ideas with other Pennsylvania school districts.
"We are able to collaborate across districts so we can hear what other districts and schools are doing and we can share those ideas and concepts," Varner said.
This summer, the students focused on geometry and measurement as well as data analysis and probability. The goal of the courses is to enhance participants' conceptual understanding and knowledge of content related to the Pennsylvania core standards for those subjects.
The students used high-level, rigorous tasks and activities intended to challenge them and extend their learning of fundamental concepts. They worked together to explore the practices emphasized in the course and to reflect on how to coach other teachers to understand and teach the content in ways that work with all students in diverse classrooms.
"The courses presented us with new approaches to learning different math concepts that were not taught when I was in school," Varner said. "We've known the math behind it and understanding it, this just gives us a whole new approach, and I feel like I can apply it to different situations now."
Castellar expressed that she likes that she, as an elementary math coach, can understand the same concepts that the middle school and high school coaches/teachers understand. "Dr. Wilburne and the other professors are able to teach abstract concepts in a very concrete way that I can understand," she said.
Wadel, who uses what he has learned directly in the classroom, added that the courses help connect the larger concepts, which helps him with enrichment classes: "I can bring in one task that covers multiple concepts and helps create a better bridge for the students who have fallen behind or those who are ahead. I have a wider set of tools to use now."
Castellar and Varner take what they have learned during the program and translate it to training teachers, principals and supervisors in the district, since they are not directly in the classrooms teaching children.
Varner said that the teachers have been very receptive to the activities she shares. "I work with a group of Algebra I teachers and I model some of the activities with them. They are very excited and eager to try these concepts in their classrooms. They ask many questions and we work through the process. They are very excited for the opportunity to learn different strategies and approaches and use them in the classroom," she explained.
Yuting Hsu, assistant professor of mathematics, and Brian Adams, lecturer of mathematics, both from the college's School of Science, Engineering, and Technology, and Derek Gingerich, a high school teacher in the Conewago Valley School District, New Oxford, Pennsylvania, and graduate of the college's undergraduate and graduate program in mathematics education, co-taught the courses along with Wilburne. They also served as content consultants for the project.
In addition to the Lincoln Intermediate Unit, Penn State Harrisburg partners on the project include Chambersburg Area School District, The Center for Schools and Communities, Tuscarora School District, York Academy Regional Charter School, Middletown Area School District, Harrisburg School District, the School District of the City of York, and the Christian School of York.