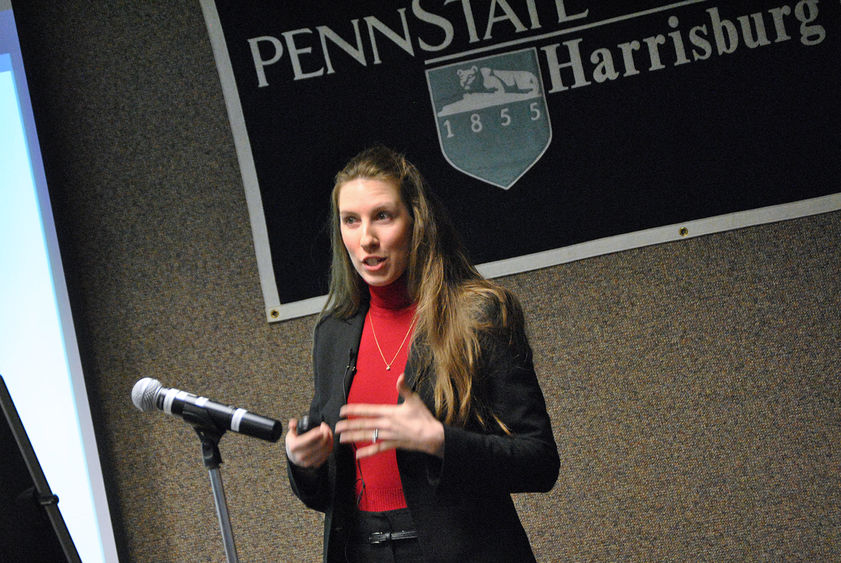 MIDDLETOWN, Pa. — Nigeria is committed to improving the training of its police force, and Jennifer Gibbs, assistant professor of criminal justice in Penn State Harrisburg's School of Public Affairs, is helping the African country get there.
Gibbs was part of a three-member team that spent a week with six members of Nigeria's governmental police force. The Nigerian Fellows then visited police academies in Virginia and Maryland to see how their training might work in practice.
Gibbs said the trainees were enthusiastic about what they learned, which included a lot of hands-on practice.
"Our role was to give them some information, then let them develop the knowledge," she said. "One Fellow said that if they do this right, they have the potential to change an entire generation of policing in Nigeria."
The training was coordinated through the Penn State Justice and Safety Institute (JASI) and was held in January in State College.
Other instructors were Bob Stonis, associate director of adult training programs at JASI, and Mike Ecker, a retired police chief who currently is a law enforcement training specialist at JASI.
Gabriel Onyilo Elaigwu, chief superintendent of police for the Nigeria police force, said the training is valuable.
"The program has shown us new ways on how to revamp our training institutions," he said. "We have our own methods — largely with a concentration on classroom work — but we now realize we also have to do a lot of physical activities and exercises, too. I'm confident it will help us, to a large extent, in remodeling our training needs."
Nigeria plans to hire an additional 10,000 police constables, and they will all need training, Gibbs said. It seemed a good time to revamp the agency's training methods. She added that the Fellows were mid-level functionaries who have influence.
"They will be able talk to their supervisors about restructuring," she said. "Their voices will be heard."
Although she was one of the trainers, Gibbs said she learned from her pupils, too. Nigeria's police force is structured very differently that in the U.S., she said. "Theirs is centralized, with only one police agency for the whole country — as opposed to some 18,000 police agencies in the U.S. — and all police are responsible to the inspector general."
One challenge they face is policing to a population that speaks more than 250 languages. While English is the official language, not everyone speaks it, Gibbs said.
While teaching policing courses has been a primary focus for Gibbs, she has also studied adult learning. Still, she typically teaches college underclassmen. Working with the Nigerian police officials reminded her of the need to adapt her teaching techniques for adult learners.
"The approach is very different and much less focused on lecturing," she said. "Our main role was as facilitators. We would deliver short pieces of information, say it in as many ways as possible, and then let the Fellows run with the ideas."
Gibbs said she would like to continue partnering with JASI to help police officers from other countries in their training. JASI specializes in law enforcement training at the local, state and federal level and has worked with international partners in Morocco, Trinidad and Tobago, and the United Arab Emirates.
The Nigerians were "such a great group of people," Gibbs said. "I hope to do more of this type of training. It was an amazing experience."