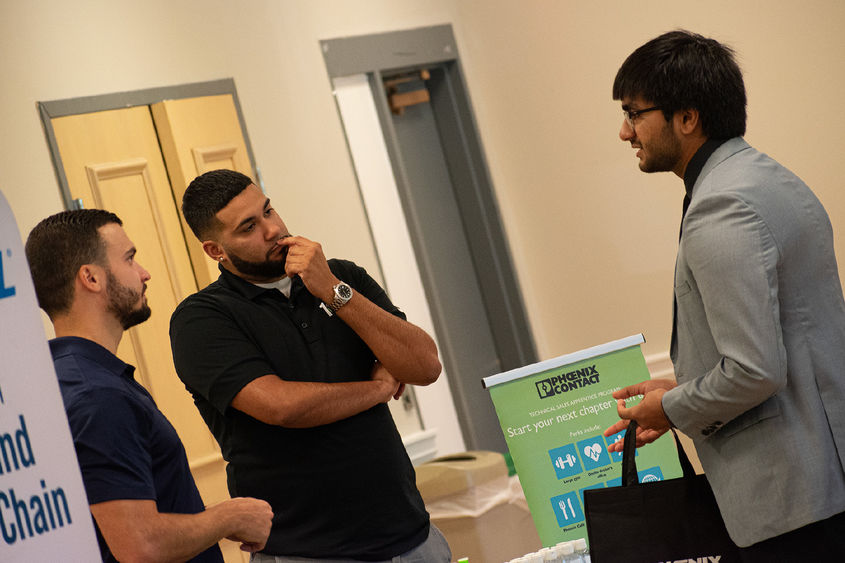 MIDDLETOWN, Pa. — Leading up to the recent Penn State Harrisburg Sales Competition, sponsored by D&H Distributing, student Justin D. Henson prepped whenever he could between classes — making sure he knew the product he was going to try to sell during the case competition and developing a script he could use to establish a relationship with the potential client.
"It's a great opportunity to put yourself out there," said Henson, who is studying to earn a bachelor's degree in marketing and a master of business administration through Penn State Harrisburg's integrated undergraduate/graduate program.
He's traveled to other schools to compete in sales competitions previously, and he said having a competition at the Harrisburg campus was a great experience for students.
"I think it was a perfect opportunity for me to learn how to sell myself to companies and also meet new like-minded connections from different universities," he said, adding that it allowed him to practice his selling skills in front of professionals who work in the field. "The advice I received showed me that all I really needed was practice, and from the practice, I can make selling a perfection."
Students from Penn State Harrisburg and five other colleges put their sales skills to the test on Oct. 13 and 14 at the inaugural sales competition hosted by the School of Business Administration.
"The School of Business Administration is committed to providing students with hands-on experiences, and this sales competition is a prime example," said Angappa Gunasekaran, director of the school. "It also serves as an excellent platform for networking and relationship development among students, faculty and local employers."
Darrell Bartholomew, associate professor of marketing at Penn State Harrisburg, developed the competition after helping students compete at other schools for years and hearing their desire to have such an event on their own campus.
Through the competition, the college has formed educational partnerships with regional companies, which Bartholomew said he hopes will help Penn State Harrisburg grow as a regional resource for sales training and education.
"We all made some good memories and connections with students and faculty from the region who have also have an interest in professional selling," Bartholomew said. "I wouldn't have been able to put on this event without the help and support of our local business community, which provided judges, buyers and career fair booths, as well as support from the college."
Students from five colleges, in addition to Penn State Harrisburg, participated: Penn State Berks, William Paterson University, Virginia Commonwealth University, Temple University and Shippensburg University.
The event featured a D&H Distributing case competition: a business-to-business case role play that allowed student competitors to practice their sales skills by acting the part of a D&H sales professional, pitching real products and services to fictitious small and medium-sized resellers. 
D&H Distributing was the platinum sponsor for the event. Rob Webster, senior sales director for D&H and a keynote speaker for the event, said the company was motivated to be a major partner for the competition and wants to forge a relationship with the college as it works to grow sales programming. D&H, one of the area's largest private employers, typically fills more than 100 sales roles each year, in addition to offering other career paths.
"It just made sense," said Webster, adding that the skills students build through the competition are valuable for those who want to pursue sales careers as well as others, who will have to sell themselves to prospective employers. "Sales is a foundational skill that everyone has to have to be successful in life."
Additional regional partners for the event were: Clark Associates, Enterprise Holdings, Fastenal, Sherwin Willams and Hershey Entertainment. Other support came from Capital Blue Cross, TEKsystems, Phoenix Contact and UPS.
The event also featured an elevator pitch competition, where students visited the companies at a career fair and offered short, timed pitches on themselves and their skills. Representatives from the companies served as judges.
As students approached a table for Phoenix Contact, company representatives Aaron Lentini and Ryan DeJesus were looking for a few things — confidence, motivation and determination, as well as students who could connect their own experience to the company's business.
Both Lentini and DeJesus are recent Penn State Harrisburg graduates, so they knew what it was like on the other side of the table.
"When you're a student and seeing people from the industry, it can be intimidating to try to bridge the gap," said Lentini, a product marketing specialist for Phoenix Contact. "We both just graduated. It's not as great of a leap between student life and your career as you might think."
DeJesus added that it's great for students to get exposure to the companies that are out there and see what's in store for them.
Mike Chao, director of the Russ Berrie Institute for Professional Sales at William Paterson University, said William Paterson has hosted its own sales competition for 16 years and has established a great relationship with Penn State Harrisburg through that event. He brought students to Harrisburg's event for the experience, he said.
"Students have the opportunity to practice their communication and selling skills right in front of company partners," he said, adding that participating allows participants to meet students from other states who are interested in the same types of career experiences as well as learn about job opportunities with various companies.
The event included a networking dinner, company information meetings and a trip to Hershey Park.
Faculty from Penn State Harrisburg's School of Business Administration helped run the event, including Stephen Hampton, assistant professor of marketing; Siddharth Bhatt, assistant professor of marketing; and Hossein Hashemi, assistant professor of marketing.
"I was extremely impressed by the skill and preparation of all the competitors," said Hampton, who helped run the awards ceremony. "This competition can be very uncomfortable for the students but getting out of their comfort zone clearly produced great results. I applaud their willingness to get uncomfortable and sacrifice their time. They were driven to perform well and that made it a great event."
Awards were given as follows:
D&H Case Role Play Competition
First place: Salmaan Bhimji, Penn State Harrisburg
Second Place: Felix Camacho, William Paterson University
Third Place: Alauna Cockett, William Paterson University
Elevator Pitch Competition:
First place: Giuseppi Inserra, Virginia Commonwealth University
Second place: Samhita Bollineni, Virginia Commonwealth University
Third Place: Aiden Beiler, Penn State Harrisburg
Honorable mention: Gabrielle Theros, Penn State Harrisburg
Top Networker Awards
Giuseppi Inserra, Virginia Commonwealth University
Vedant Patel, Penn State Harrisburg