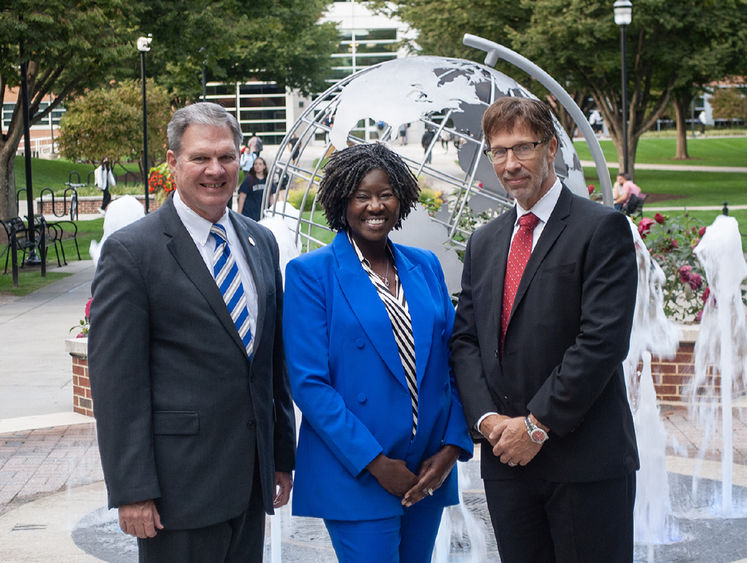 MIDDLETOWN, Pa. — Penn State Harrisburg has announced the recipients of the college's annual Alumni Achievement Awards. One graduate from each of the college's five academic schools earned the accolade thanks to their outstanding professional accomplishments.
A ceremony to recognize award recipients was held on Oct. 5. The honorees were:
Douglas Charney, class of 1982, bachelor of science in business administration, School of Business Administration
Charney earned his bachelor's degree in business administration in 1982. He attended college on an ROTC scholarship and was selected for the General George C. Marshall Award and Distinguished Military Graduate Award.
Upon graduation, Charney was commissioned as a second lieutenant in the U.S. Army and served as an ordinance officer on active duty for six years. After Charney transitioned to the Army Reserves, he began a career in wealth management services. After 30 years of service at the Center for Strategic Leadership at the U.S. Army War College in Carlisle, Pennsylvania, Charney retired from the U.S. Army as a colonel in 2012.
After 11 years as a financial adviser and branch manager, Charney founded the Charney Investment Group in 1999. He currently serves as the primary financial adviser and president of the company, managing over 500 households and $300 million in assets.
Charney volunteers for Angel Flight East, flying patients and their families to their medical destinations and participates in cycling charity rides. He also serves on the Penn State Harrisburg Board of Advisers, is chair of the School of Business Administration Advisory Board and is a member of the college's Development and Campaign Committee.
Dennis Hodgson, class of 1994, bachelor of science in public policy, School of Public Affairs
Dennis Hodgson graduated from Penn State Harrisburg in 1994 with a bachelor's degree in public policy. He retired earlier this year as executive vice president and chief information officer at Burlington Stores, an $11 billion dollar retailer with over 900 stores nationally. He held the role for 13 years.
Prior to Burlington, Hodgson served as senior vice president, chief information officer and general merchandise manager of e-commerce at A.C. Moore and vice president of information systems at Foot Locker Inc. He was also the founder and chief operating officer of HealthQuest Inc., a division of Staff Builders Home Health Care. 
Through his real estate management company, Globix Holdings LLC, Hodgson owns and operates a portfolio of residential and commercial rental properties. He also built and sold a chain of home health care companies to a national provider. Other entrepreneurial accomplishments include two car dealerships in Central Pennsylvania, a leading search engine optimization (SEO) consulting company, and an international trade consulting company. 
Hodgson serves on the Penn State Harrisburg Board of Advisers and is engaged in a number of philanthropic activities, including the Joshua Group, an organization that helps to guide underprivileged Capital Region youth through their academic years. 
John Lucey, class of 1977, bachelor of science in water resources engineering, School of Science, Engineering, and Technology
John Lucey earned his bachelor's degree in water resources engineering from Penn State Harrisburg in 1977. He then went on to receive a master of science degree in civil and environmental engineering from the University of Pittsburgh. 
He began his career at Chester Engineers in Pittsburgh, eventually becoming president of the 300-person company 19 years later. When Chester was purchased by USFilter, he became executive vice president and general manager of the company's engineering and construction division. During his time at Chester and USFilter, he led water and wastewater projects for municipalities and industries throughout the U.S. and internationally. 
Lucey also served in executive positions for Veolia, HDR, and Heckmann Water Resources before finishing his career at McKim & Creed, where he retired as president and CEO. He continues to serve as board chair.
Lucey also serves as pastoral council chair at All Saints Catholic Church and vice chair of the North Carolina Oil & Gas Commission.
Kesha Morant Williams, class of 2005, master of arts in humanities, School of Humanities
Kesha Morant Williams is a communicator, researcher and advocate committed to building human and social capital in academic and community spaces.
She earned her master of arts in humanities from Penn State Harrisburg in 2005. She also holds a bachelor's degree in communication studies from West Chester University and a doctorate in communication and culture from Howard University.
Williams currently serves as the senior adviser for college diversity, equity and belonging and is professor of humanities and communication arts at Elizabethtown College. She is responsible for providing college-wide vision and leadership with DEIB efforts. 
Williams began her career as a reporter and community educator with Lancaster Newspapers and has held other positions at community organizations such as Compass Mark, The Mix at Arbor Place, and Bethel Harambee Historical Services.
Rebecca Pringle, class of 1989, master of education in teaching in curriculum, School of Behavioral Sciences and Education
Rebecca Pringle earned her master's degree in teaching and curriculum from Penn State Harrisburg in 1989. She currently serves as president of the National Education Association (NEA), the nation's largest labor union. 
Before assuming NEA's top post, Pringle served as the NEA vice president and secretary-treasurer. A middle school science teacher with more than three decades of classroom experience, Pringle began her leadership journey as a local president, and then went on to serve on the board of directors for NEA and the Pennsylvania State Education Association.
She is a recipient of the National Peace Medal for Leader of Educational Excellence; the Black Women's Roundtable Education Innovation & Social Justice Leadership Award from the National Coalition on Black Civic Participation; the Woman of Power Award from the National Action Network; and she was named Community Woman of the Year by the American Association of University Women.
Pringle is also a lifetime member of the NAACP, and she served on President Barack Obama's Commission on Educational Excellence for African Americans.