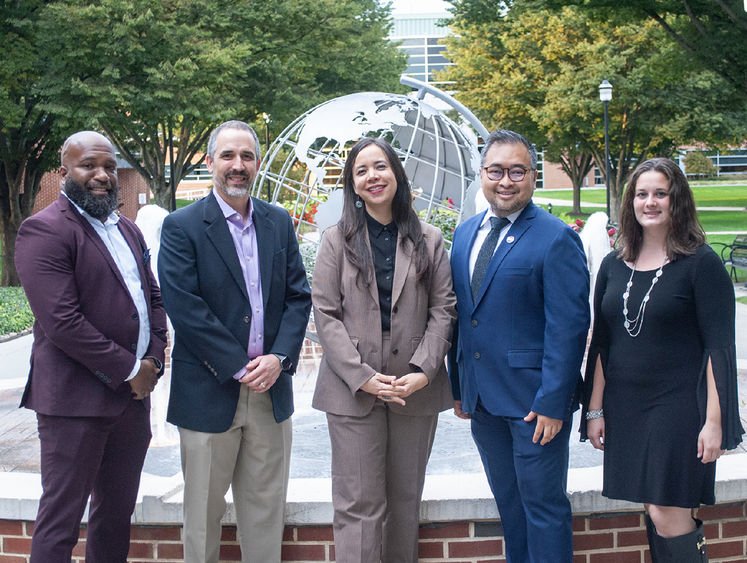 MIDDLETOWN, Pa. — Penn State Harrisburg recently announced the winners of its People to Watch Awards, graduates from each of the college's schools who have made a significant contribution to the betterment of society through their personal and professional endeavors.
The honorees were:
Larry Asu, class of 2014, master of education in training and development, School of Behavioral Sciences and Education
Larry Asu, a native of Malaysia, obtained his master's degree in training and development from Penn State Harrisburg in 2014, receiving the 2014 Outstanding Graduate Student in Training and Development Award and the 2014 Student Diversity Award.
He is a senior learning manager at Pepsi Beverages North America, where he leads and implements learning and development strategies and initiatives. Prior to PepsiCo, Asu was a learning manager at the Hershey Company, leading end-to-end training for the supply chain division. 
Asu serves on the college's Board of Advisers. He is a champion in fostering positive change in young lives through his involvement in the Big Brothers Big Sisters Program. He also actively participates in his church, Seven Sorrows, in Middletown, Pennsylvania, the local food bank, and the Children's Miracle Network. 
Ariel Gardner, class of 2019, bachelor of science in biology, School of Science, Engineering, and Technology
Ariel Gardner graduated from Penn State Harrisburg in 2019 with a bachelor's degree in biology. For the past six years, she has been a zookeeper at various Association of Zoos and Aquariums facilities throughout the United States. Last fall, she began working at Disney World's Animal Kingdom.
Gardner also earned a master's degree in veterinary biomedical science from Lincoln Memorial University. She has a vast background working with numerous animal species.
Gardner began her career at ZooAmerica in Hershey, Pennsylvania, where her passion for animal conservation grew.
Through her various positions since then, she has been a part of conservation work, including helping to breed Canadian lynx, ringtail cats, pronghorn, Northern spider tortoise, bat-eared fox and Puerto Rican crested toads. She has been involved in other conservation projects, including Orinoco crocodile rearing, Eastern hellbender rearing, regal fritillary butterfly breeding and release, as well as kestrel and barn owl chick banding.
Gibran Jones, class of 2008, bachelor of science in information sciences and technology, School of Business Administration
Gibran Jones earned a bachelor's degree in information science and technology from Penn State Harrisburg in 2008. His career as an IT professional has included work in the healthcare and education industries as well as government.
Jones owns Krimson Square, a full suite digital marketing firm that he established in 2010. He has worked with businesses of all sizes and sectors, from startups to the NFL, and is currently working as the lead trainer and subject matter expert with Boot Camp Digital, where he specializes in Facebook Ads, search engine optimization and digital marketing. 
Jones served as a member of the Alumni Society Board of Directors from 2016 to 2021 and was awarded the K. David Weidner Diversity Award by the Penn State Alumni Association. He is a member of the college's Board of Advisers and the Central Pennsylvania Board of Governors for the Valley Youth House. 
Jones served in the U.S. Army, assigned to the historic 1/10 Cavalry "Buffalo Soldiers" in Fort Hood, Texas, and was deployed to Iraq from 2003 to 2004. While enlisted, he earned the Primary Leadership Development Medal, Global War on Terrorism Expeditionary Medal and the Army Accommodation Medal.
Jeffery Swinehart, class of 2009, master of public administration, School of Public Affairs
Jeffery Swinehart earned a master's degree in public administration from Penn State Harrisburg in 2009. He is president and CEO at the Lancaster Farmland Trust, which has a mission to vigorously accelerate the permanent protection and stewardship of farmland.
He previously served the organization in various roles, including chief operating officer, deputy director, and director of land protection. During his tenure, Swinehart and his team have built Lancaster Farmland Trust's preserved farm portfolio to more than 570 conservation easements and over 35,000 acres — the largest easement portfolio in Pennsylvania by a private land trust.  
Swinehart, who also holds a bachelor's degree in geography from Mansfield University, is chair of the board for the Lancaster Clean Water Partners, vice president of the board for WeConservePA, and has served in various positions on the Manheim Township Planning Commission for 12 years. In 2021, Swinehart began a second term as the Mid-Atlantic representative for Terrafirma, a captive insurance program for the land trust community. 
Emilia Yang, class of 2014, master of arts in communications, School of Humanities
Emilia Yang earned her master of arts in communications from Penn State Harrisburg in 2014. She is a Central American artist, memory organizer and researcher.
Yang serves as the director of "AMA y No Olvida Memory Museum Against Impunity," a conceptual, transmedial and community memory museum that explores participatory forms of art and design for remembering and demanding justice for the victims of state violence in her home country of Nicaragua.  
Yang holds a doctorate in interdisciplinary media arts and practice from the University of Southern California. She is currently an assistant professor of art and design at the University of Michigan's Penny W. Stamps School of Art and Design, with a focus on anti-racism by design. In 2022, she was selected as a Public Art and Engagement Fellow by U-M Arts Initiative, University of Michigan Museum of Art, and Monument Lab, and in 2023 she was selected an Arts for Gender Equality Fellow by the Rockefeller Foundation and CARE. She was also granted the New Latin American Voices Award at the New Images Festival hosted by the Forum des Images in Paris.