The ASCE Mid-Atlantic West Student Symposium drew students from 11 colleges to Penn State Harrisburg's campus.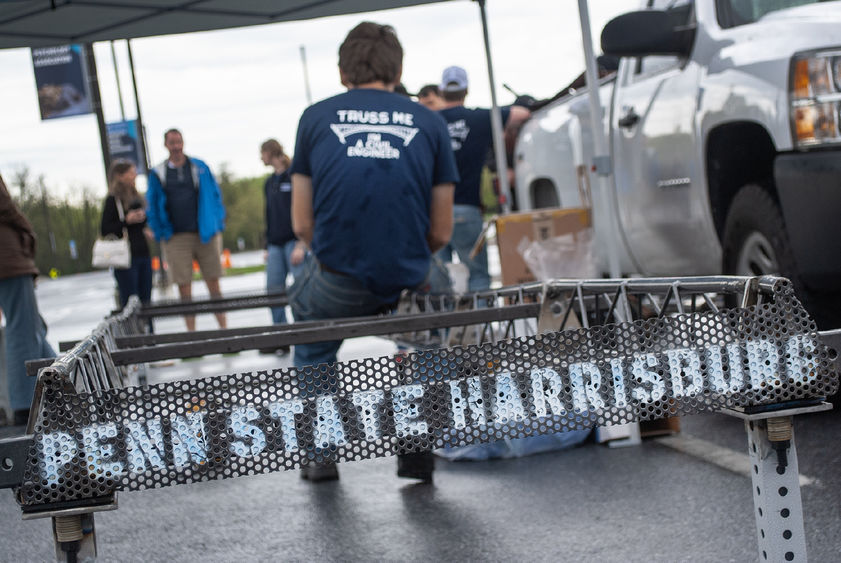 MIDDLETOWN, Pa. – Penn State Harrisburg students had the chance to test their engineering skills during the 2023 American Society of Civil Engineers Mid-Atlantic West Student Symposium.
The college, along with York College of Pennsylvania, hosted this year's symposium, which drew students from 11 regional colleges to the Harrisburg campus April 13-15. The event featured several engineering competitions, as well as a leadership workshop, career fair and networking event.
Penn State Harrisburg's ASCE student chapter competed in the steel bridge competition, which challenges students to develop a concept for a scale-model steel bridge to span approximately 20 feet and to carry 2,500 pounds, and to assemble it under timed conditions. 
Nick Yeagy, a third-year civil engineering student and captain of the Penn State Harrisburg steel bridge team, said the event was an opportunity for students to apply what they are learning in classrooms as well as pick up new skills, such as metal fabrication.
"It gives us a chance to learn a bit of engineering design and how to construct something in the real world," Yeagy said. "That's something they try to stress to us in our major. Something can look good on paper but whenever you go to build it, it's not that easy. It's taught us some good lessons, I'll say that."
Students said the event offered good career preparation as well.
"My ultimate goal is, I want to be a project manager in civil engineering," said Sofia Costagliola, a third-year civil engineering student. Serving as the treasurer of the team gave her practice filling out proposals and seeking funding for the materials the team would need to construct their bridge. "It's good for me to get that experience on a (smaller scale)."
Penn State Harrisburg alum Kienan Dalesandro returned to his alma mater to be the head judge for the steel bridge competition.
Dalesandro, who earned bachelor's and master's degrees in civil engineering, spent three years doing bridge design before becoming a forensic engineer with Barry Isett and Associates, an engineering and consulting firm with offices throughout Pennsylvania, including in Mechanicsburg. Judging the competition brought back memories of his own time on the steel bridge team.
"It was probably the best part of my undergrad (experience) because we actually got to take what we were learning in class and apply it to a 'real world' scenario while learning all the fabrication skills and everything that went into it," he said. He served as the steel bridge captain his senior year, he said, and so he gained valuable leadership skills as well.
For students, the competition also provides a chance to talk with professionals in their field as well as students. Dalesandro said this year's symposium had a "collaborative" feel to it.
"It's always great to network and meet people, especially when they're going to be in the same industry as you are," he said.
This year was Penn State Harrisburg's first time hosting the symposium, said Shashi Marikunte, associate teaching professor of civil engineering and co-chair of the event, adding that the college received good support from the ASCE Central Pennsylvania chapter, as well as from Paul Ackerman, a faculty member at York College who served as co-chair, and other event sponsors. In addition to ASCE Central Pennsylvania, other sponsors were Whiting Turner, High Steel Structures, American Institute of Steel Construction (AISC), Pennoni, Nutec and Specialty Emulsions.
"It's really great because we were able to do this in a much better way than anyone anticipated," Marikunte said.
Hosting the competition was a good way to highlight the campus and its offerings, he added.
He remarked that students from a larger school complimented Penn State Harrisburg's lab facilities, and he hopes the good exposure from the symposium could encourage students to consider the college's graduate programs.
Penn State Harrisburg's team included many third-year students this year, meaning they'll be able to compete again next year – and students hope their growing ASCE chapter can compete in additional events next time.
Yeagy said the chapter has already started planning for next year.
"We're always looking for new members," he added.