The event is billed as the world's largest gathering of women and non-binary individuals in technology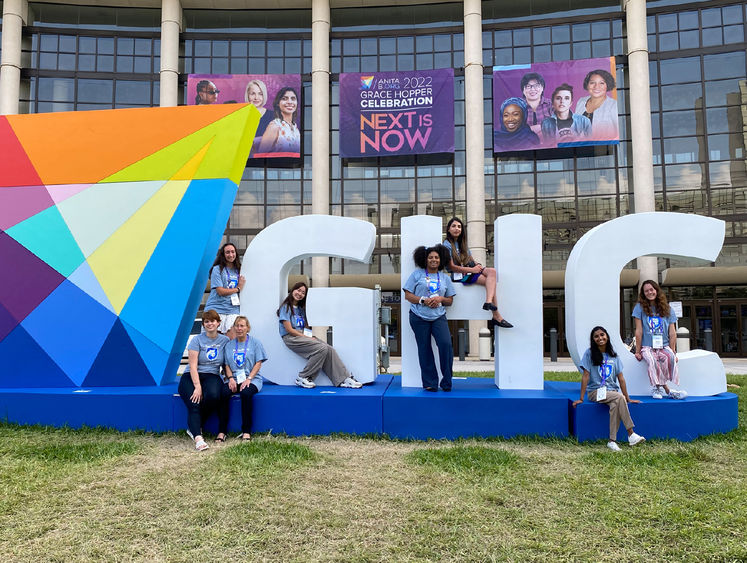 MIDDLETOWN, Pa. — Students from Penn State Harrisburg recently attended the Grace Hopper Celebration, billed as the world's largest gathering of women and non-binary individuals in technology, where they were able to network with technology leaders and, in one student's case, land a summer internship.
Kiana Karami, assistant professor of electrical engineering, and Susan Eskin, associate teaching professor of physics in the college's School of Science, Engineering and Technology, took six students to the Anita B.Org Grace Hopper Celebration, which is named after the late Grace Hopper, a U.S. Navy rear admiral and pioneer for women in technology. The group included students from the School of Science, Engineering and Technology, School of Business Administration, and School of Humanities.
With a 2022 theme of "Next is Now," the conference draws around 30,000 attendees, virtually and in-person, from around the world, ranging from students and women in academia to company executives. Hundreds of companies, colleges and other employers participate in the career fair, where on-site interviews were held for internships and full-time jobs.
Karami attended the gathering twice when she was a student and the conference had a huge impact on her, she said, so she wanted to bring the opportunity to Penn State Harrisburg students.
"It is really great to see all of these inspiring women. They're doing these great jobs, and they have really good positions in industry and academia. It gives you a lot of passion and encouragement," she said.
The four-day event in Orlando, Florida, included hundreds of sessions and hands-on activities such as workshops and mini-labs on technology topics. Speakers included CEOs, a White House official, professional athletes, and leaders from companies such as Meta and Uber.
Eskin said she's attended two or three conferences a year during her professional life, and the Grace Hopper event is an exceptionally productive conference to attend.
"This provides considerably more opportunity to network, learn new skills, and interview for jobs," she said.
Karami said the sheer size of the event can be overwhelming at first, but students are soon eager to chat with representatives of companies such as Apple and Google.
Lok Yiu Wu, a second-year student who plans to study computer science, applied to attend the event because she's already thinking about seeking a post-secondary degree and thought the conference would be beneficial.
"Honestly, it's so empowering," she said.
She attended a session on quantum computing, a topic she didn't know a lot about before but now considers a future possibility. The career fair included "any company you can think of," she said, and there were opportunities to meet people from a lot of industries.
Wu met with a Bank of America recruiter on the first day of the conference. On the third day, she had an interview, after which the company offered her a summer internship — and she accepted.
"It impacted me in a real way," she said.
Maria Gist, a second-year student studying computer science, said she loved her first experience at a conference.
"It was inspirational to see all these great successful women in the STEM field, especially since it is male-dominated," she said. "The amount of diversity was amazing, and it really gave me hope, especially seeing a woman of color in the field [as a keynote speaker], someone who looks like me."
She attended a session about imposter syndrome, something she struggles with as a student, and found the inspiration to be more confident in her work. The event was a great opportunity to network and learn, she said, even for students who might not be STEM majors.
"I had met lots of amazing women at the conference whose jobs or majors had nothing to do with STEM. There's really something for everyone there," Gist said. "You feel this sort of empowerment, especially when being surrounded by all these amazing successful women."
Other students who attended the conference were Caitlin Schmeltz, Siya Divekar, Sarah Shaub and Maurielle Evans.