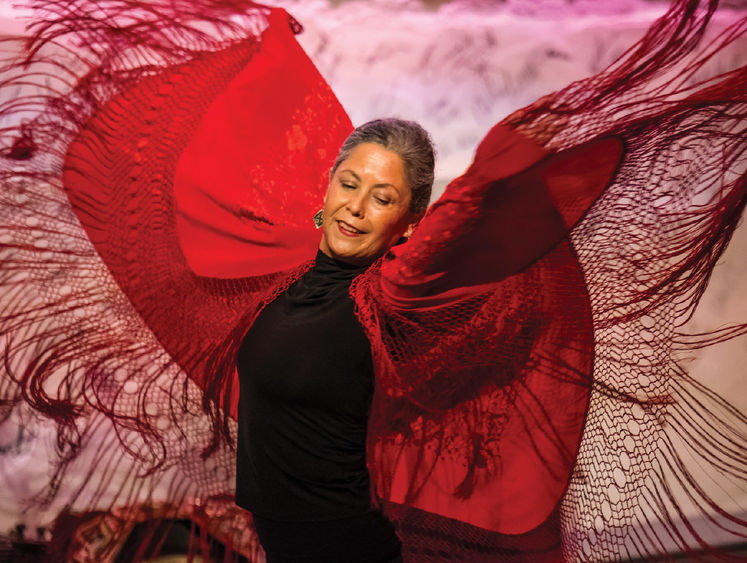 MIDDLETOWN, Pa. — Contemporary flamenco dance company, Pasión y Arte, will kick off the 2022-23 Kulkarni Cultural series with a performance at 7:30 p.m. on Thursday, Oct. 13, in the Mukund S. Kulkarni Theatre.
Founded in 2000 by Artistic Director Elba Hevia y Vaca, Pasión y Arte Flamenco Company (PyA) has achieved a reputation for creating groundbreaking contemporary feminist flamenco that is also deeply steeped in the centuries-old traditions of the southern Spanish masters. Their works are noted for their innovative choreography and technical precision. Drawing upon a mastery of flamenco integrated with other dance forms, mixed media, and experimentation in narrative and symbolic storytelling, PyA embraces the tensions between modern and traditional approaches. Through its work and the diversity of its company members, PyA expands the knowledge of the art form beyond its strict conventions of dance, production styles, and gender stereotyping.
Their performance at the Kulkarni Theatre will feature two distinct acts underscored by live musicians. In the first, Hevia y Vaca collaborates with her fellow artists to present "Portales: Muchos Mundos," an inspired choreography that not only highlights her own story, but sparks larger conversations about spirituality, ancestry, racism, sexism, and how our interpretation of history colors our sense of self. The second act features flamenco performed in 'tablao' style. Tablao refers to the casual venues where flamencos showcased their dancing until the art was institutionalized in theatrical performances. These venues gave flamencos the opportunity to demonstrate their extraordinary skills at improvising movement within the confines of strict musical and rhythmic structures.
Born in La Paz, Bolivia, Elba Hevia y Vaca began her study of classical Spanish dance at the age of five. She later studied and danced with master dancer Ana Martinez of the Ana Martinez Flamenco Dance Company in Washington, D.C., and performed with the Raquel Peña Spanish Dance Company, appearing as a soloist. In 2000, Hevia y Vaca founded Pasión y Arte (PyA) out of an intensely personal conviction that highly-stylized traditional Spanish flamenco dance is a perfect vessel to empower women. In 2008, Hevia y Vaca launched the PyA Conservatory to provide a disciplined environment for preserving and teaching the formal structures of flamenco in a female-positive environment. She has been awarded a Rocky Award, Independence Fellowship Award, and was nominated for a PEW Fellowship, in addition to countless grants, fellowships, and commissions.
Tickets for the Pasión y Arte Flamenco dance performance are on sale now at harrisburg.psu.edu/boxoffice.