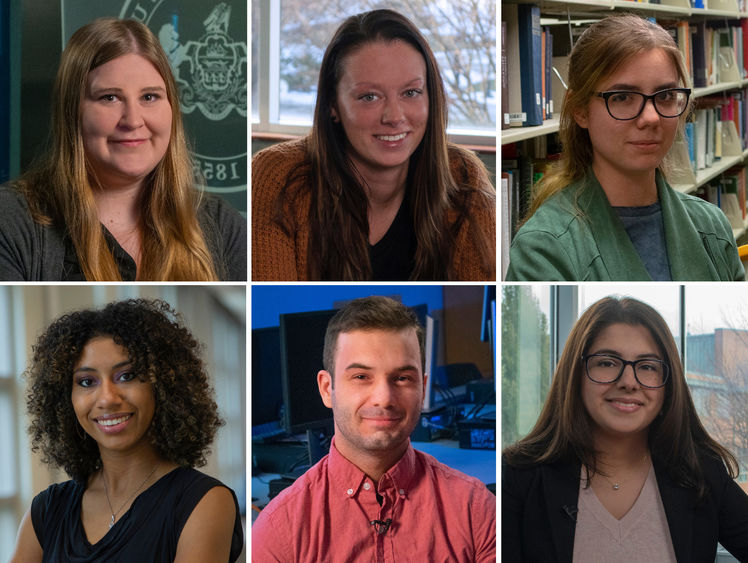 MIDDLETOWN, Pa. — Penn State Harrisburg has selected six graduates to serve as student marshals at the spring 2022 commencement ceremony on May 7. The graduates will bear the banners representing each academic school and, together with the faculty marshals, lead the graduating students during the ceremony processional.
Student marshals were selected based on their GPAs from among students eligible to graduate. Other criteria considered includes engagement with the academic school and the college, involvement in research, involvement in leadership activities, and faculty recommendations.
The spring 2022 student marshals include:
School of Behavioral Sciences and Education: Britney Spotts (Millersburg, Pennsylvania), bachelor of science in human development and family studies
Spotts began her college career at Penn State Harrisburg as a transfer student from Harrisburg Area Community College (HACC) in the fall 2020 semester. Her academic career includes high academic achievement, as well as involvement in research, campus clubs, and volunteering.
Spotts has been involved in several research opportunities with faculty members in her major. She is completing an internship at the Center for Survey Research at Penn State Harrisburg, where she is assisting on a research project involving the Pennsylvania Office of Child Development and Early Learning. She has been involved with the Penn State Harrisburg Book Club and the Human Development and Family Studies club.
Her goal is to pursue a career in research and attend graduate school.
She will be escorted at the ceremony by Hannah Mudrick, assistant professor of human development and family studies.
School of Business Administration: Dana Alt (Harrisburg, Pennsylvania), bachelor of science in finance and MBA
Alt transferred to Penn State Harrisburg in fall 2019 and decided to simultaneously complete her undergraduate and graduate education goals in the Integrated Undergraduate Graduate (IUG) Program. In spring 2020, she was inducted into Beta Gamma Sigma, an international business honor society.
Alt has exemplified leadership qualities in her academic performance, collaboration with fellow students, and interactions with faculty.
In addition to her course workload, she serves as a full-time enlisted member of the Pennsylvania Air National Guard as an aerospace ground equipment mechanic.
Following graduation, Alt plans to apply for commission to join the officer ranks in the military as well as apply to the Special Agent program with the Federal Bureau of Investigation.
She will be escorted at the ceremony by Oranee Tawatnuntachai, associate professor of finance.
School of Humanities: Emily Pettet (Red Lion, Pennsylvania), bachelor of humanities in English
Along with her academic achievements, Pettet has served on the editorial staff of the campus' literary magazine, From the Fallout Shelter, as the visual arts editor for two years. She also spent a semester as the assistant fiction editor for the magazine.
Alongside her scholastic endeavors, Pettet is working toward the completion of her first novel.
After graduation, she intends to apply for a doctoral degree program in international studies as she pursues a career with the Department of Defense.
She will be escorted at the ceremony by John Haddad, professor of American studies.
School of Public Affairs: Mikayla Greene (Harrisburg, Pennsylvania), bachelor of science in criminal justice
After graduating with an associate in arts degree in criminal justice from HACC, Greene began her bachelor's degree studies at Penn State Harrisburg. She was accepted into the criminal justice IUG program in fall 2021.  She will begin her graduate studies in the master's of criminal justice program at Penn State Harrisburg after graduation. Greene is interested in pursuing a career that will focus on prison reform.
She will be escorted at the ceremony by Jennifer Gibbs, associate professor of criminal justice.
School of Science, Engineering and Technology: Matthew Post (Clark's Summit, Pennsylvania), bachelor of science in computer science
Post is a member of the Schreyer Honors College and is currently enrolled in the computer science IUG program. He has been working part time as a software developer at SHO Technology Solutions. Over the summer, he was part of Florida International University's research experience for undergraduate program. There he worked with a research team on a project sponsored by the National Science Foundation. He won the Computer Science Outstanding Undergraduate Student Award for the 2021–22 academic year.
Before joining Penn State Harrisburg, he attended Penn State Scranton where he was a tutor leader and was elected freshman and sophomore honors councilman.
After graduation, he plans on starting his career at Lockheed Martin as a software engineer in their space division and finishing his master's degree.
Post will be escorted at the ceremony by Jeremy Blum, associate professor of computer science. 
Graduate School: Saahir Shafi (Hummelstown, Pennsylvania), doctoral degree in public administration (health policy)
Shafi has co-authored six publications in peer-reviewed journals. Two manuscripts from her dissertation are currently under review for publication and her research has been presented at national and regional conferences including the American Public Health Association (APHA), the Northeast Conference of Public Administration (NECoPA), the American Society for Public Administration (ASPA), and the Conference of Minority Public Administrators (COMPA).
Shafi has served as president and treasurer of the Public Administration Doctoral Student Organization. In this role, she mentored junior students, secured funding for conference attendance, planned community service activities, represented student interests as an organization liaison, and acted as program ambassador for potential doctoral degree applicants. She has also served through external service as an academic reviewer for Public Health Review, the Academy of Management annual conference, and Sage Open. She has moderated panel discussions for regional and national conferences and serves as a board member for the ASPA Keystone State Chapter.
Shafi is passionate about teaching and making education accessible for students from underrepresented backgrounds. She has served as an independent instructor for seven courses at Penn State Harrisburg in the fields of health policy, public policy, and political science.
After graduation, she will be joining the California State University as an assistant professor of health policy and administration.
She will be escorted at the ceremony by Daniel J. Mallinson, assistant professor of public policy and administration.