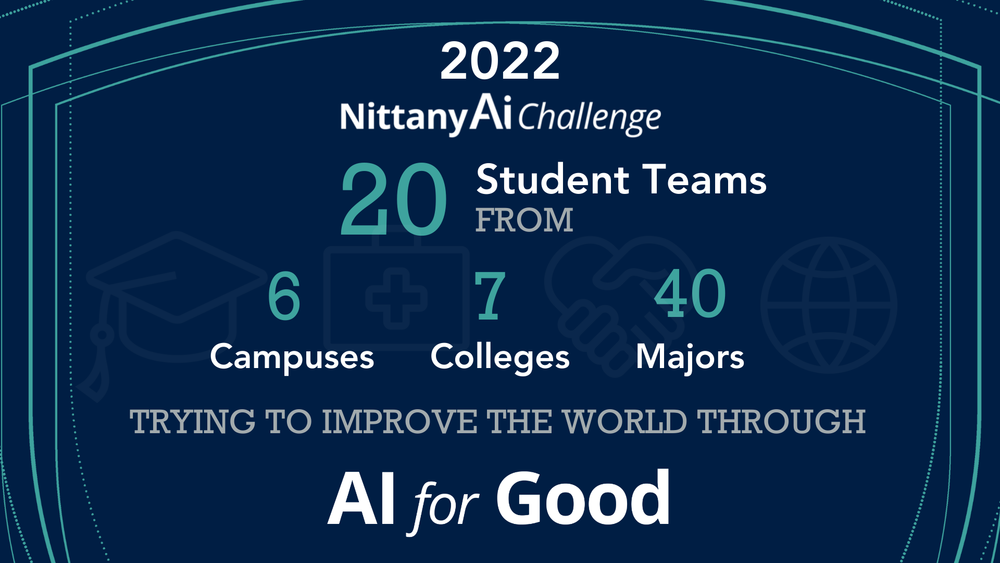 UNIVERSITY PARK, Pa. — Twenty student teams using AI for good in the fields of health, environment, education and humanitarianism will compete for a pool of $50,000 by creating solutions to real-world problems during the 2022 Nittany AI Challenge. The competition is open to students in any major and experience level.
Brad Zdenek, innovation strategist for the Nittany AI Alliance, directs the Nittany AI Challenge.
"This year, we received an impressive number of proposals from team members describing their vision of how AI can improve our world, truly showcasing the innovative spirit and ambition of Penn State students across the commonwealth," Zdenek said. "We are proud to play a role in helping to launch these 20 transformational ideas and excited to work with the teams throughout 2022 as they move their proposals into reality."
The selected teams are made up of students from 40 different majors in the College of Engineering, Eberly College of Science, Smeal College of Business, College of Health and Human Development, College of Earth and Mineral Sciences, College of Information Sciences and Technology, and the College of the Liberal Arts at Penn State. They are from Penn State's Abington, Carlisle, DuBois, Great Valley, Harrisburg, and University Park campuses.
The teams are:
–42MORO: solution to assist farmers struggling with crop loss in open-field and greenhouse applications.
–AudioHUD: providing a tool to enhance situational awareness for the hearing-impaired community.
–C0: solution to help universities monitor, predict and reduce carbon emissions.
–Career-Connect: a social network application focused on upskilling profiles and connecting people.
–Early Warning System for Wildlife: a device using AI and sound recognition to tackle the problem of deforestation and poaching.
–Eleos: an interactive AI companion to aid in dealing with negative emotions.
–Have AI Heart: application designed to assist in the prediction and prevention of heart disease.
–Hello World: a browser tool to assist visually-impaired individuals more fully interact with the online world.
–iLenz: designed to be an affordable tool providing AI-based, dilation-free home eye exams.
–LexNectare: a tool to guide attorneys, who are providing pro-bono service, through the legal elements of a claim.
–M&MH Team: a tool to identify early-warning signs for individuals with mental illness.
–PEAR: a mobile application designed to support healthy eating by providing simple estimations of meal nutrition facts.
–Portal AI: solution designed to use blockchain and AI to track use of funds acquired through donations.
–RetroFlux: an online note-sharing platform where students can edit notes in a real-time collaborative environment.
–SafeStroll: application focused on identifying the safest possible walking routes for users.
–SchizophrenAI: a tool promoting the awareness and accessibility of resources for mental health.
–Singularity: an AI-powered reconnaissance drone designed to provide law enforcement with critical, real-time information.
–SkaiVue: an AI-powered drone used for surveying land-development sites.
–Stellar AI: a tool to help job applicants identify skills and experience needed for their dream job.
–SW Swift: a platform designed to optimize the efficiency of solar farms and wind turbines.
The selected teams will move on to Phase Two where each team will be required to present a prototype to a panel of judges on March 22. The panelists will decide which 10 teams will move forward to Phase Three of the challenge and be required to present a minimum viable product (MVP) on Aug. 11.
Nittany AI Challenge important dates:
Prototype Phase: March 22
Minimum Viable Product (MVP) Phase: Aug. 11
AI for Good Expo: Sept. 8
To learn more about experiential learning opportunities and AI for Good, visit the Nittany AI Alliance website or subscribe to the email list for updates.
The Nittany AI Alliance is a service of Penn State Outreach.