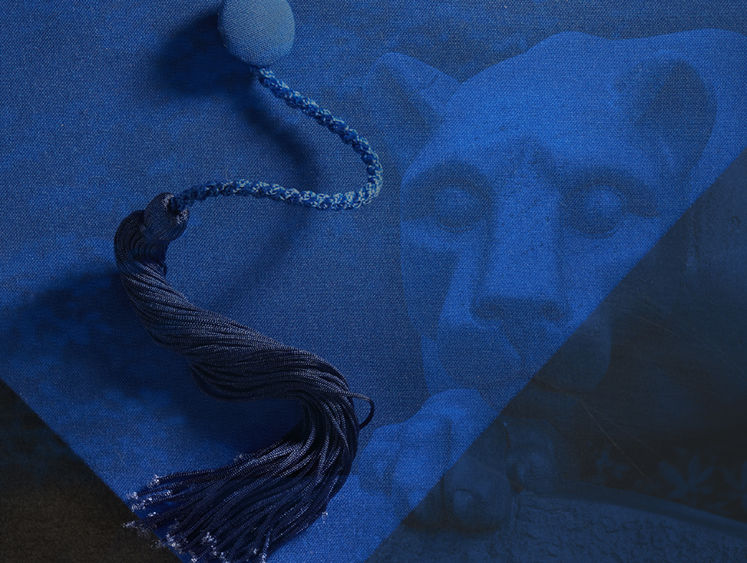 MIDDLETOWN, Pa. — Penn State Harrisburg has selected six graduates to serve as student marshals at the fall 2021 commencement ceremony. The graduates will bear the banners representing each academic school and, together with the faculty marshals, lead the graduating students during the ceremony processional.
Student marshals were selected based on their GPAs from among students eligible to graduate. Other criteria considered includes engagement with the academic school and the college, involvement in research, involvement in leadership activities, and faculty recommendations.
The fall 2021 student marshals include:
School of Behavioral Sciences and Education: Kelsey Klinger (Harrisburg, Pennsylvania), bachelor of science in psychology
Klinger graduated Summa Cum Laude in the Summer of 2021. She graduated at the top of her class, despite being diagnosed with a learning disability at a young age. Klinger completed an internship at the Schreyer Institute of Teaching Excellence where she assisted in research and was co-author of her first publication. She also completed an independent research study focusing on microaggressions in therapy.
Klinger is a member of Psi Chi, The International Honor Society in Psychology, and served as the social media ambassador on the Psi Chi Executive Board at Penn State Harrisburg. She is currently enrolled in the college's applied clinical psychology master's program, where she was awarded a graduate assistantship along with the Chancellor's Award. She currently serves as a graduate assistant, helping faculty with research and classroom responsibilities. Upon graduation from the applied clinical psychology master's program, Klinger plans to pursue a doctoral degree in clinical psychology, with the goal of researching, diagnosing and counseling clients with psychological disorders.
She will be escorted at the ceremony by Stephanie Winkeljohn Black, assistant professor of psychology.    
School of Business Administration: Amanda Walton (Hummelstown, Pennsylvania), bachelor of science in accounting   
In addition to her undergraduate studies, Walton is a second year Integrated Undergraduate Graduate Program student studying for her master's in business administration. She transferred to Penn State Harrisburg her sophomore year after choosing to switch her career path away from dental hygiene.
She has been employed throughout the school year and has been active in school clubs including the Programming and Activities Committee, Student-Initiated Fee, Women in IT, and the Accounting Club where she was able to serve as the vice president. Walton was invited to the Beta Gamma Sigma International Business Honors Society and received multiple honors and awards including the Ernst and Young Alumni Scholarship, Evan Pugh Scholar Senior Award, Higher Information Group Business Excellence Award, PA Institute of Certified Public Accountants Senior Award, Wachovia Bank Undergraduate Scholarship, and President's Freshman Award.
After graduation, Amanda plans to complete her MBA and utilize the skills she learned at Penn State Harrisburg to begin working in the field of accounting.
She will be escorted at the ceremony by Renee Flasher, assistant professor of accounting.
School of Humanities: Colleen Shuller (Etters, Pennsylvania) bachelor of arts in humanities (English secondary education)
Shuller transferred as a junior from Harrisburg Area Community College to Penn State Harrisburg. During her academic career she has been awarded scholarships from the Courtney Pollock Memorial Trustee fund, Penn State Harrisburg Chancellor's fund, and academic grants from Penn State.
Outside of the classroom and in addition to her job, Colleen served as a basketball coach for Cedar Cliff High School. She enjoys being involved in the community and volunteering when she can. She helped run basketball camps for Cedar Cliff, as well as assisting with summer league games, participating in the Harvest Seasonal Grill Harvest Moon Mile, and volunteering at St. Francis' soup kitchen.
Through her courses, Shuller has observed classes at Cedar Cliff High School and Harrisburg Middle School. She spent her final semester student teaching seventh graders at Palmyra Middle School. After graduation, Shuller would like to work in either a middle or high school as an English teacher and pursue master's and doctoral degrees.
She will be escorted at the ceremony by Mary Zaborskis, assistant professor of American studies and gender studies.
School of Public Affairs: Guy Suter (Ann Arbor, Michigan), bachelor of science in public policy   
As a student with undiagnosed dyslexia, Suter's academic journey has endured significant peaks and valleys since kindergarten. He started his academic journey in higher education at Shippensburg University. While working full-time, Suter transferred to Penn State Harrisburg in 2001 to pursue a degree in public policy. At the time, he was a founding member of both the Republican and Democrat student clubs and the president of the Pre-law Club. Twenty years after he started it, Guy recently returned to Penn State Harrisburg to complete his degree, graduating Magna Cum Laude. Although, he said, it was not necessary for his career, he did this for his mother, to set a positive example for his children, and to prove he could to himself.
Suter has been starting and leading technology companies for more than 20 years. Today he is the CEO of AMPLL Inc., an early-stage startup building a health app for work. He is also co-founder of Cahoots in Ann Arbor, Michigan, a tech hub dedicated to helping Michigan's startup ecosystem thrive. Suter has traveled the entire entrepreneurial journey from building products on apartment floors, to Silicon Valley acquisitions, to IPO, and VC-backed failures.
Outside of work, Suter serves on the education committee for the Autism Alliance of Michigan and as a member of MiPAAC (the Michigan Parents, Advocate, Attorney Coalition). He is also part of a grass roots team championing the passage of new legislation in Michigan aimed at providing better screening and educational support to students with dyslexia, like both of his children.
He will be escorted at the ceremony by Carol R. Nechemias, associate professor emerita of political science and public policy
School of Science, Engineering and Technology: Joanne Albert (Mumbai, India) bachelor of science in science
During her time at Penn State Harrisburg, Albert received the President's Freshman award, the Evan Pugh Scholar Award, and the Doris Hughes Memorial Award.
In addition to focusing on academics, she was active on campus and was also involved in research and volunteering. Her on-campus activities include membership in the Global Ambassadors Program, where she was involved in many cultural events; the Global Lion Mentors Program, where she served as a peer mentor for international students; and the Health Science Club, where she was on the executive board.
Albert also worked as a teaching assistant on campus and as a research assistant at Penn State Health's Adolescent Medicine and Eating Disorders Clinic. Over the past three years, she also volunteered as a tutor for middle school students in her neighborhood, in patient experience support at Milton S. Hershey medical center, and as a front desk receptionist at Beacon Clinic in Harrisburg.
Albert's goal is to be a primary care physician in the future.
She will be escorted at the ceremony by Theodore Underiner, associate teaching professor of chemistry.
Graduate School: Rishabh Sai (Rajasthan, India) MBA
Sai completed his master's degree with a cumulative GPA of 3.97. He completed his bachelor's degree in mechanical engineering in India and then came to the United States to pursue an MBA.
Sai is a member of the Beta Gamma Sigma society. He has been actively involved with the Global Lion Mentor program for two years, mentoring three students. Also a Global Ambassador, he helped plan and execute events for the group. He previously worked in the Student Fee Office helping students with developing proposals for events, making sure the proposals were viewed by the Student Fee Committee, and ensuring events were approved. Since his third semester, he has been an intern at Volvo Group as a logistics analyst intern. After graduation, Sai intends to work as an analyst on data related projects.         
He will be escorted at the ceremony by Rhoda Joseph, associate professor of information systems.