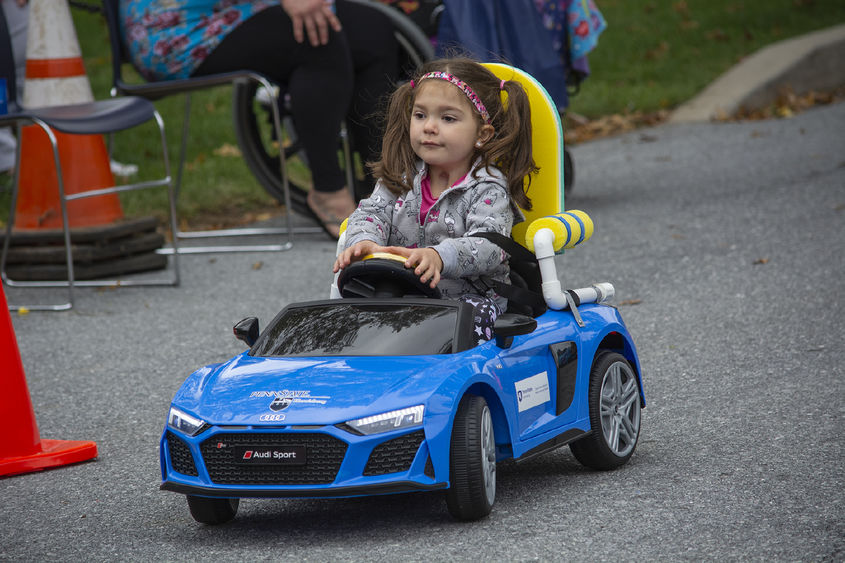 MIDDLETOWN, Pa. – Penn State Harrisburg's Capital Area Institute for Mathematics and Science (CAIMS), the college's School of Behavioral Sciences and Education, the Penn State College of Medicine, and two local high schools have partnered on national initiative 'Go Baby Go,' a program that provides modified ride-on cars to young children with disabilities so they can move around more independently.
'Go Baby Go' was founded by Professor Cole Galloway as part of a research project at the University of Delaware, and researchers, including at Penn State, have now trained volunteers in more than 40 communities -- nationally and internationally -- with satellite sites. The project aims to provide accessible and inexpensive solutions for kids with limited mobility. Ultimately, the program's goal is to help restore physical independence for children with disabilities, which has been found to positively affect a child's physical, cognitive and social development.
"Alternative mobility devices can be very expensive, and many families are unable to afford them," said Tyler Love, director of CAIMS. "We were excited to collaborate on this program that seeks to increase a child's mobility through modified miniature electric cars, which has a positive effect on these children."
"'Go Baby Go' also provides an authentic engineering design challenge for middle and high school students, who must develop a design that will meet the specific needs of each child. The practices of creativity, empathy, safety, and designing for other users are valuable technological and engineering design skills for students to develop," Love added.
Also, 'Go Baby Go' is part of the Engineering byDesign curriculum from the International Technology and Engineering Educators Association, which is used by many Pennsylvania schools. The curriculum provides standards-aligned, project-based integrative STEM learning experiences that help students develop authentic problem-solving skills.
CAIMS received requests from local teachers about participating in the Go Baby Go initiative.
"We explored how Penn State Harrisburg could collaborate with local schools and the Penn State College of Medicine to bring this program to our region. We were fortunate to have the required expertise for this event from Penn State Harrisburg's kinesiology and teacher education programs, and the nearby College of Medicine. It seemed like the perfect collaboration and a win-win for everyone."

—Tyler Love , director of CAIMS
The students had to modify the gas pedal so the children could use a big push button on the steering wheel to go. Teachers from the students' school and Penn State Harrisburg faculty were on hand to help the students with the wiring and electronics for that modification.
Students designed the structure to keep the children safe within the vehicle on their own using PVC pipe, kickboard, and other materials. Tyler Richardson, assistant professor of kinesiology in the School of Behavioral Sciences and Education, described what types of safety features the kids might need. As the students built the designs, there was a quality control check by faculty to ensure the safety.
Richardson then worked with Dr. Laura Murphy and registered nurse Traci David from the College of Medicine to select children who would benefit from the program. During Penn State Harrisburg's recent "We Are Weekend" festivities, the children and their families came to campus to receive their vehicles and test drive them before taking them home.
David, who is a case manager at the Penn State Hershey Medical Group Complex Care Clinic, was on site at the event to help make any final modifications and customize the car for each child.
"I want to thank everyone who participated in making this happen," David said. "What an absolute joy it brought to my heart to see the smiles on the faces of these amazing kids. Their everyday lives are complicated by so many health demands and lack of mobility. To give them a way to get around and have fun while doing it was priceless."
The group built cars for five children to keep this year, and an additional car will be kept at the College of Medicine to help recruit children for future builds and get an idea of what modifications the cars would need.
Love said that they would love to double the number of cars built next year and provide cars to more children. He added that they also would want to involve students from more middle and high schools in the region, as well as provide the option for Penn State Harrisburg students to participate in the build phase.
"Penn State Harrisburg's participation in this project, in partnership with the College of Medicine and local school districts and across disciplines within our own college, is one of many examples that illustrate the impact that Penn State has on the lives of people in our communities," said Penn State Harrisburg Chancellor John M. Mason.
For more information on the work that CAIMS is doing, visit the webpage here. Schools and teachers interested in getting involved with the car building phase in future years should contact Love at [email protected].