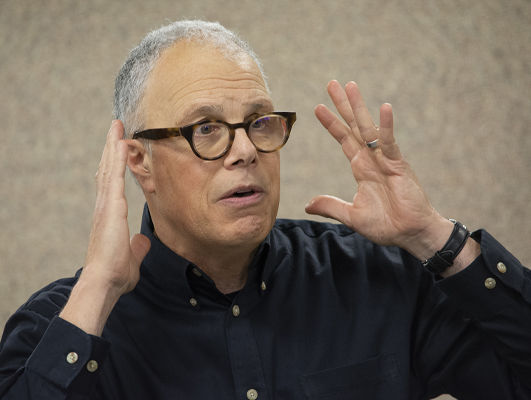 MIDDLETOWN, Pa. – Actor Michael Fosberg will visit Penn State Harrisburg at noon on Friday, Nov. 5, in Olmsted C-213 for a presentation sponsored by the college's Division of Student Affairs. The event is in-person only and open to all students, faculty and staff. Attendees must RSVP through Engage.
Fosberg will present "Nobody Wants to Talk About It: Race, Identity and the Difficulties in Forging Meaningful Conversations," a 40-minute discussion based on Fosberg's recently published book. The book details Fosberg's nationwide travels over the last 15 years to engage people in difficult conversations about race and identity. He outlines seven tools based on his experiences that he will discuss at the event. His goal is to "give people a road map to more authentic and meaningful conversations in the workplace and beyond." 
Fosberg has been working to create a national dialogue on race and identity since 2001 when he launched his one-man autobiographical play Incognito. The author-activist has used the unique presentation, along with engaging interactive training sessions and speeches, to embrace diversity in an effort to change corporate and organization cultures.
He has been a frequent guest in the media speaking as an expert on race and identity issues. His travels have taken him across the country facilitating meaningful conversations at educational institutions, corporations, government agencies and military bases. His memoir; "Incognito: An American Odyssey of Race and Self Discovery" was published in 2011 and he is currently working on a second book about his efforts to provoke conversations about race over the past 10 years. In addition, he is crafting his revelatory life story into a screenplay as well as an e-learning platform.
His work with organizations such as United Way Worldwide, the FBI, The Boeing Company and others, is reshaping the way organizations converse about race, identity, and diversity.
For more information, contact Student Services staff members Evan Williams ([email protected]), assistant director for diversity, equity, and inclusion, or Britni Greenleaf ([email protected]), cocurricular programs coordinator.