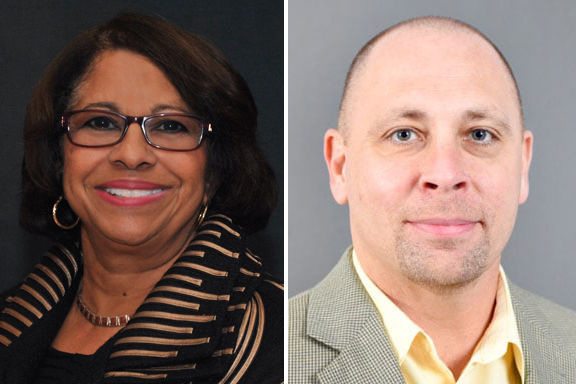 MIDDLETOWN, Pa. — Two Penn State Harrisburg alumni have been named Penn State Alumni Fellows by the Penn State Alumni Association.
The Alumni Fellow Award is the most prestigious award given by the Penn State Alumni Association. Since 1973, the award has been given to select alumni who, as leaders in their professional fields, are nominated by an academic college and accept an invitation from the University president to return to campus to share their expertise with students, faculty and administrators.
This year, Penn State Harrisburg honorees include:
Jeannine D. Peterson '78g
Peterson is the president and chief executive officer of Hamilton Health Center in Harrisburg, Pennsylvania. She has spent more than 35 years dedicated to improving healthcare access, especially focusing on issues which disproportionately impact minority and low-income populations. At Hamilton Health Center, she and her team have received both local and statewide recognition as they provide medical, dental, behavioral health, and social services to over 35,000 residents of the Greater Harrisburg area.
Prior to joining Hamilton Health Center, Peterson held numerous executive management positions, including serving as deputy project director of a federally-funded technical assistance project for JBS International, a national consulting firm in Maryland, and then as interim CEO of Healthmate, a Medicaid managed care company in Harrisburg. Before this, she served as the deputy health secretary under Gov. Robert P. Casey, where she was responsible for multiple public health programs.
Peterson serves on the Board of Directors of the Capital Region Economic Development Corporation and the PA Association of Community Health Centers.
She has also won numerous awards, including: the 2021 AAUW Harrisburg Branch Community Woman of the Year Award, the 2015 YWCA Women of Distinction Legacy Award, 2014 Chamber of Commerce/CREDC Athena Award, 2013 Central Penn Business Journal Healthcare Hero Lifetime Achievement Award, the 2012 Pennsylvania Association of Community Health Centers Lifetime Achievement Award, and the 2011 Harrisburg Regional Chamber of Commerce Catalyst Award.
In 2016, Peterson received the Penn State Harrisburg Alumni Achievement Award representing the School of Public Affairs. She is also a current member of the Penn State Harrisburg Board of Advisors.
William Terrill '92
Terrill is associate dean in the Watts College of Public Service and Community Solutions, and a professor in the School of Criminology and Criminal Justice at Arizona State University.
He earned his bachelor's degree from Penn State Harrisburg in 1992 and his master's and doctoral degrees from Rutgers University.
Terrill's early experience as a military police officer translated to an interest in policing from both a practitioner and academic perspective. Over the past 25 years, he has worked with local, state, and federal law enforcement agencies, directed numerous research studies, served as a consultant on a multitude of projects, and been retained as an expert witness.
Terrill has published widely within the criminal justice field and has written two books on police use of force and culture. He is formerly the chairperson for the American Society of Criminology Division of Policing and served on a sub-committee of former U.S. President Barack Obama's 2015 Task Force on 21st Century Policing.
Terrill is currently conducting a study on officer perceptions of firearm danger with the Phoenix, Arizona Police Department, as well as a study with the Federal Law Enforcement Training Centers (FLETC) examining body-worn cameras in several police agencies to help identify escalation and de-escalation in relation to use of force. Terrill also currently serves as co-editor for Policing: A Journal of Policy and Practice, published by Oxford University Press.