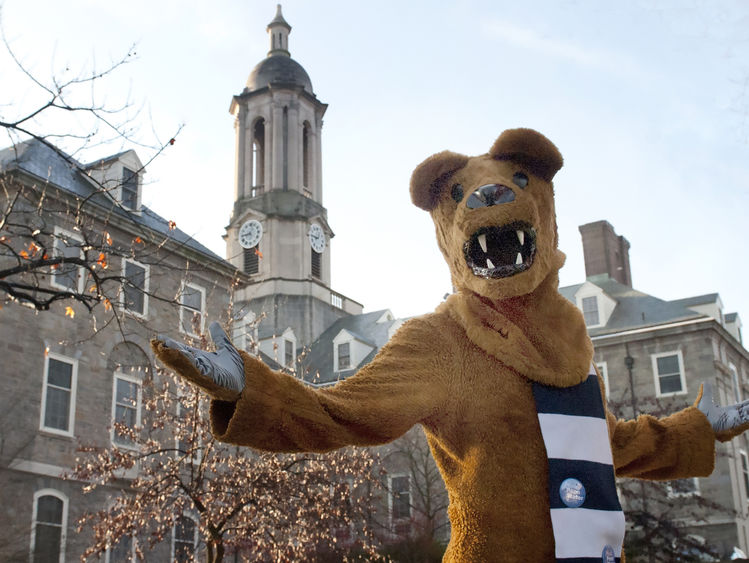 As part of our regular "We Are!" feature, we recognize eleven Penn Staters who have gone above and beyond what's asked of them in their work at the University. Do you know someone who deserves a shout-out? If you do, consider taking a minute to nominate that person by filling out a short online form.
This week, we'd like say thank you on behalf of the entire University community to:
Trish Prosser, staff member at Dickinson Law, whose nominator wrote: "Trish Prosser, administrative support coordinator for the law clinics at Penn State Dickinson Law, has been devoting her Saturdays to volunteering at the Cumberland County Community Vaccination Site where just under 2,500 first and second doses of the COVID-19 vaccine were given in a single day!"

Karen Kreger, staff member at Auxiliary and Business Services, whose nominator wrote: "I have worked with Karen for over 20 years and she exemplifies the core values of Penn State. She has an active role in the success of students housed and fed throughout the Commonwealth Campuses. She works countless hours beyond the normal workday to ensure employees were able to return to work and bring back normalcy to Penn State.

Bernadeen Harlow, staff member Office of the Vice President for Administration, whose nominator wrote: "Ms. Harlow brings eagerness, confidence and friendship to the office. She exceeds expectations and turned what could have been a very difficult year into months of productivity and efficiency. She has taken on additional responsibilities, including serving in the role of Pandemic Safety Officer."

Melissa Thomas, staff member in the College of Engineering, whose nominator wrote: "Missy's smile and laugh brightens our office and workdays. She is always ready to step up and provide an empathetic ear and words of encouragement to colleagues in need of support. She is a respected and treasured team member who serves the Engineering Advising Center in countless valuable ways."

Heather Fornicola, staff member at the Penn State Alumni Association, whose nominator wrote: "Heather is one of the few staff members that has worked consecutively in the office since May 2020. She has done a phenomenal job with picking up extra tasks during the work day to ensure the office runs smoothly during this critical time. She is a prime example of what teamwork is all about!"

Brandon Stagner, staff member in Student Orientation and Transition Programs, whose nominator wrote: "Brandon has blown us away by how he's stepped up to the challenge over the past year, helped us meet the moment, and do what is needed to support Orientation Leaders and new Penn Staters. He brings incredible heart to his work. He is passionately committed to creating welcoming and affirming spaces."

Eric Holmes, staff member at Penn State Harrisburg Counseling and Psychological Services, whose nominator wrote: "Eric stepped up to be the point person for CAPS transition to Titanium and "all things tech" — in March 2020. A daunting transition at any time, it was nearly overwhelming at that point. He has been our steady and consistent champion through these tough times. We couldn't have done it without him."

Bridget O'Donnell, staff member at Penn State Brandywine, whose nominator wrote: "Bridget has been creative in ways to engage students safely in person and virtually for our students who aren't able to come to campus. In addition, Bridget cares deeply about issues around diversity, equity and inclusion and has been instrumental at keeping these at the heart of Student Affairs."

Roxann Gariffo, staff member at Penn State Brandywine, whose nominator wrote: "As our campus nurse, Roxann has been invaluable to our testing, quarantine and isolation program for students. In addition, she has provided information to the campus community and is always willing to answer a question or follow up with a member of the community."

Mary Kay Williams, staff member at Penn State Behrend, whose nominator wrote: "When we reopened for campus visits, Mary Kay made it her mission to personalize as many visits as possible. She goes above and beyond to make sure our students and families leave with a smile on their face. She makes Behrend shine bright and truly understands that each student makes a difference."

Michele Scott, staff member at Penn State Abington, whose nominator wrote: "The time, dedication and care that Michele, Abington's campus nurse, has provided for each and every student on campus due to COVID-19 is beyond imagining. Michele worked nights, weekends and holidays this past year. I am not sure how Abington would have managed without her."
Thank you Trish, Karen, Bernadeen, Melissa, Heather, Brandon, Eric, Bridgett, Roxann, Mary Kay and Michele — and everyone who helps make Penn State such an incredible community!