Fry to host inclusive excellence webinars for students, faculty and staff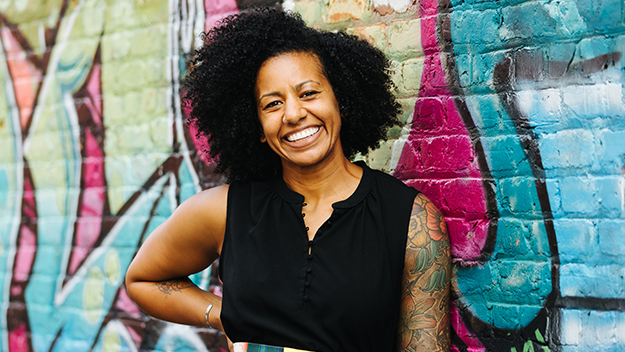 MIDDLETOWN, Pa. — Renowned social justice educator Jen Fry will host a pair of free webinars focusing on inclusive excellence in higher education in March. The first session is open to all faculty and staff and will take place at 10 a.m. on Thursday, March 4. The second session is intended for students and will be held at 7:30 p.m. on Monday, March 15.
Interested staff and faculty can register at this link for the March 4 event.
Students interested in taking part in the webinar can register at this link for the March 15 event now.
The workshops are designed for discussion of a variety of ongoing social justice issues, including race, diversity, gender, inclusion, antiracism, athletics, power, privilege and more. Through training, participants will gain strategies, skills and motivations to engage in dialogue that will continue to push the needle forward in helping to develop an antiracist culture.
Fry is the owner and CEO of JenFryTalks, a social-justice education firm that uses conversation to educate and empower those within athletics through an anti-racist lens on issues of race, inclusion, intersectionality, diversity and equity. The organization facilitates dialogue with small and large groups, athletic departments, athletic teams, staff, administrations, schools, affinity groups and identity groups, among others. It uses an anti-racist focus to advise on best practices to create equitable searches; hiring; onboarding practices; methods of retaining staff; retaining student-athletes; supporting student-athletes, staff and coaches; and community building.
A former Division II women's volleyball standout and veteran coach with more than 15 years of collegiate experience, Fry has coached on staffs at Elon, the 2011 NCAA National Runner-Up Illinois squad, Washington State University and Norfolk State University She turned social justice educator after realizing the need for teaching student-athletes of all ages about issues of race, inclusion, intersectionality, diversity and equity, as well as the administration, staff and coaches who train them. She is currently working toward her doctorate in geography at Michigan State University.
Additional information regarding JenFryTalks and its mission is available at JenFryTalks.com.
The faculty and staff event is made possible by Penn State Harrisburg Office of Student Affairs and the Commission for Women. The student workshop is made possible by the Penn State Harrisburg Student Activity Fund.