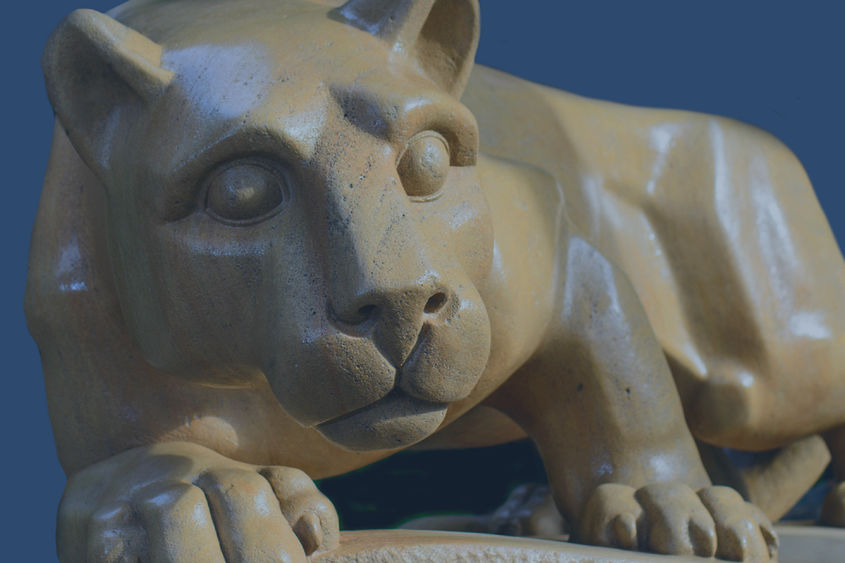 MIDDLETOWN, Pa. — Penn  State Harrisburg has selected six graduates to represent each academic school and graduate studies as student marshals for fall 2020.
Student marshals were selected based on their GPAs from among students eligible to graduate. Other criteria considered included engagement with the academic school and the college, involvement in research and leadership activities, and faculty recommendations.
Penn State will hold its fall 2020 commencement ceremony via livestream on Dec. 19. The virtual ceremony will recognize all Penn State undergraduate students and all graduate students in the Penn State Graduate School.
Penn State Harrisburg's fall 2020 student marshals include:
Behavioral Sciences and Education: Brandon Curry (Middletown, Pennsylvania) – bachelor of science in psychology
Curry's achievements have garnered praise from faculty, both in the classroom and the laboratory. Faculty noted that he excels in his coursework and demonstrates a clear command of psychological knowledge and always asks critical, thought-provoking questions. He is also excellent at responding to his peers' comments in a way that pushes them to think about the topic at hand, while maintaining respect for their shared experiences and ideas.
Curry is engaged in graduate-level research through participation with Jonathan Ivy's research lab, where he has worked on projects related to applied and conceptual ABA research.
He plans to pursue a master of arts degree in applied behavioral analysis, and eventually pursue a career as a psychological assistant.
Business Administration: Benjamin Bihl (Mechanicsburg, Pennsylvania) – bachelor of science in finance
During his time at Penn State Harrisburg, Bihl participated in the Chancellor's Leadership Access Student Program and was also inducted into Beta Gamma Sigma, a business honor society, as a lifetime member. As a result of his academic achievements, he has made the Dean's list every semester and was also awarded the President's Freshman Award, the President Sparks Award, and the Evan Pugh Scholar Award. Outside of the classroom, Bihl has held a management position at a local grocer in the Mechanicsburg area while balancing his studies during the academic year. In addition, he has participated in two summer internships, offering him unique experiences in various business environments. After graduation, he will be joining The Hershey Company in the finance department.
Humanities: Jessica Mele (Doylestown, Pennsylvania) – bachelor of humanities in English
Mele is a member of the English Honors Society and the National Society of Leadership and Success. She has made the Dean's list every semester and is a recipient of the Steven E. Brown Renaissance Scholarship. She has been a copy editor and genre editor for the campus literary magazine, From the Fallout Shelter, for the past three years while also participating in THON and archaeology club. As a published writer and photographer, Mele's work focuses on poetry, short stories, and creative nonfiction. Her work has appeared in Fission and From the Fallout Shelter. She is also a writer for Penn State's Odyssey. Mele co-wrote and published her first academic article, "MeToo and Victorian Literature: Reading Against Rape Culture in the Undergraduate Classroom," in the journal Nineteenth-Century Gender Studies. Following graduation, she plans to attend law school.
Public Affairs: Brandon McNeal (Harrisburg, Pennsylvania) – bachelor of science in health policy and administration
McNeal said he learned to appreciate the broad scope of education in the health policy and administration program, from writing policy to learning about hospital marketing, skills he can utilize in his career. Through his studies, he has noted the necessity to develop innovative and creative solutions to alleviate issues that face urban and rural communities. His volunteer work at the Central Pennsylvania Food Bank and Harrisburg's Bethesda Mission will shape how he frames these issues in the future. After graduation, McNeal plans to enter law school.
Science, Engineering, and Technology: Paul Joseph Feight (Ephrata, Pennsylvania) – bachelor of science in mechanical engineering technology
Feight graduated with an associate's degree in mechanical engineering technology from Thaddeus Stevens College of Technology before attending Penn State Harrisburg. He attended classes part-time while employed in the design engineering department at MGS, Incorporated, a trailer manufacturer and custom fabricator in Denver, Pennsylvania. He is an active member of the National Association of Trailer Manufacturers (NATM), an organization which aims to ensure trailer safety and annually compiles and reviews all pertinent federal and state regulations and industry standards, as well as best practices for manufacturers to reference.  He was recognized with the Outstanding Young Professional award at this year's NATM convention in February.
Feight has received a number of scholarships and awards, including the CWC Advanced Standing Award three years in a row, the Wallis Family Scholarship, the School of Science, Engineering and Technology Award twice, and the ArcelorMittal Manufacturing Award.
After graduation, he intends to continue working at MGS and to become a licensed engineer in Pennsylvania. Feight also intends to attend graduate school.
Graduate Studies: Brenna Tucker (Harrisburg, Pennsylvania) – master of education in teaching and curriculum
Tucker attended Kutztown University of Pennsylvania, where she majored in elementary and early childhood education, before studying at Penn State Harrisburg. As an undergraduate, Tucker was involved in a National Honors Fraternity and worked part-time for child care centers and summer camps. She graduated Magna Cum Laude in 2012 and then began her career in education. She has spent the last six years working as a pre-kindergarten teacher in the City of Harrisburg. In 2016, Tucker entered the teaching and curriculum master's program at Penn State Harrisburg. This summer, she received her level two teaching certificate, and has actively been applying everything she has been learning to her current teaching position. She hopes to continue using the new knowledge she has gained to be the best teacher she can be for the students that she serves.