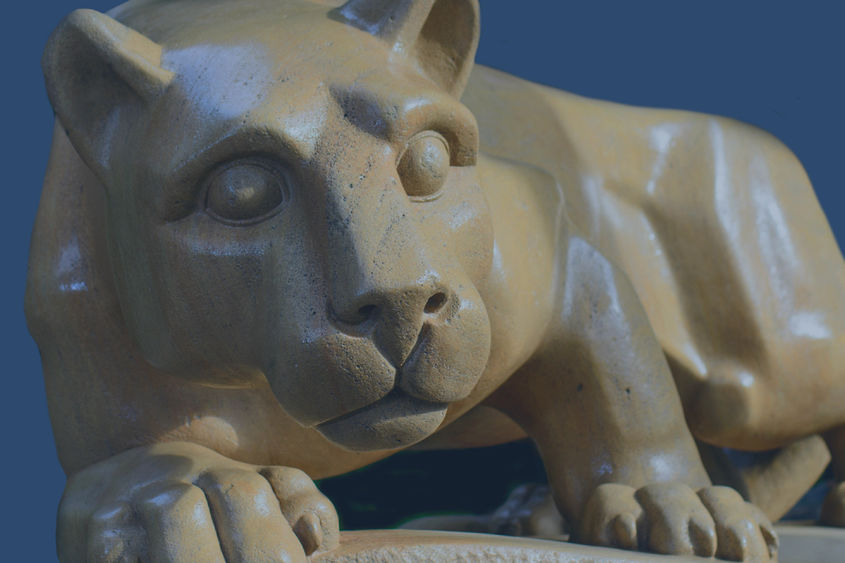 MIDDLETOWN, Pa. – Penn State Harrisburg this spring recognized outstanding employee contributions with the 2020 faculty and staff awards. Nominated by the college community, and selected by various award committees, several faculty and staff members received awards.
Award recipients included:
Staff Service Award
Jennifer L. Keagy, director of the Center for Teaching Excellence
Keagy has demonstrated her commitment to extraordinary service to the campus community by helping to create and foster many impactful programs that directly influence staff, students and faculty. She was nominated for the award by her staff members who noted, "She is a mentor to each of us, provides constant opportunities for growth, empowers us to make decisions, take risks, express creativity and contribute to the campus community."
Faculty Service Award
Glen A. Mazis, distinguished professor of philosophy and humanities, School of Humanities
Mazis has demonstrated exemplary service to the School of Humanities, the college, the University, his profession and the wider community during his almost 30-year career at Penn State Harrisburg. During the last three years, he has served in major roles such as professor-in-charge of the master's degree in humanities, president of the Faculty Senate, and the chair of several high level search committees including those for the chancellor, the associate dean of research, and the assistant dean of academic affairs. Mazis has an illustrious service record on curriculum development and design, has served on numerous school and college tenure and promotion committees, and he developed and created the curriculum for the Honors Program, for which he was also the inaugural chair.
Excellence in Research and Scholarly Activity Award
Eileen M. Ahlin, associate professor of criminal justice, School of Public Affairs
Ahlin joined the college's faculty in 2013 after 15 years conducting research at the federal, state and local levels. Her teaching and research interests include criminological theory, violence, neighborhood effects, corrections, racial and social justice, and research methods. Ahlin was named a 2016 W.E.B. Du Bois Fellow by the National Institute of Justice to expand her work on risk and protective factors associated with exposure to community violence and violent behaviors. Her research appears in numerous journals including the Journal of Interpersonal Violence, American Journal of Public Health, Journal of Experimental Criminology, Youth Violence and Juvenile Justice, Journal of Youth and Adolescence, The Prison Journal, Race & Justice, and Aggression and Violent Behavior.
Excellence in Teaching Award
Richard S. Brown, associate professor of management, School of Business Administration
Nominators cited a number of qualities that make Brown an excellent instructor, including his ability to actively engage students in the learning process, his passion for his discipline, and his motivation for helping students think critically in the world of business. He applies various practical learning tools that help make students confident in interpreting current trends and actions in the field of management. In addition to a history of excellent course ratings and comments, students also have recognized his teaching excellence by awarding Brown the Beta Gamma Sigma Professor of the Year Award in 2014. He consistently continues to challenge himself as an instructor by investing his time and expertise to develop new and innovative courses for undergraduate and graduate students, often holding class in the evenings or weekends to best accommodate his students' needs.
John Grosh, associate teaching professor of mathematical sciences, School of Science, Engineering, and Technology
Grosh has gained a reputation as an "exquisite teacher" among students and colleagues, with students praising his classes and teaching style. He has been previously recognized by student organizations for the quality of his teaching and student academic development. He received the 2017 National Society of Leadership and Success Excellence in Teaching Award. He was also the recipient of the 2019 James A. Jordan Award for Teaching Excellence given by the Penn State Harrisburg Student Government Association.
Excellence in Advising Award
Roderick L. Lee, associate professor of information systems in the School of Business Administration
The beneficiaries of Lee's advising are the students he comes into contact with in his classes, as professor-in-charge of the master of science program in information systems and the doctoral program in biomedical science and master of science in information systems, and through his involvement with student clubs and intercollegiate athletics. He has served as the faculty mentor and liaison with men's basketball team, advising them on time management and the many resources offered to students. He also works closely with the coaching staff to monitor the players' academic progress. In addition to helping student athletes get involved in internships and job opportunities, Lee also continually helps students in need with applying for supplemental scholarships.
Cobi S. Michael, associate teaching professor of psychology, School of Behavioral Sciences and Education
Michael has served as the coordinator for the bachelor of science in psychology program for many years. She also has served on the academic advising council at Penn State Harrisburg since October 2018, helping to promote the effective administration and delivery of advising services to students on campus. In addition to advising traditional students, Michael also advises students enrolled in the Honors program or in dual-majors. She actively participates in the college's open houses, transfer student orientation, and new student orientation events, and also provides valuable service by training new faculty in her program on how to advise students and making herself available to provide consultation to the current faculty on matters related to advising.
Thomas Eberlein Excellence in Teaching Award
Brian A. Maicke, associate professor of mechanical engineering, School of Science, Engineering, and Technology
Since joining the Penn State Harrisburg faculty in 2012, Maicke has taught 17 different courses in the mechanical engineering and mechanical engineering technology curriculum. Nominators noted that at the core of his teaching philosophy, Maicke believes that engaging course content is important in student success and has been a part of several programs and initiatives towards this goal. He participated in the open educational resources pilot, which provided support in replacing an expensive textbook with open electronic alternatives and has served as a panelist for the college's "Enhancing Teaching: Open Education Resources" program to discuss incorporating open education materials. Maicke has redesigned several of his courses to include a focus on project-based learning, in which his mechanical engineering students are forced to think beyond the 'one correct answer' idea and instead are tasked with analyzing and designing devices to overcome practical challenges. Maicke has been a participant in the Penn State Multi-Campus Research Experience for Undergraduates program since its inception, working with seven students to develop research skills over the summer during their undergraduate career. He has mentored two students through the Honors program, with one student earning the Penn State Harrisburg Outstanding Honors Thesis award and the second earning a federally funded scholarship to pursue graduate study.
Faculty Diversity Award
Hannah M. Spector, associate professor of education, School of Behavioral Sciences and Education
Spector promotes diversity in her service to the campus community. She served for five years on the college's Diversity and Educational Equity Committee (DEEC). As a chair of the DEEC Programming and Training subcommittee, she helped develop a range of programs and events that have included spreading awareness on National Coming Out Day, developing speaker-panel events on bullying among diverse populations, Latin American migration to the United States, and the Palestinian-Israeli conflict. In the classroom, Spector teaches the diversity-focused course Social and Cultural Factors in Education, which provides teacher candidates with a comprehensive view of the social and cultural factors integrally linked to the evolving field of education and society. She also has served the campus community as a writer for the Diversity Alignment Report for Teacher Education Accreditation, a founding member of the campus branch of the Penn State Coalition on Sexual Orientation and Gender Identity, chair of the International and Intercultural Affairs subcommittee of the Faculty Senate, and secretary of the Teaching of Diversity Support Group.
Staff Diversity Award
Ilhan Kucukaydin, web manager, Office of Marketing and Communications
At Penn State Harrisburg, Kucukaydin is an active leader on Penn State Harrisburg's Diversity and Educational Equity Committee (DEEC), co-chair of its Outreach subcommittee, and a member of the Programming and Training subcommittee. An immigrant in the United States and a minority in his native Turkey, Kucukaydin uses his experiences to aid those around him on and off campus. He mentors international students at Penn State Harrisburg and has lent his professional skills to the Turkish American Society of Central Pennsylvania and the Pennsylvania Immigrant and Refugee Women's Network. Kucukaydin has also focused his research on diversity issues. While a doctoral student in the Adult Education program, he studied how underrepresented groups learn under various conditions, culminating in a dissertation that explored a Kurdish woman's learning under socio-political and economic hardships.
Kathryn Towns Women's History Month Award
Perdeta L. Bush, equity and compliance specialist, Student Affairs Office
In her role as the Equity and Compliance Specialist/Title IX Resource Person, Bush works closely with students, staff, faculty, human resources, athletics, and academic affairs to oversee the college's compliance efforts with regard to Title IX of the Education Amendments of 1972, Violence Against Women Act, Clery Act, Stand For State, as well as other laws and rules relating to sexual harassment, sexual misconduct, gender and interpersonal violence, sexual assault and related policy violations. She also develops, implements, and oversees programs and trainings to ensure compliance with required protocols, regulations, and laws with the aim to foster a safe and supportive environment that is conducive to the academic pursuit and healthy personal development of all persons.
Roderick L. Lee, associate professor of information systems, School of Business Administration
Lee has dedicated his more than 20 years of experiences as an educator in the U.S. Army and academia to empowering individuals — especially women and students of color — to achieve their academic, personal, and professional goals. As an educator in a computing discipline, Lee demonstrates the belief in an ethical and moral obligation to contribute to programs and initiatives that are intentionally designed to empower women in computing to be successful in the classroom and in their future careers. To address this challenge, he helped launch Women in Tech (WIT) during fall 2019 to provide a system of support in the recruitment and sustained interest of women in computing disciplines. He also organized and attended the Women in STEM Networking Night in Harrisburg with nine members of the Women in Tech Club. He also was instrumental in supporting a cohort of international women in the master of science in information systems program achieve their academic and career goals. As a result, this cohort is now employed at corporations such as Pandora, Google, Eurofins, Deloitte, etc.
Learn more about the award recipients here, and view a gallery of the recipients here.