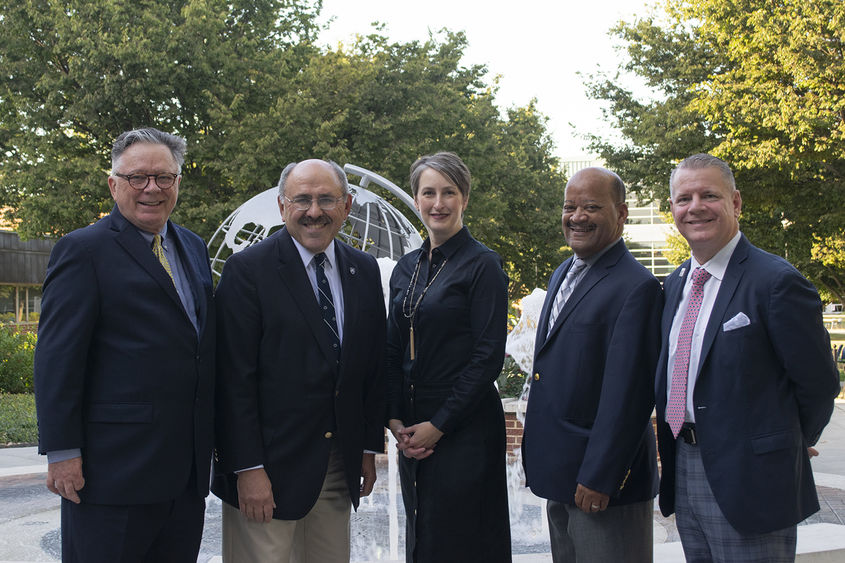 MIDDLETOWN, Pa. — Penn State Harrisburg recently presented Alumni Achievement Awards to one graduate of each of the five academic schools who demonstrates outstanding professional accomplishment. The awards were presented during a ceremony on campus in September 2019.
Charles "Chuck" McLister '08g – Applied Psychology Research
The School of Behavioral Sciences and Education honored Charles "Chuck" McLister, president, CEO and ex-officio board member of Elwyn, the oldest nonprofit human services organization of its type in the nation. At Elwyn, McLister is responsible for establishing the organization's strategic direction, working with the firm's trustees to provide resources, clarity of purpose, and responsive oversight of the organization's overall performance.
Prior to joining Elwyn, he held a variety of governance and leadership positions, providing oversight and guidance for companies that deliver a broad range of behavioral health and human services, including acute psychiatric services, addiction treatment, acquired brain-injury services, alternative and special education, early intervention services, and support of individuals with intellectual disabilities and autism.  
From 2010 to 2017, McLister was an active volunteer and philanthropist, serving on the board of trustees for Bancroft Neuro Health, and as the chairman of Hope works, a charity based in Camden, New Jersey. He has a strong history of active association membership in organizations such as Greater Philadelphia Senior Executives Group, various chambers of commerce, the Healthcare Leadership Network of the Delaware Valley, and the Association for Psychological Science. 
Joseph Murphy '78 – Business Administration
Joseph E. Murphy was honored by the School of Business Administration. Murphy, who joined the Masonic Homes in 1974 and served as executive director/CEO for 15 years, currently serves as chief executive officer of the Masonic Villages' operations at Dallas, Elizabethtown, Lafayette Hill, Sewickley, and Warminster, Pennsylvania. 
Murphy was appointed by the governor and served on the Intra-Governmental Council on Long Term Care from 1998 to 2005 and on the Pennsylvania Senior Care and Services Study Commission from 2008 to 2010. He also is CEO for Ashlar Creative Solutions, which was founded in 2013 to assist organizations to improve operations and services through short- and long-term strategies. Murphy is a past president of the Masonic Communities and Services Association; he served as a member of the House of Delegates for LeadingAge; and is a past president of the board of directors for LeadingAge PA. He is vice president of the Elizabethtown Area Education Foundation and a member of the Elizabethtown College Leadership Council. He is a member of the Highmark Central Region Advisory Board and a member of Penn State Harrisburg's Campaign Committee.
Murphy is a member and lay leader of St. Paul's United Methodist Church and honorary member of the Elizabethtown Rotary Club and National Sojourners. He received the Pennsylvania Franklin Medal in December 2005 from the Grand Lodge of Pennsylvania, and the Chapel of Four Chaplains Humanitarian Award in 1988. Murphy also received the 2007 LeadingAge PA Paul P. Hass, Lifetime Achievement Award. In 2018, he was awarded the Daniel Coxe Medal from the Grand Lodge of New Jersey. In 2019, he received the Elizabethtown Chamber of Commerce Appreciation Award.
Amy Zeigler '03g – American Studies
The School of Humanities honored Amy Zeigler, senior director of The Hershey Story Museum, Hershey Gardens and Hershey Community Archives. Her responsibilities at The Hershey Story include the interactive museum experience, hands-on chocolate lab, and a chocolate tasting experience featuring single country of origin chocolates from around the world. She also oversees education, programs and operations at Hershey Gardens, which includes 23 acres of themed gardens and an indoor Butterfly Atrium. The Hershey Community Archives collects, cares for, and provides access to documents of the Hershey corporate entities, as well as community organizations.
Zeigler led the content development team during the design phase of The Hershey Story, which opened in 2009 and replaced the Hershey Museum. She participated in program development of all areas, including the museum experience, collections storage, chocolate lab, chocolate tasting, cafe and museum shop.
Prior to serving as director, she served in various curatorial positions. She also worked as a curatorial assistant at the State Museum of Pennsylvania. Zeigler's main area of research was women's labor history at the Hershey Chocolate factory. She has been a board member of PA Museums since 2016, served as a Big Sister with Big Brothers Big Sisters for eight years, and is currently in her ninth season of coaching for Girls on the Run.
Gerry Galloway '74g – Public Administration
Gerry Galloway was honored by the School of Public Affairs. He is a Glenn L. Martin Institute Professor of Engineering in the Department of Civil and Environmental Engineering at the University of Maryland, a Faculty Fellow of the Hagler Institute for Advanced Study at Texas A&M University, and a visiting professor at the A&M Galveston Campus. His teaching and research focuses on water resources policy, resilience, and disaster risk management under climate change. He is a consultant to several international, federal, state and nongovernmental agencies and has been involved in water projects worldwide. Galloway is a 38-year veteran of the U.S. Army who retired as a brigadier general and dean (chief academic officer) of the U.S. Military Academy at West Point.
James Wallace '74 – Electrical Design Engineering Technology
The School of Science, Engineering, and Technology honored James Wallace, president and CEO of Electro Soft Inc., a contract manufacturer of bench top electronics. Located in the suburbs of Philadelphia, Electro Soft partners with leaders in both the private and public sectors in order to produce quality PC board, cable and wire harness assemblies. Wallace started Electro Soft in 1986.
Prior to that, he served as director of engineering at Geometric Data and director of engineering at SmithKline Beecham. He also was a digital systems design engineer at Philco Ford and a computerized numerical controls project manager at Bridgeport Machines.
Wallace served 36 years in the Air Force Reserve after serving active duty in the Vietnam War. Upon leaving the reserves, he was the command chief at the Willow Grove Air Reserve Facility.
Also recognized at the ceremony was 2012 School of Public Administration honoree Richard D. White Jr. White is the dean of the Louisiana State University E. J. Ourso College of Business in Baton Rouge, Louisiana.
He is a Pulitzer-nominated political biographer and author of "Kingfish: The Reign of Huey P. Long," "Roosevelt the Reformer: Theodore Roosevelt as Civil Service Commissioner, 1889-1895," and "Will Rogers: A Political Life."
The college also honored five alumni as 'People to Watch,' including:
Amy Milligan '12g – American Studies
Fe Amarante '13g – Business Administration
Brad Sterner '00, '05g – Elementary Education, Teaching and Curriculum
Jason Hostetter '98, '06g – Electrical Engineering Technology, Engineering Science
Kelly Fedeli '01g – Public Administration