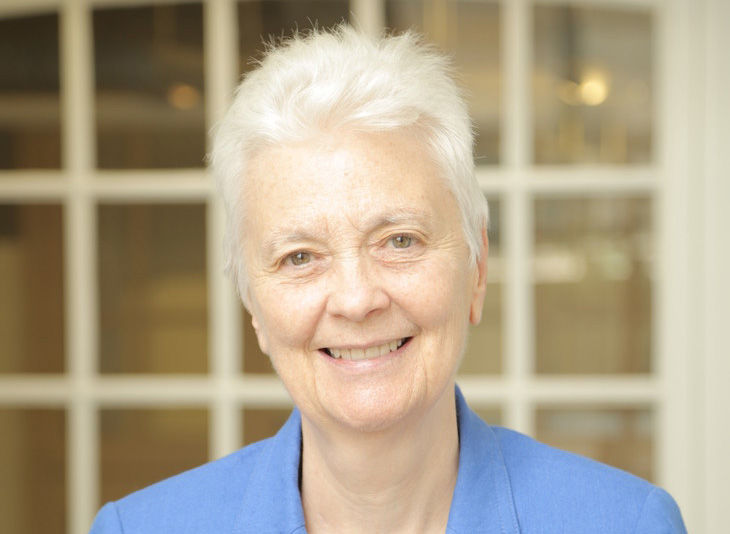 UNIVERSITY PARK, Pa. — Cybersecurity and innovation will take center stage at the Penn State Outreach and Online Education Appreciation Dinner on Thursday, Oct. 24, at the Nittany Lion Inn. Penn State Outreach and Online Education will honor four distinguished guests with the Dubin Pioneer Award, Fischer Award of Distinction, and Penn State World Campus Outstanding Alumni Awards.
Susan Welch, professor of political science and former dean of the College of the Liberal Arts at Penn State, will receive the Dubin Pioneer Award for her work with Penn State World Campus. As dean, Welch and Associate Dean Ron Filippelli built the first four-year degree in letters, arts and sciences through Penn State World Campus.
"We realized our participation with World Campus would not work unless all departments were engaged. We focused on a strategic approach to course development and provided support for departments that developed degree programs," Welch said. "As our portfolio grew, hiring teaching faculty members who split their time between online and on-campus instruction helped to ensure that classes had the same quality content and expectations for our students."
Robert J. Beaury is the interim director of the Engineering Entrepreneurship program, one of the six programs housed in the School of Engineering Design, Technology and Professional Programs and has been a part of the Penn State Outreach and Online Education Advisory Board since 2009. He has more than 30 years of entrepreneurship experience in the electronics, semi-conductor and networking industries and brought that experience with him to Penn State, where he has supported several Outreach initiatives, including WPSU Penn State, Shaver's Creek, Penn State World Campus and the Nittany AI Alliance. Beaury will be honored with the Fischer Award of Distinction.
"I have lived and breathed startups for many years, beginning with my father starting a company back in the 1970s. I help communicate to students the fundamental things they must consider, as well as the highs and the lows they will experience if they decide to start their own company. I also help students who join large established organizations adopt an entrepreneurial mindset which requires creativity, strong problem-solving skills and resilience," Beaury said. "It hasn't been solely the mission of Outreach that has inspired me to be involved, it has also been the people. Every step of the way I have met people I admire tremendously as they try and make our community and our world a better place."
Thandi N. Clements, vice president of marketing and client relations for Seattle-based Washington Capital Management, lives in Orange County, California. She will receive the Penn State World Campus Outstanding Alumna Award (Undergraduate) for her dedication to her studies while building a career and making strides to support strong communities. Clements earned a bachelor of arts in letters, arts and sciences through Penn State World Campus while building her career in insurance and investment management services. She also has served as a volunteer for The First Tee, Start Making a Reader Today (SMART), GIRLS Inc., and The Shea Center. She is a member of the Penn State Alumni Association and is a World Campus Ambassador.
"I worked full time throughout all of my college years. The time and focus spent on class work plus working full time was a big part of my developing discipline and time management skills," Clements said. "I also feel it is of the utmost importance to be of service in some capacity. I have been fortunate that along my path I had access to supportive mentors and was provided with opportunities that made a real difference in my life. I will be forever grateful and want to do the same for others in either a direct or indirect way."
Wayne Lonstein will receive the Penn State World Campus Outstanding Alumnus Award (Graduate) for his work in cybersecurity and homeland security. Lonstein is partner at Lonstein Law Office PC and co-founder and chief technology officer for VFT Solutions Inc. in Ellenville, New York. He also is the co-author of two editions of "Unmanned Aircraft Systems in the Cyber Domain: Protecting Advanced Air Assets." Lonstein holds several degrees, including a master of professional studies in homeland security through Penn State World Campus and Penn State Harrisburg. He has been actively engaged in the study of content protection through understanding pirate behavior for more than 30 years.
"Cybersecurity has undergone remarkable shifts and has become an important aspect of homeland security in ways you may not expect, including livestreaming though social media, which can serve as both a tool for good as well as a piracy, crime and terror tool for bad actors globally," Lonstein said. "The real-world working experience I had prior to earning my master's degree in homeland security helped me to connect dots to further my pursuits that I wouldn't have been able to connect without it. The Penn State World Campus team not only helped me earn my degree, they also inspired and assisted me in developing four patents in the area of social media and homeland security. The personalized communication and opportunity to actually attend live classes on campus helped take the experience off the computer screen and make me feel I was part of campus."
Penn State Outreach and Online Education supports the following units: Penn State World Campus, WPSU Penn State, Penn State Centers in Pittsburgh and Philadelphia, Shaver's Creek Environmental Center, Conferences and Institutes, Justice and Safety Institute, Nittany AI Alliance, Osher Lifelong Learning Institute, Continuing Education at University Park, and Outreach Community Engagement.
For more information, visit Penn State Outreach and Online Education and Penn State World Campus.