Initiative challenges student clubs and organizations University-wide to complete community service projects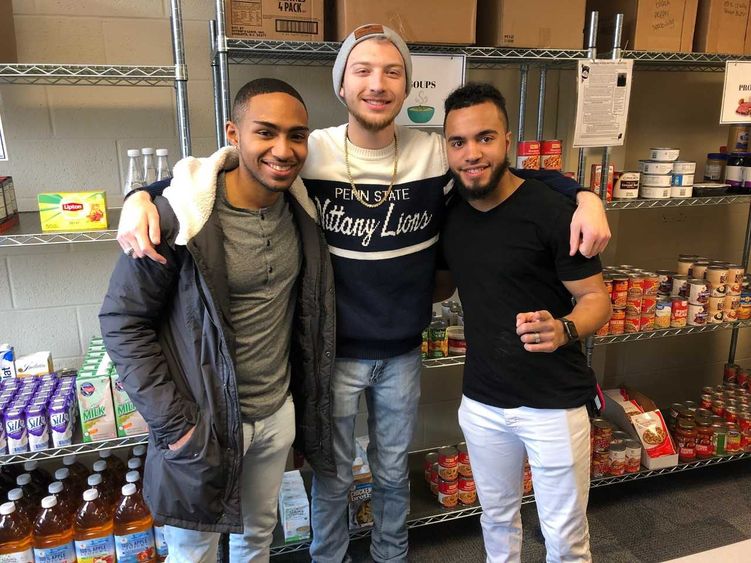 MIDDLETOWN, Pa. — In November 2018, Penn State Harrisburg Student Government Association (SGA) President Justin Jones developed "It's Bigger Than You," a student-led service initiative that challenges student clubs and organizations on Penn State campuses to perform at least one community service event every month for the remainder of the academic year. The project is already changing Penn State for the better, and helping to bridge the gap between the college and surrounding communities.
The idea for the project came to Jones when he and SGA Vice President Kenneth Gatten III were attending the Middletown High School homecoming parade on behalf of Penn State Harrisburg. Standing on the fire truck and riding through Middletown, Jones noticed how much the crowd enjoyed seeing Penn State represented in the community, excitedly cheering for them and the Nittany Lion. It made the two student government leaders realize that the Penn State Harrisburg community needed to show that not only was it near, but it also was ready to serve.
The "It's Bigger Than You" project goes back to Jones' hope that students remember those who are less fortunate than themselves. With more than 80 clubs at Penn State Harrisburg, having each club participate in one community outreach event a month has the potential to really make an impact in the community. Jones believes it is important for the project to be a student-led initiative to show how powerful students really are, especially when backed with University support.
For a new project such as this one, the biggest challenge is making students aware of the movement. Jones is asking that everyone use the hashtag #itsbiggerthanyoupsu on social media when they post their community service events to give the project a social media presence as well.
"I am a firm believer that through service you find your purpose, and through purpose is where you can leave your legacy," Jones said.
Jones hopes that the project continues long after his graduation and that this push leaves a permanent legacy for Penn State students to take a more active role in community service.
"The act of giving back is something that can never be replaced, and I want students to understand the impact we can make, and the power we truly have," Jones said. "Changing the world starts with making a change in your communities, and I am excited about the beautiful things we will do for those who are in need."
A 5K for a purpose
As a part of the initiative, the Penn State Harrisburg SGA is hosting a 5K charity run, "It's Bigger Than You: The 5K – A Run for a Purpose," from 2 to 3 p.m. on Sunday April 7, on campus. SGA plans to donate one half of the proceeds to Penn State Harrisburg's WE cARE food pantry and the other half to No Kid Hungry.
A 1-mile Fun Run will take place at 2:45 p.m., just before the end of the 5K race. Those who register by March 22 will be guaranteed a "goody" bag and T-shirt for the run. To register, visit pshstudentgovernme.wixsite.com/5k1run.
The National Society of Leadership & Success, a leadership honor society, has partnered with SGA to award a $500 scholarship to a local high school student who will attend Penn State Harrisburg. SGA also will award a $500 scholarship to a current Penn State Harrisburg student. The high school scholarship will be announced at the 5K, and the current student award will be announced at the SGA award ceremony in April.
To learn more about "It's Bigger Than You" and how to participate or involve your student organization, contact the Penn State Harrisburg Office of Student Life at [email protected] or 717-948-6273.