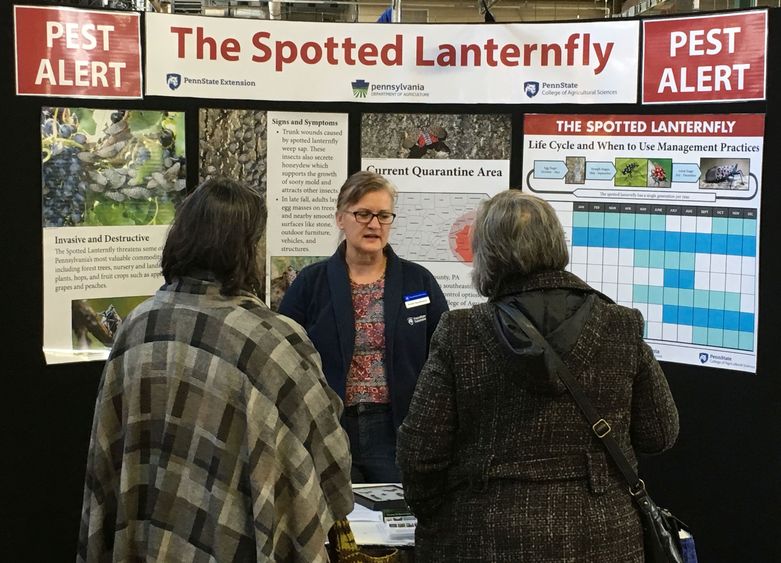 UNIVERSITY PARK, Pa. -- If you are seeking information about the invasive spotted lanternfly, home gardening, food and health, agricultural majors and careers, or 4-H opportunities, you can find it by visiting Penn State exhibits at the 2019 Pennsylvania Farm Show, Jan. 5-12 in Harrisburg, Pennsylvania.
The exhibit will feature information about the
spotted lanternfly
, which was found for the first time in the United States in Berks County in 2014 and since has spread throughout 13 counties in southeastern Pennsylvania — a region that the state Department of Agriculture has designated as a quarantine zone. The pest threatens Pennsylvania's grape, tree fruit, hardwood and nursery industries, which collectively are worth about $18 billion to Pennsylvania's economy.
Farm Show attendees can speak with Penn State spotted lanternfly experts, see specimens, learn how to identify the various life stages of the pest, and find out how they can help manage lanternfly infestations and comply with quarantine regulations. Visitors of all ages can receive spotted lanternfly stamps, tattoos, headbands, fact sheets and a homeowner management guide.
Gardening enthusiasts can come to the exhibit and learn tips and techniques from
Penn State Master Gardeners
, volunteers who receive horticulture training from Penn State Extension and, in turn, share their knowledge with their local communities. Master Gardener volunteers will answer questions at an "Ask the Master Gardener" booth, and visitors can register to win a copy of the Penn State Extension
Master Gardener Manual
, a 808-page hardcover publication that normally sells for $75.
Members of the Penn State Extension
Food, Families and Health
team also will be on hand as part of their mission to promote the health and wellbeing of families and individuals in Pennsylvania. Extension educators will provide information on the benefits of living a healthy lifestyle through healthy eating and physical activity. Visitors can take home recipe cards with directions for preparing healthy meals.
Show-goers also can speak with extension specialists about the ins and outs of child care, nutrition, childhood education, drug and alcohol prevention, and other topics. Handouts will cover topics such as successful parenting, home safety for the elderly, and physical activity to promote bone health.
Also at the main Penn State exhibit, students and advisers from the College of Agricultural Sciences will provide information about the college's
17 diverse majors
, career paths, internships, student clubs and activities, and other opportunities. Prospective students and their families can learn more about furthering their education, and accepted students can stop by to be recognized for their accomplishment. The exhibit also will feature an interactive photobooth.
Pennsylvania 4-H
-- which is administered by Penn State Extension -- also will have a large presence at the Farm Show, with educational and informative exhibits and presentations highlighting the opportunities that 4-H offers to youth, ages 5-18, in subjects such as animal science, STEM (science, technology, engineering and math) and expressive arts.
At the 4-H Healthy Living exhibit in the Main Hall, extension educators and 4-H families will present "Sugar, Sugar, Sugar Everywhere!" Young people can stop by the 4-H booth to become "sugar detectives." This hands-on activity will challenge youth and adults to rate the number of sugar grams in foods, emphasizing dietary guidelines that call for diets to contain no more than 10 percent of calories from sugar.
In addition, many 4-H members enter their projects in Farm Show youth livestock shows and other competitive events, such as the 4-H Potato Judging contest and Celebrity Milking Contest.
Throughout the complex, many other Farm Show events and activities depend on behind-the-scenes contributions from College of Agricultural Sciences personnel. Each year, more than 100 faculty members, county-based extension educators and staff from the college lead and participate on Farm Show committees, develop displays, and coordinate competitive exhibits and shows ranging from dairy cattle and poultry to maple products and mushrooms.
The college's role at the Farm Show is part of Penn State's land-grant partnership with the state.
Sponsored by the state Department of Agriculture, the Pennsylvania Farm Show is the largest indoor agricultural event in America, with 24 acres under roof, spread throughout 11 buildings and three arenas. Farm Show officials expect more than 500,000 spectators, some 6,000 animals, more than 10,000 competitive exhibits and about 300 commercial exhibitors at the eight-day event.
The show is held at the Farm Show Complex and Expo Center, at the corner of Cameron and Maclay streets in Harrisburg, just off exit 67 of Interstate 81. Hours are 8 a.m. to 9 p.m. Jan. 5 and 7-11; 8 a.m. to 8 p.m. Jan. 6; and 8 a.m. to 5 p.m. on Jan. 12. Admission is free, and parking is $15. For more information, visit the
Farm Show website
.