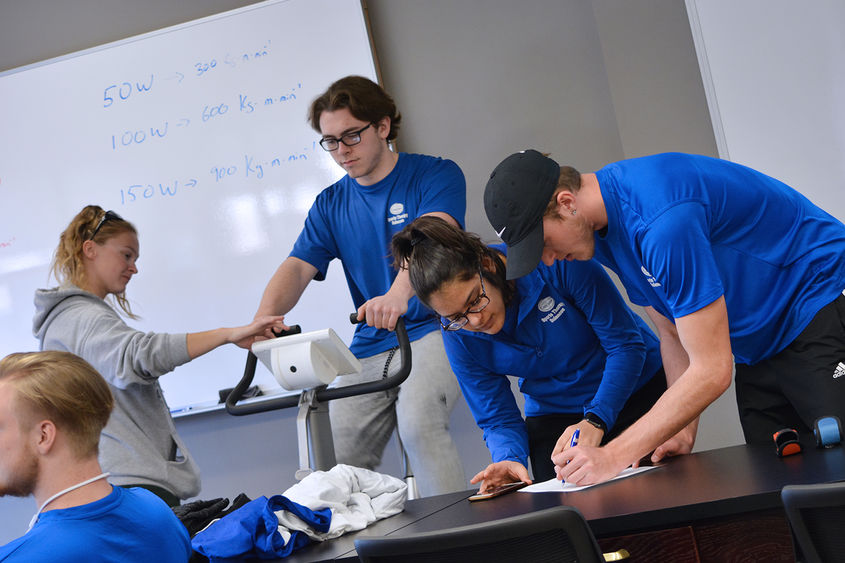 MIDDLETOWN, Pa. — The kinesiology program in Penn State Harrisburg's School of Behavioral Sciences and Education recently hosted its first National Biomechanics Day event on campus for local high school students.
Biomechanics is the study of forces and motion of the human body. During the event, 34 students from Central Dauphin High School, Lebanon County Career and Technology Center, and York County School of Technology participated in demonstrations and gained hands-on experience in the kinesiology and biomechanics laboratories on campus. Students moved through three different sessions that highlighted motion capture technology, balance assessments, estimation of muscle output, and evaluation of oxygen consumption during exercise.
Biomechanical analysis is commonly used to help improve rehabilitation programs, better understand injury risks, and optimize athletic performance. In the past, biomechanics has only been studied at the undergraduate and graduate levels, but with the rise of health and STEM (science, technology, engineering, and mathematics) fields, it is now being introduced in secondary education.
National Biomechanics Day promotes biomechanics for high school students and teachers. Last year's event saw more than 7,000 students participate in approximately 350 different institutions across the world.
"We are thrilled to be able to provide high school students with an opportunity to experience biomechanics firsthand," said Tyler Richardson, assistant professor of kinesiology and coordinator of the event at Penn State Harrisburg. "Events like this are a great way to generate interest in STEM fields by making science interactive and fun."