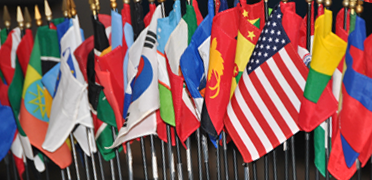 On February 15 and 16, Penn State Harrisburg's International Affairs Association/Rotaract Club will host the 46th annual Model United Nations conference. The two-day event provides central Pennsylvania high school students the opportunity to discuss and develop solutions for major international issues and concerns.
Peter Speaks, the Pennsylvania Department of State's deputy secretary for Regulatory Programs, will serve as this year's keynote speaker.
Around 250 students from the following area high schools will be participating this year: Central Dauphin East High School, Littlestown Area High School, Mechanicsburg Area High School, Boiling Springs High School, Dover Area High School, Harrisburg Academy, Bishop McDevitt High School, Milton Hershey High School, Central Dauphin High School, Red Land High School, East Pennsboro High School, Northern Lebanon, Juniata High School, Northeastern High School, Northern York High School, East Juniata High School, Cedar Crest High School, Warwick High School, Lancaster Catholic High School, Bermudian Springs High School, Kennett High School, and West York Area High School.
Penn State Harrisburg students, will also assist in the event.
During the conference, the high school students are assigned as delegates of a particular country which they must advocate for, while the students and faculty of the Penn State International Affairs Association provide a formal setting imitating the United Nations. The conference aims to provide the community with a greater understanding of the United Nations.
This event is sponsored by the School of Public Affairs and the Office of the Chancellor.
-30-