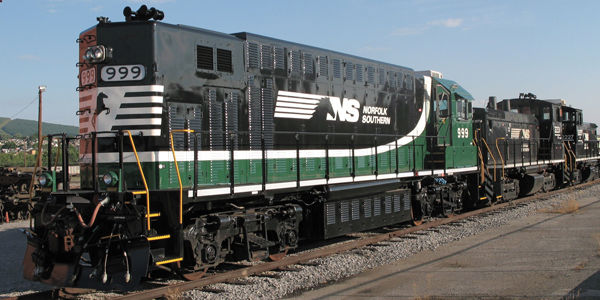 MIDDLETOWN, Pa. — Natural disasters have been a threat to railroads for almost two centuries, and terrorism since before World War II, when the Germans landed a party by submarine in the U.S. in a botched attempt to blow up part of the Pennsylvania Railroad in Altoona, according to Richard Young, professor of supply chain management in Penn State Harrisburg's School of Business Administration.
Young collaborated with Jeremy Plant, professor emeritus of public policy in the college's School of Public Affairs, and retired Lt. Col. Gary Gordon, adjunct professor in the emergency management and homeland security department at Massachusetts Maritime Academy, on a book titled, "Railway Security: Protecting Against Man-made and Natural Disasters," which provides an overview and assessment of the risks facing railways and rail networks.
Young said that when it comes to rail safety, "Everything is on the radar. It's difficult to protect, but that doesn't mean that you don't do anything."
"Railway security is not just focused on terror attacks. Natural disasters and the exploitation of them by terrorists must be considered," Gordon added.
Utilizing case studies, the authors aim to develop an understanding of the unique operating characteristics of railways, the nature and the range of vulnerabilities, the present means for protecting the infrastructure, and the public policy initiatives necessary for developing a comprehensive appreciation of the magnitude of this issue.
"Around the world, trains and other rail facilities are one of the most common targets for terrorists," Plant said. "The U.S. has been fortunate to avoid the sorts of incidents suffered in Europe and South Asia, but a comprehensive approach to rail security is required now and into the foreseeable future."
Natural disasters and railway security
Railroads face significant threats from disasters, but, according to the authors, with situational awareness and coordinated efforts, these can often be substantially minimized.
"If someone has a manufacturing company built near a flood zone and it gets washed out a few times, they can decide to not build there again," said Young. "Railroads, which are a part of a larger network, don't have that luxury."
Young added that railroads use military precision to get operations up and running following natural disasters.
"After Katrina, CSX Railroad had their line across Lake Pontchartrain back in business in something like 10 days," said Young. "Even after Hurricane Harvey in Houston, some of the railroads were back in business before any of the businesses along the line."
Gordon added that natural disasters also can be exploited by terrorists.
"Natural disasters provide an opportunity for terrorists while the focus is on landfall for a hurricane, cleanup after a tornado, etc. Disaster planning should consider this dynamic," he said.
Gordon said that when Hurricane Rita approached the Gulf Coast in 2005, the Department of Homeland Security learned of a potential threat to hazmat rail cars along the Gulf Coast. The railroads were notified of the potential threat and took proper protective measures.
Terrorism and railway security
"In the current environment, transportation assets are a preferred target of human-caused disruption, especially in the form of terrorism, as the events in many other parts of the world have underscored," Plant said.
Gordon added that we must look at how attacks in other parts of the world evolve and prepare for that.
"We must be forward-thinking," he said. "We have to be right all of the time to be successful and they (the terrorist) have to be right only once."
Young noted that trains are a target for terrorism for the same reason as any other location — the possibility of doing harm to individuals nearby, the possibility of publicity, and the possibility of crippling the economy.
Challenges to securing railroads
The book discusses how railways have various roles in intercity and commuter passenger movement, as well as being a major portion of the freight movement upon which the U.S. economy depends.
According to Young, this complexity gives the rail network a high level of vulnerability that one may not see with air travel, for example.
"It is easier to protect the airport than it is the railroad," Young said. "The amount of track nationwide just cannot be fully protected."
He noted that railroads go through city centers, the suburbs, and the most desolate, remote areas of the country. How do you police all that? "In traditional ways, you can't," Young said.
Gordon added that railroads operate about 140,000 route miles, much of which is open and easily accessible, and hard to monitor and manage.
"Rail and transit stations and other infrastructure are soft targets, and heightened security measures must be considered, developed and implemented," he said. "Screening, like at airports, is not feasible economically and practically."
Protecting U.S. railroads
Actions to protect U.S. railways include entry controls for the thousands of acres of rail yards in the U.S.
According to Young, railroads also have their own police forces that the legislatures in each state have given the equivalent power of the state police. "Railroad police and the public police at every level — federal, state, local and county — cooperate and exchange information with each other."
"Government plays a major role — or several complementary roles — in keeping railroads safe," Plant said. "The government sets policy and puts in motion a strategy for developing and sharing information on threats. In short, governments at all levels work with privately owned rail companies to anticipate likely threats and vulnerabilities through collaboration and information sharing."
Gordon added that there is much being done by the government, railroads and transit agencies both operationally and technologically, but cost and funding are the challenge.
"There is much being done, but there is more that can be done," Gordon said. "The threats, vulnerabilities, consequences and risk must be understood, and enhanced security awareness implemented. Technology and operational security must be used in a comprehensive security program."
"Railroads are a critical part of the nation's transportation infrastructure — and due to the enormity and complexity of the U.S. rail system, one of the most difficult to secure," Plant said. "Our book is an interdisciplinary effort to address the risks and threats facing both freight and passenger rail operations and to suggest ways to prevent the sorts of calamities that may result from terrorists targeting the rails."