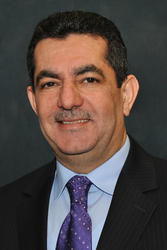 On behalf of the students, faculty, and staff of the School of Science, Engineering, and Technology at Penn State Harrisburg, I welcome you.
Please take a moment to browse this Web site and become further acquainted with our academic programs and the wealth of opportunities that exist for students and graduates. I am pleased you have taken the time to learn more about our school and college. You won't be disappointed.
Penn State Harrisburg is an undergraduate college and graduate school of The Pennsylvania State University, one of the largest and most widely-recognized institutions in the nation. Penn State Harrisburg enrolls more than 5,000 students and offers more than 65 associate, bachelor's, master's, and doctoral degree programs. The college also offers the first two years of study leading to more than 160 baccalaureate majors offered throughout the University.
Many strengths of study exist within Penn State Harrisburg, including the opportunity to work and study side-by-side with nationally respected faculty experts, to participate in productive internships, and to study in close proximity to the state capital and the region's hub of business, commerce and industry. Our student-focused mission is to you students with a quality education to meet your personal and career goals. Simply put, our students come first!
The School of Science, Engineering, and Technology offers undergraduate study leading to Bachelor of Science degrees in Biology, Civil Engineering, Computer Science, Electrical Engineering, Electrical Engineering Technology, Mathematical Sciences or Mathematical Sciences with the secondary education option, Mechanical Engineering, Mechanical Engineering Technology, Science, and Structural Design and Construction Engineering Technology. The civil engineering, electrical engineering, and mechanical engineering programs are accredited by the Engineering Accreditation Commission of ABET, www.abet.org.  The electrical engineering technology, mechanical engineering technology, and structural design and construction engineering technology programs are accredited by the Engineering Technology Accreditation Commission of ABET, www.abet.org. At the graduate level, our school offers master's degree study in Computer Science, Civil Engineering, Electrical Engineering, Engineering Science, Engineering Management, Environmental Engineering, Environmental Pollution Control, and Mechanical Engineering.
Since many of the academic programs offered by the School of Science, Engineering, and Technology are hands-on in nature, the majority of the faculty is required to possess extensive industrial experience as well as excellence in teaching and research. As a student at Penn State Harrisburg, you will benefit from our vast resources while pursuing your degree in a smaller campus setting.
Our school responds to the needs of diverse constituencies by generating and replenishing resources essential to the intellectual, economic, civic, and cultural well-being of the area. Our respected, innovative, and interdisciplinary undergraduate and graduate programs, our record of research and scholarly contributions, and our community outreach activities promote human and economic development through the expansion and dissemination of knowledge and its applications.
Our aim is to educate students to think critically, communicate effectively, and act responsibly within the context of personal and professional ethics.
Once again, we welcome your interest in our school and encourage you to explore our Web site. If you have any questions, please feel free to contact the School and I will be happy to assist you.
Sincerely,
Rafic Bachnak, Ph.D., P.E.
Director, School of Science, Engineering, and Technology