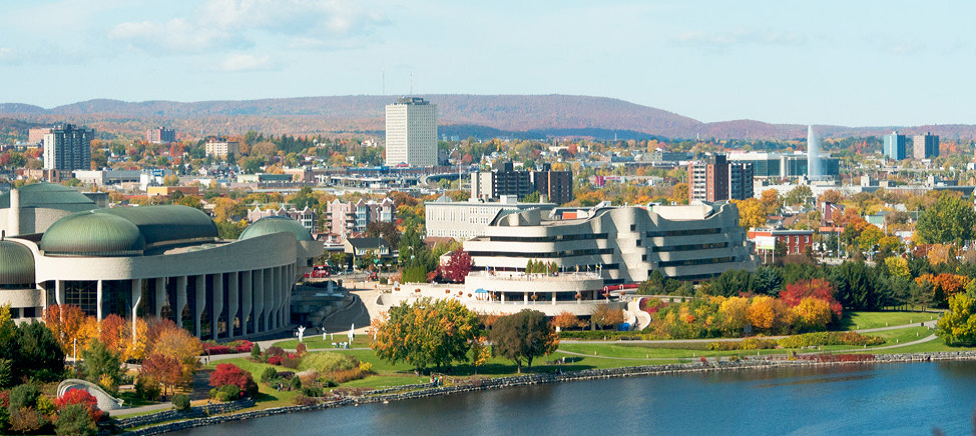 March 4-11, 2017
Cost: $2,425 (includes airfare, transfers, taxes and fuel surcharge)
HPA 499 or HADM 599 (3 credits)
This course will provide an introduction to Canada's universal, publicly funded healthcare system. While the course focuses on the Canadian healthcare system, it will also compare and contrast core elements of the system with those in the United States. As the United States continues working through reforming their health care system, it is important to consider how systems in other countries function. We will examine now the healthcare systems in each country operate in several medical settings such as hospitals, long term care facilities, doctors' offices, pharmacies and insurance companies.
By the end of the course, students will have a broad understanding of the Canadian healthcare system, including its historical development and evolution, the roles and responsibilities of the federal and provincial/territorial governments, Canada's approach to the delivery and financing of healthcare, and some of the challenges faced by the system. Students will also be able to analyze and assess the major positions in current health policy debates, and be able to critically evaluate and develop arguments for various healthcare policies.
Course Registration (for course credit)
Meet with your academic adviser to discuss how this course will impact your educational progress. Have your adviser sign a drop/add form to add this class. Forms are available at www.registrar.psu.edu/registration/dropping_courses.cfm.
Contact the travel agency (contact information on back panel) to make a deposit or pay the total cost of the trip and obtain a receipt.
Bring your signed drop/add form and travel agency receipt to the Office of the Registrar in the Swatara Building to complete enrollment.
Course Requirements
Mandatory pre/post-trip meetings, group reading, journal, etc., during the spring 2017 semester.
Students must be free of any current coduct reviews or conduct sanctions. Eligibility will be verified, and each participant grants permission for verification by the Office of Student Conduct.
Travel Awards
Award funds are available to undergraduate honors students through the Penn State Harrisburg Honors programs. The University also has funds for students traveling internationally For details, visit http://gpglobalea.gp.psu.edu and select the "Scholarships and Grants" link. A limited number of travel awards for Penn State Harrisburg students are available through the Penn State Harrisburg Office of International Programs. The applications deadline is October 21.
Please visit https://harrisburg.psu.edu/international-programs/grants-and-awards or contact Marie-Louise Abram at [email protected] for information.
Itinerary
Itinerary and visits subject to change without notice.
Day 1 • Saturday, March 4

Depart from Harrisburg International Airport on United Airlines flight #4628 at 6:30 a.m. to Washington/Dulles International Airport, arriving at 7:22 a.m. Connecting flight United Airlines #4783 departs at 8:45 a.m. and arrives in Montreal at 10:27 a.m. Upon arrival, transfer and check in to your hotel for one night. Explore and enjoy lunch on your own. Afternoon guided city tour. Enjoy the downtown area, Place Jean Paul Riopelle, the Old Montreal and the Old Port, Place Royale, Montreal Tower and the Olympic Park and Mount Royal volcanic hill. Evening in Old Montreal for dinner on your own.

Day 2 • Sunday March 5

Breakfast at the hotel. Morning at leisure to enjoy Montreal on your own before leaving the city after lunch. Depart at 1 p.m. by coach for Ottawa. Check into your hotel for a six night stay. Guided orientation tour of the city upon arrival.

Day 3 • Monday, March 6

Breakfast at the hotel. In the morning, visit a local doctor's office. In the afternoon, enjoy a guided tour of the Parliament.

Day 4 • Tuesday, March 7

Breakfast at the hotel. In the morning, visit a local dentist's office. In the afternoon, attend a presentation with Health Canada. Health Canada is the Federal department responsible for helping Canadians maintain and improve their health, which respecting individual choices and circumstances.

Day 5 • Wednesday, March 8

Breakfast at the hotel. In the morning, join students and faculty at the University of Ottawa from the Masters of Health Administration program for a visit and discussion. In the afternoon, enjoy a guided tour of the National Gallery.

Day 6 • Thursday, March 9

After breakfast, morning visit to a local hospital. In the afternoon, travel to Gatineau and meet your tour guide to visit the Museum of History and explore 20,000 years of human history.

Day 7 • Friday, March 10

Following breakfast, participate in a presentation from Health Canada, Federal Government Office. Afternoon at leisure.

Day 8 • Saturday, March 11

Following breakfast, transfer to the Ottawa airport for the return flight with United Airlines UA#4544 2:29 p.m. to Washington/Dulles International Airport, arriving at 4:48 p.m. Depart Washington/Dulles International Airport at 4:48 p.m. on United Airlines US#4713 arriving in Harrisburg at 5:41 p.m.
Hotel Accommodations
All efforts have been made to choose a comfortable, moderately priced hotel in order to keep the price of the trip reasonable.
Airline Schedule
The exact time of these flights is subject to change and will be reconfirmed. Check-in at the airport is three hours prior to departure time.
Saturday, March 4, 2017 – United Airlines UA #4628 Harrisburg 6:30 a.m. to Washington/Dulles International Airport 7:20 a.m. – United Airlines UA #4783 Washington/Dulles International Airport 8:45 a.m. to Montreal, Canada 10:27 a.m.
Saturday, March 11, 2017 - United Airlines UA #4544 Ottawa 2:29 p.m. to Washington/Dulles International Airport 4:08 p.m. – United Airlines UA #4713 Washington/Dulles 4:48 p.m. to Harrisburg 5:41 p.m.
Price
Price Includes
Round-trip airfare from Harrisburg International Airport to Canada

Airport taxes and fuel surcharge-subject to increase before ticketing

Hotel accommodations as per itinerary
Breakfast is provided daily
All transfers and sightseeing with entrance fees as per itinerary
Price Does Not Include
Mandatory travel and medical insurance which must be obtained by all students, visitors and participants through HTH Worldwide. (Approximately $1.25 per day)
Single room supplement $520
Service fee of 3 percent on any amount paid by credit card
Gratuities for guides and drivers while in Canada
Excess luggage
Meals not included in the itinerary
Personal expenses: phone, drinks, souvenirs, internet, laundry, etc.
Passport fees - Passport should be valid until September 12, 2017
Visas are not required for United States citizens traveling to Canada. All international students are responsible for determining if a visa is required and should immediately apply for the visa. Please check the website at http://www.canadainternational.gc.ca/china-chine/visa.aspx?lang=eng for tourist visa requirements. Refunds cannot be made if a visa is not issued. Also, alert the International Programs office if you are applying for a visa.
Marie-Louise Abram, Director of International Programs, 717-948-6003, [email protected]
Dr. Karen Buhr, Lecturer in Health Administration, 717-948-6051, [email protected]
Trip Registration
Deposit: $500
$150 of this deposit is a non-refundable processing fee to Celestial Voyagers. Your deposit will assure your reservation with the airline, the hotel and other suppliers. The deposit must be sent with a copy of your passport as soon as you register online.
Send your deposit prior to December 1, 2016. After this date, space may not be available and a supplement may apply.
Balance due no later than January 16, 2017.
All payments by check must be made to Celestial Voyagers.
Payment Methods to Celestial Voyagers:
Online: During your registration, you can submit your payment by e-check or by credit card (Visa, MasterCard, Discover & American Express). There is a 3 percent service fee for all online payments.
Phone: Celestial Voyagers accepts credit card and e-check payments by phone. Credit card payments incur a 3 percent service fee but there is no service fee for e-checks.
Post Mail: Your third payment option is to mail in a paper check or money order. Checks should be made payable to "Celestial Voyagers" and mailed to the address in the "Contact Celestial Voyagers" section.
Cancellation penalties: In case of cancellation, penalties will apply. All cancellations must be received in writing.
Written cancellation received before November 30 will incur a $150 fee ($150 processing fee).
Written cancellation received between December 1 - December 31, 2016 will incur a penalty of $500 (loss of full deposit).
Written cancellation received January 1 – January 17, 2017 will incur a penalty $1,212.50 (50 percent of the total trip cost).
Written cancellation received on or after January 17, 2017 or no-shows incur a penalty of 100 percent of the total trip cost – $2,425.
Course registration is separate from trip registration.
Upon receipt of your deposit, Celestial Voyagers will send you a receipt that you must present at Penn State Harrisburg's Office of the Registrar to register for the course.
Passports
If you intend to travel internationally, apply for your passport immediately. Failure to provide passport information may delay airline ticketing for our group.
Registration
Register for the trip online at Celestial Voyagers' website After registering, you must mail your deposit within 48 hours with a copy of your passport, if available (photos or scans of passports are acceptable).
Tour # 4795
Tour name: Penn State Harrisburg Ottawa 2017
Mail your deposit and copy of your passport (if available) immediately to:
Celestial Voyagers, Inc.
27-28 Thomson Avenue, Suite WS11
Long Island City, NY 11101
Terms and Conditions
Celestial Voyagers' terms are based on contracts with airlines, hotels and other suppliers. The terms and stipulations mentioned below are bound by these contracts and will be strictly enforced. A passport valid until September 12, 2017 is required.
Contacts
Travel Arrangements
Celestial Voyagers, Inc.
27-28 Thomson Avenue, Suite WS 11
Long Island City, NY 11101
E-mail: [email protected]
Phone: 516-829-1525
Fax: 718-729-0306
For information, contact:
Marie-Louise Abram
Director, International Programs
Penn State Harrisburg
777 West Harrisburg Pike
C114R Olmsted Building
Middletown, PA 17057
Phone: 717-948-6003
E-mail: [email protected]
Attachments: