Features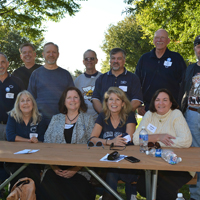 Penn State Harrisburg celebrates "We Are Weekend" with food, fun, and a touch of nostalgia
Penn State Harrisburg welcomed more than 1,000 people – alumni, families, and friends – to campus to celebrate the college's 50th anniversary at "We Are Weekend: Alumni Open House," October 14 through 16.
Devoted Partners, Dedicated Alums: Building a Penn State Legacy
For Thomas and Kathleen Kuhn, Penn State Harrisburg was and remains a vital part of their romance and their life devoted to country, education and community service.
New Student Enrichment Center dedicated
Penn State Harrisburg dedicated the new Student Enrichment Center early this fall, with faculty, students, staff, distinguished guests and friends of the college. The 70,000-square-foot Student Enrichment Center, built at the core of campus, houses space for key new and existing student services.  It features student lounges, food service with open seating and a convenience store, a spiritual center, the bookstore and offices for student counseling and disability services, honors education, international student support services and international study programs.
News
Around Campus
Sports Highlights