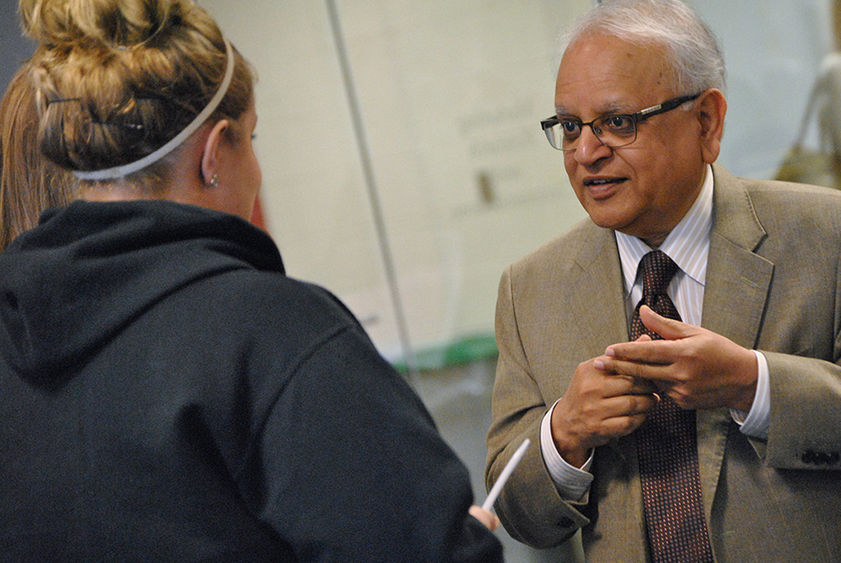 HARRISBURG, Pa. — Penn State Harrisburg Chancellor Mukund S. Kulkarni plans to retire on June 30, 2018, after more than 30 years of service to Penn State.
"Dr. Kulkarni came to the position of chancellor as an accomplished educator and with excellent knowledge and leadership experience, having served the University as a faculty member and administrator for many years," said Madlyn Hanes, vice president for Commonwealth Campuses and executive chancellor. "Under Dr. Kulkarni's leadership, Penn State Harrisburg has prospered and grown, securing its standing as a vital regional asset. Dr. Kulkarni's many contributions to the college, the University, and the broader region have earned him high regard."
Kulkarni became the chancellor of Penn State Harrisburg in 2010. He joined the University in 1985 as a member of the business faculty at Penn State Harrisburg, and advanced in faculty rank and leadership posts at the college prior to becoming chancellor. He also has served as director of undergraduate studies, director of the School of Business Administration, and senior associate dean for academic affairs.
During Kulkarni's tenure, Penn State Harrisburg has experienced substantial growth in its student population, including a record number of international students. He continued to build upon the college's reputation for attracting high-caliber students and highly credentialed faculty members. In support of the growth in enrollment, Kulkarni has overseen the successful introduction of new degree programs, the development of new and enhanced academic and student life facilities, the expansion of teaching and learning support to faculty, and the enhancement of instructional technology. He also has guided the college's increasing impact as an economic development engine in the region.
In addition to his administrative appointment, Kulkarni holds the rank of professor of finance. An accomplished teacher and scholar, he is widely published in academic journals and has presented papers at several scholarly conferences. His research interests are in the areas of capital budgeting, banking operations, and information content of stock prices. Kulkarni earned bachelor's and master's degrees in his native India, an MBA from Marshall University, and a doctorate from the University of Kentucky.
"While teaching and scholarship can often be individual endeavors, leading a campus requires a team of dedicated colleagues and a strong network of people who provide support from beyond the campus corridors," Kulkarni said. "I have been fortunate in that respect. I have received immeasurable encouragement, cooperation, support and counsel from the entire community — faculty, staff, administrators, alumni, donors, friends and advisers of Penn State Harrisburg, government leaders, and so many others. For this, I am extremely grateful. Together, we have achieved a great deal."