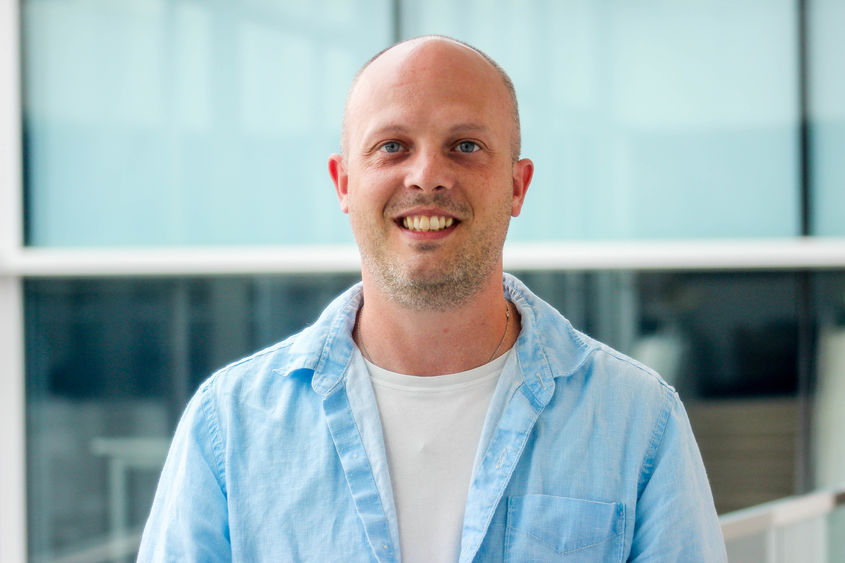 UNIVERSITY PARK, Pa. — Before arriving on the University Park campus this fall, Russell Houseknecht took a winding road to his new role as a lecturer in the College of Information Sciences and Technology (IST). Previously, he made stops in the United States Army, the cybersecurity industry, and, most recently, Penn State Harrisburg.
Growing up in Lewisburg, Pennsylvania, and graduating from Utica College with a degree in cybersecurity, Houseknecht joined the U.S. Army in 2000 and was deployed to the Middle East during the Iraq War in 2003.
From 2003 to 2005, he served as a bomb-dog handler with the Military Police, where he trained and handled two different dogs. Through his part on an advanced detail team that participated in a secret service mission for President George W. Bush, Houseknecht was exposed to the amount of collaboration required to execute critical missions.
Said Houseknecht, "I saw how all these agencies work together and it was exciting to see all of them come together for a common purpose."
After his honorable discharge from the Army, he worked for the Pennsylvania State Police as a computer crime analyst, where he searched seized items like laptops and phones for evidence in child sex crimes, homicide, fraud and other offenses.
"If someone was suspected of something, I needed to find evidence to support that claim," Houseknecht said.
Houseknecht later worked as an "ethical hacker" where he conducted penetration tests in the Information Security Office (ISO) for Geisinger Health. By running vulnerability scans of their systems and simulating a hacker's attack, he identified weaknesses and suggested site updates that could better protect against similar attacks.
With his deep industry knowledge, he was offered a position to teach cybersecurity at Penn State Harrisburg. During his time there, he assisted in starting Cyber Lions, a student-run organization that focuses on extending information systems technology and security and risk analysis beyond the classroom. With his help, the group attended the SANS Security East Conference in New Orleans, allowing students improve their information security skills through hands-on security training courses.
Now at the University Park campus, Houseknecht brings his diverse experience to classes like IST 454, a computer and cyber forensics course, where students learn how to uncover digital evidence of cybercrimes. While he always imagined teaching after his retirement from industry, he is glad that he started sooner rather than later.
"I really like the engagement with my students," he said. "I love seeing when the lightbulb goes off for them and when the students get really passionate about something."
Houseknecht is teaching three classes this fall: Threat of Terrorism and Crime, which provides students with insight into cyber terrorism; Information Security Management, which focuses on database management; and Computer and Cyber Forensics. He hopes to continue blending his military and industry background and incorporate them into his classes.
"IST is a melting pot for everything from computer science to social informatics to cybersecurity, even to how social media forms and helps society," Houseknecht said.
Drawn to Penn State for both the high quality of education and outstanding faculty, he is excited to be part of the college's mix of professors and professionals who are enhancing the student experience.
"I think that we can all come together to make the college more whole and complete the circle instead of just having academia or just professionals," he said. "There are a lot of brilliant people here that are going to push IST ahead."