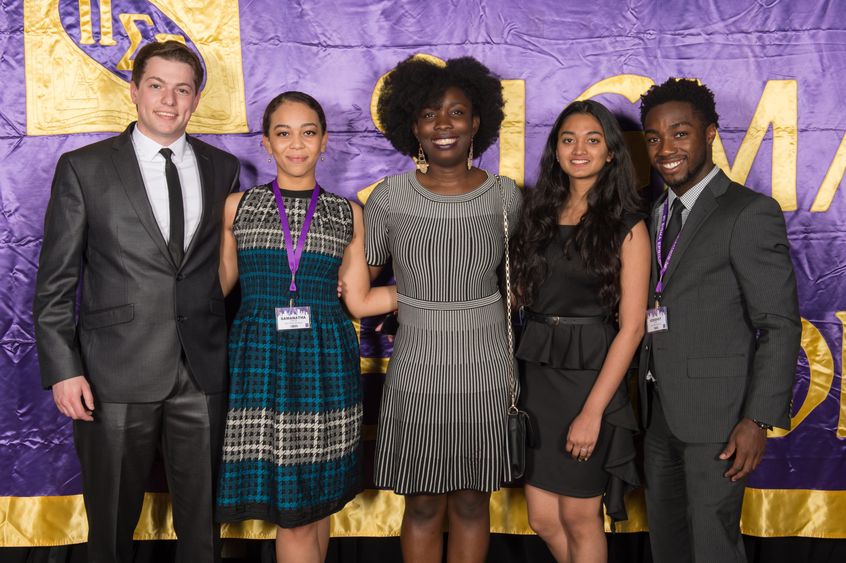 MIDDLETOWN, Pa. — If you want to succeed in business, you have to be able to succeed in sales. Whether it is a new product or the next big idea, selling is often key in the business world.
For a team of students from Penn State Harrisburg's School of Business Administration, participating in the Pi Sigma Epsilon (PSE) Pro-Am Sell-A-Thon in St. Louis, Missouri, this spring was an opportunity to compete nationally with other business students from across the country.
As their faculty adviser, Darrell Bartholomew, assistant professor of marketing, noted, the Pi Sigma Epsilon Pro-Am Sell-A-Thon is a yearlong sales competition held at the PSE fall regional conferences and the annual PSE National Educational Foundation National Sales and Marketing Convention.
"These were the first students to ever participate from Penn State at this event. They all participated in the Pro-Am Sell-A-Thon individually, and as a team they participated in the Case Competition," Bartholomew said.
The students received positive feedback from the judges, many of whom are recognized leaders in the business world. Although the students did not win the competition, they did gain a unique perspective on what it takes to put sales into use in business.
Recent graduate and Bronx, New York, native Samantha Pazos received her degree in business management. Shortly before graduation, she joined the team at the Pro-Am Sell-A-Thon.
"This was hands-down the best business trip I have ever experienced. The people I traveled with made it all the better and very much enjoyable," said Pazos. "I've never spent a long period of time with such an eclectic and diverse group of people. We all got along at all times during our trip. Our group project went just as smoothly because of our collaboration skills and professionalism."
Pazos added that participating in the individual sales pitches were nerve-wracking. Her individual sales pitch prepared her to handle a lot of new situations at work, just like any leader in the workplace might have to do.
"I was faced with competing in front of some of corporate America's best sales people, and the experience has given me a degree of confidence I did not know I had," she said.
It should serve the recent graduate well as she enters the competitive corporate business world. Pazos recently accepted a full-time position as a financial analyst with the U.S. Defense Logistics Agency. She will have some impressive sales tools in her arsenal.
"The competition was great exposure and an excellent networking opportunity. It helped defeat a lot of my presentation anxiety and forced me out of my comfort zone," said Pazos. "It has been the greatest and most enjoyable business trip I have taken yet and I wish Penn State Harrisburg the best of luck with their new PSE members."
Kenshay Kerr of Hempstead, New York, agrees. The 2017 graduate, with a degree in marketing and a minor in human resources management, thought that attending the Pro-Am Sell-A-Thon was a great opportunity to put the skills he learned at Penn State Harrisburg to the test.
He already has a job lined up as an inside sales representative for UPS in Greenville, South Carolina, starting in August.
"Participating in the Pro-Am Sell-A-Thon competition was an amazing experience," said Kerr.
He learned how to be quick-thinking and resourceful when his competition task was the scenario of selling cutlery to a potential customer.
"I was given 10 minutes to sell the products given to me and then make an appointment to have a follow-up on the purchasing of the product," said Kerr, who successfully made the "sale."
Since his new position will be in the sales department of UPS, the experience gave him the opportunity to learn how to hone his skills, whether it was selling a set of kitchen cutlery or selling corporate package delivery and supply chain management solutions.
For Bartholomew, it was a fulfilling experience to see his students compete so effectively with students from universities throughout the country. The primary purpose of the competition is to train and develop students in all aspects of the business-to-business sales process. The process goes beyond making one sales call, focusing on relationship-building and developing sales excellence that is part of a journey, not just a destination.
"The fact that they are the first team to ever represent Penn State at these events is something worth noting," said Bartholomew. "I am very proud of them."