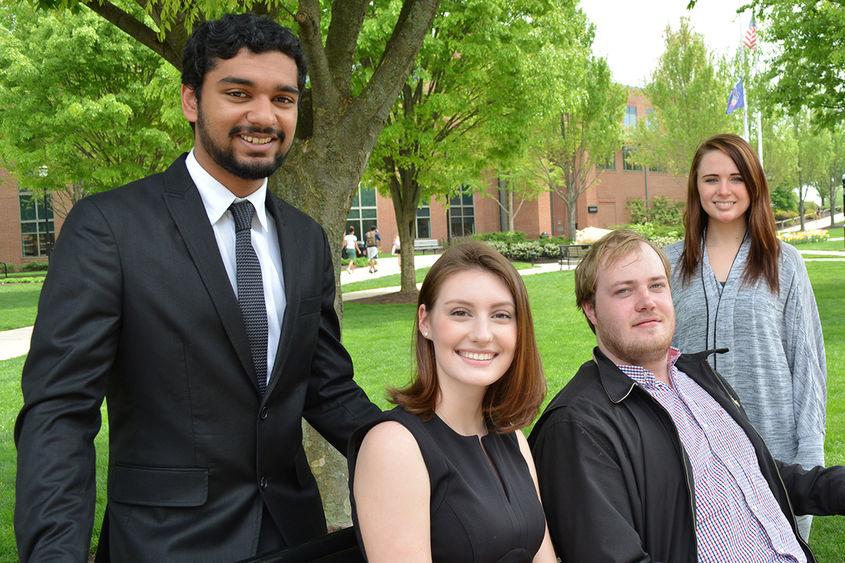 HARRISBURG, Pa. -- In light of the surge in online shopping, retailer Kohl's annually invites college students to provide their ideas for driving traffic back into the company's physical retail locations.
While Kohl's reports that online sales are fine, e-commerce has caused the company a few challenges and has forced several store closings.
For the second year in a row, four students in Penn State Harrisburg's School of Business Administration were among the 12 teams invited to travel to Kohl's corporate headquarters in Milwaukee, Wisconsin to have their ideas heard by Kohl's executives. The Penn State Harrisburg team was the only one chosen from Penn State to be finalists, this year and last.
The Kohl's Invitational Case Competition centers on today's changing retail industry. Students from across the country are invited to apply and work as a team to analyze a Kohl's business case. They collaborate, compete and present their recommendations to a panel of Kohl's senior leaders.
Twelve teams are selected from hundreds of submitted videos, then split into three groups, with each presenting to four judges. Next, one team is selected from each group, and the final three teams present in front of all attendees, hundreds of Kohl's associates, and a panel of four judges. The winning team receives a scholarship.
Last year, the Penn State Harrisburg team – Erica Noss, Pranav Jain, Alicia Polcha and Isabelle Yost – presented their ideas on how to get more millennials ages 18 to 34 into Kohl's stores. The process spanned from November to April, between applying, answering questions, receiving the case study, developing the plan, and creating a video to explain it. In April 2016, the team traveled to Kohl's corporate office to present their ideas in person.
"It went really well, although it was really tough," Yost said. "It was seven months, nonstop. One step after the other and you just weren't sure if you had made it, so it was so exciting to receive the email that said, 'Congratulations, you made it to the next step.'"
Brainstorming over pizza, the team developed an idea that used iBeacon technology in stores to alert a shopper via the Kohl's mobile application about items they might be interested in, based on their shopping history. The students' idea also included the 80/20 rule to help the store declutter, in which 80 percent of inventory remains in the stock room and 20 percent of inventory is on display. They also redesigned the Kohl's website, adding a blog, among other changes.
While the team did not go on to present their ideas to the board, they said the experience was "amazing."
Yost cited the highlights of participating: opportunities to problem-solve for a large corporation; networking with executives and students from other schools; and making connections.
The Harrisburg team, the youngest at the competition last year, was composed of three freshmen and a sophomore. They welcomed the chance to return for the 2016-17 competition.
"We definitely thought that now that we know what the competition is about, we could fix the things that we may have done wrong last year, like including return-on-investment, financials and projections, all things that are necessary to implement these ideas," Yost said. "We wanted to take another stab at it. We wanted to do better. And, we were more confident going in this year."
This year, Michael Zinn, president of the college's Entrepreneurial Club, joined the team, replacing Polcha, who had transferred. Already an entrepreneur, Zinn said he was experienced in presenting, but the competition offered him an opportunity to practice his skills.
The students returned to their favorite pizza place to come up with an idea for this year's challenge: how to increase foot traffic in stores in general. They discarded several ideas before deciding on a shop-and-reserve feature that would allow customers to browse online, reserve a fitting room, and go in-store to try on items before making a purchase.
"Essentially, we wanted an idea that could bring more customers into retail stores," said Jain. "If they reserve a fitting room, they are more likely to come in and try on clothes."
The students got the idea from a similar service that Nordstrom offers. "Last year, almost every retailer's revenue went down, except for Nordstrom, which went up," Yost said.
As with last year, the students had a few months to prepare. They used that time wisely, developing ideas, and gathering data. They agreed that they wanted to improve the financial aspect of their presentation, the predictions, future sales numbers, and return-on-investment. "That really held us back last year," Jain said.
"We did a lot of prep work beforehand," he added. "We were given a couple of months to come up with the presentation, talk with Kohl's employees, talk with different departments within Kohl's and really build up our idea and develop financial models and information. We really wanted to make it clear to judges the amount of effort we put into this competition."
The students also called on faculty in the School of Business Administration – including Oranee Tawatnuntachai, associate professor of finance, and Ozge Aybat and Darrell Bartholomew, assistant professors of marketing – to help hone their idea and improve their presentation.
"They played a huge role in our success," said Noss. "They helped us step by step and then we were able to use our own experience and skillset to put it all together. But without them it would have been impossible."
The competition itself moves quickly. The teams tour Kohl's facilities, then are allowed time for final prep work before they present. Going in, the team said they were more relaxed and more confident this year.
"The team did a great job. They put forth effort and sacrificed personal time to make the semifinals," said Associate Professor of Management Ray Gibney, the team's academic adviser both years who traveled with them to Milwaukee. "I applaud this group of students for their commitment, innovation, and ambition to excellence. These students are the role models for other students. The work put into the competition was in addition to full course loads, work commitments, and in some instances graduation."
The students offered their gratitude for Gibney's honesty and realistic expectations. "He made us more relaxed and determined," Yost said. Jain added that Gibney helped them throughout the entire process.
Gibney said that the Kohl's executive team was highly impressed that the Harrisburg team made it back to the semifinals. While other schools were represented again, the Penn State Harrisburg team was the only team to repeat. Although they did not progress beyond the semi-finals, the team is proud of their accomplishment.
"Getting to interact and make connections with the Kohl's executives was great," Zinn said. "It also provided good exposure to being able to solve real-world problems."
In the end, they all agreed that just making it back to the competition was a win. "We saw the bigger picture," Noss said. "We are representing Penn State University as a whole and we represented well. We fully understood the impact we were having just being there. Everything else was a plus."