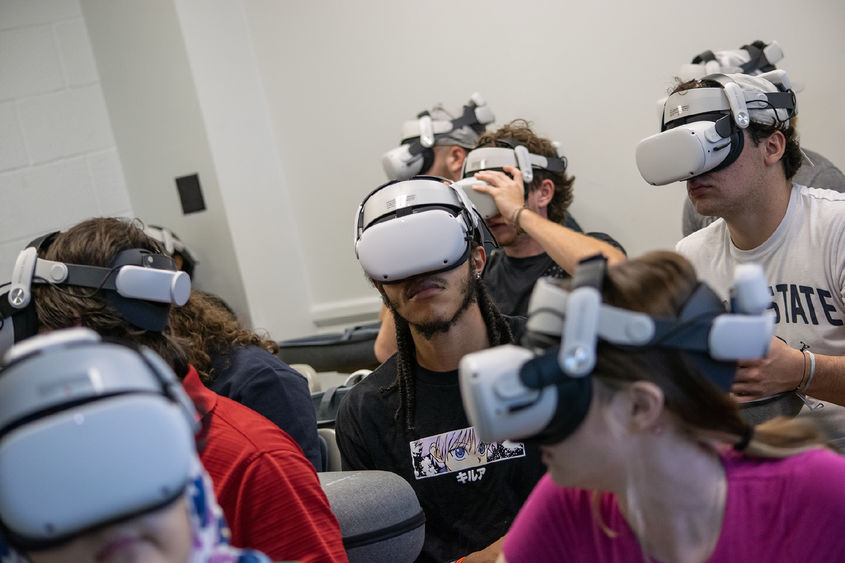 MIDDLETOWN, Pa. — They didn't leave their seats in the Olmsted Building classroom, but Penn State Harrisburg students taking a criminal justice course on the court system recently spent 12 minutes inside a Texas jail — or at least it felt that way.
In Criminal Justice 220, students donned virtual reality (VR) headsets to help them get a close-up look at what life might be like for a prison inmate. With the white goggles securely strapped to their faces, students swiveled their heads as they watched a virtual reality video that took them through an arrest to prison processing and into cells with inmates.
Afterward, Shauntey James, assistant teaching professor of criminal justice, asked the students to split into groups and discuss the experience.
"How did it feel? What did you notice?" she asked.
"I liked how I could understand the environment as they were talking about it," said Melahat Akdemir, a criminal justice and psychology major.
"Did you feel like you kind of stepped into that environment?" James asked, drawing murmurs of agreement in the class.
Two of James' classes were the first criminal justice students to use virtual reality headsets available for Penn State Harrisburg faculty members to reserve through the Center for Teaching Excellence (CTE). CTE piloted virtual reality last academic year using headsets on loan from Teaching and Learning with Technology at University Park.
At the start of James' courts class, Sarah Kettell, programmer/analyst with the Center for Teaching Excellence, explained that virtual reality is being used for everything from rehabilitation to police training.
"There are a ton of applications for this across the board in criminal justice. It's being used in industry. It's being used at Penn State right now for some of our own security training," she said. She added that their classroom activity provided a safe space for students to become comfortable using a virtual reality headset if they had not yet had the opportunity.
Kettell said that in addition to the industry uses, there are strong pedagogical purposes for using it in the classroom.
"(The criminal justice students) were able to have that spatial reasoning of what a prison cell looks like. In Spanish courses, we're using it to go on virtual field trips to Spain," she said. "Students get more hands-on and experiential practice with some of the concepts that they're working with."
It's important to identify the "roots" of why virtual reality should be used, Kettell said, before finding the resources that are available. In the case of the criminal justice courses, Kettell has worked with James before and is familiar with her courses and the learning objectives.
"We're thinking about how something like VR can be used to achieve some of those objectives, in a more in-depth way than other formats," she said.
Student Gavin Kuntz said he found the virtual reality experience to offer a unique, additional perspective.
"It's really immersive. You see everything around (you), the people's faces, (hear) their stories," he said. "It's like you're part of the experience, and it makes it a lot more personal than just a typical video."
Akdemir said the virtual reality experience meant students couldn't really turn away from what they were seeing.
"I feel like it makes you think more," she said.
When James asked students what stood out from what they'd watched, they cited moments like sirens blaring, a female inmate talking about missing her child, the chaotic feeling of a crowded holding cell, and the moment a male inmate cried.
"I think the biggest thing for students is that emotional feeling of being in the moment," James said.
Students learn about law enforcement, courts and corrections, and how they are interconnected, she said, and it's important for them to have a good understanding of the consequences. She was pleased to see the students make connections to prior classroom discussions.
"That reflective piece also creates a solid and fruitful platform for discussions in the future. That little bit of time we took to do this will have a ripple effect for future lectures," she said.
Kettell said the applications vary by discipline, but virtual reality will only become more prevalent as time goes on, and employers are looking for experience with it on résumés. The Center for Teaching Excellence also is working with the computer science program so students can begin learning how to develop software for virtual reality platforms.
James said she was pleased with the collaboration with Kettell and the center, noting that they worked together to try to bring the best experience possible to students. They've already discussed what worked in those first classes and what could be improved.
One of the goals is to make sure that students are experiencing the latest technology so they are building marketable skills.
"For me, it empowers the students to have an edge on their competitors. I think that's important," James said, adding that she was happy that students embraced a new challenge. "That's what employers want to see."