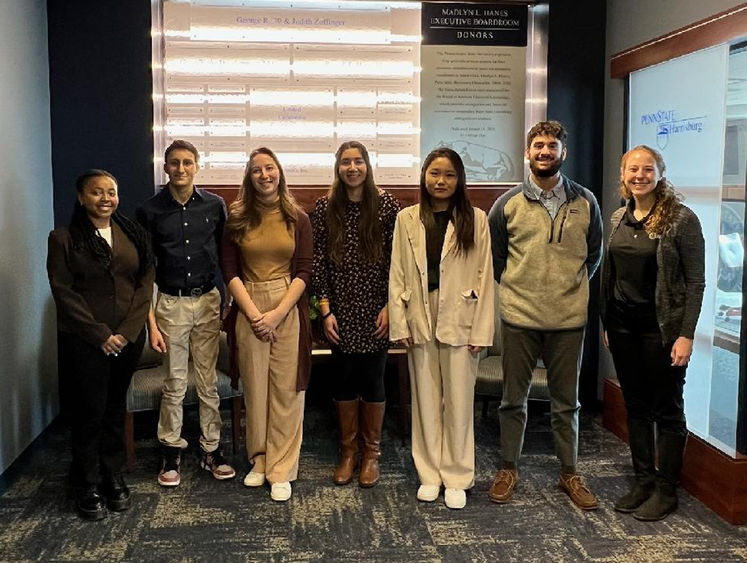 MIDDLETOWN, Pa. — A gift from the Clark Associates Charitable Foundation is helping to support students' educational and career opportunities at Penn State Harrisburg.
The $10,000 gift from the foundation — the charitable extension of the Lancaster-based company Clark Associates — supported five $1,000 scholarships, which were awarded to students during the 2022-23 academic year, as well as career development activities.
"We recognize the value of the support we receive from the local community," said Rachel Bartow, recruitment specialist at Clark Associates. "Because our company's culture emphasizes responsibility and sharing with others, we are honored to give back to the communities that surround our offices. We value the education that Penn State Harrisburg students are receiving and are proud to support their continued development."
Clark Associates offers distribution, sales and technology services for a variety of commercial food service customers nationwide.
Bartow said the organization wants to help students develop professionally for work and life after graduation.
As part of the partnership with the college, a group of students visited the Clark Associates headquarters in the spring to learn more about the organization and tour the offices and the company's Restaurant Store, a food service industry supplier. Clark Associates representatives have also connected with students through networking events, career fairs, class presentations and alumni connections.
The five scholarship recipients attended a luncheon on campus with two representatives from Clark Associates, including a Penn State Harrisburg alum who shared career advice.
"We've found that one of the best ways our employees can offer advice and share their expertise is through personal connection on campus," Bartow said.
Cassandra Ginder, who is entering her third year at Penn State Harrisburg, received one of the scholarships and said she is grateful to Clark Associates for the support.
Ginder is studying management and marketing, and she is involved in several clubs on campus. She also played tennis during her first two years of college. She enjoys being active in the campus community, she said, and the scholarship helps her to do so.
"Getting a scholarship helps me pay for college and not have as much financial stress and really be able to focus on my classes and just be present whenever I'm on campus," she said. She expressed gratitude to Clark Associates in a letter, saying, "Thank you so much for recognizing that higher education is important because it allows us to focus on our strengths and make a difference in the world."
Donors like the Clark Associates Charitable Foundation advance the University's historic land-grant mission to serve and lead. Through philanthropy, alumni and friends are helping students to join the Penn State family and prepare for lifelong success; driving research, outreach and economic development that grow our shared strength and readiness for the future; and increasing the University's impact for families, patients and communities across the Commonwealth and around the world. Learn more by visiting raise.psu.edu.